By Mihail Vladimirov.
Sakho was once again deemed unfit to feature, so the Toure-Skrtel pair continued. As Sturridge was ready to start, Rodgers had to make the decision of who would sit on the bench and how to construct his team. As it turned out, it was Lucas who missed out, with Liverpool lining-up in 4-4-2ish formation.
For Aston Villa, Baker wasn't risked following concussion in the previous game, hence the team started with a back four in a very fluid 4-1-2-3 formation. Lowton was surprisingly left out of the match squad, so Bacuna had to start at right-back. In addition, Bertrand – coming on loan from Chelsea – started on the left. The midfield and the front trios were as per usual.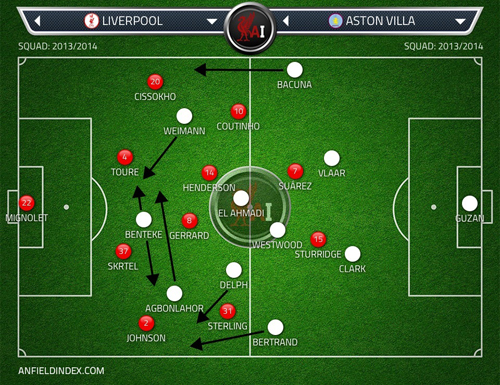 This game proved to be a really fascinating tactical contest. There were certain surprises from the start, in addition to the constant switches of formations and strategies throughout the whole game from both managers.
Rodgers' initial approach
Obviously the first main talking point of this game is in relation to how Rodgers approached this game. On paper Liverpool's XI looked very attacking, therefore designed to attack from the off and try to secure a comfortable lead before bringing in certain players and changing the formation to solidify the team and see out the game rather comfortably. Given how exactly Aston Villa were expected to play – at least initially – in this game, all of this made perfect sense.
No matter the exact starting shape with which the visitors were going to approach the game, it was widely expected they would sit deep, look to be compact and wait for moments to pounce on the break. This was the very same approach they have used almost every single game they played against the 'big boys' this season – including the reverse fixture at Villa Park and their previous game against Arsenal. Only when they are trailing, and often following some half-time switches from Lambert, do Villa usually look more proactive and attack-oriented.
As such, it was clear the onus would be on Liverpool to have the required framework to allow for enough attacking capabilities, including the required passing emphasis and the non-stop movement interplay. Given the wide range of possible starting formations Lambert could have used in this game – 3-1-4-2, 4-1-2-3, 4-4-2 – Liverpool needed a sort of 'universal' shape which is able to offer all of these requirements against every system of play Villa might have started with. Then, with Sturridge fit to start, it was a question of how to fit all the 'sure' starters into that shape and produce an attack-based but still balanced and cohesive framework.
The main question was whether Rodgers would opt for a three-man midfield (no matter whether it was in a 1-2 or 2-1 triangle) and use one of Suarez or Sturridge on the flanks, or whether he would play Suarez and Sturridge through the middle and fit the rest within a very fluid 4-4-2. Theoretically, both variants are able to produce the required attacking effect based on passing dominance and fluid movement. So it was a question of – mostly – a personal preference as to which variant would be the one used from the start. Rodgers has talked a few times about how he doesn't see either Suarez or Sturridge being deployed out wide, hence it was logical to see the fluid 4-4-2 being preferred.
Once the formation and the front pair was determined, it was a question of how exactly to balance the team to be able to marry the attacking capabilities with a solid enough defensive platform and the ability to smoothly transition between the phases, both on the break and when the team was to build-up more patiently and gradually. With Gerrard always going to start in midfield, it was a question of who between the other three midfielders would complement him best. For both defensive and offensive reasons, Henderson looked the most all-round solution. From there it was a case of Coutinho and Sterling picking themselves up for the spots down the flanks.
That shape, with these players, were capable of offering the required tactical features. With Gerrard staying deeper and Coutinho moving infield Liverpool could have counted on three midfield players – something that would either mean a 3-v-3 (if Villa were to start with either 3-1-4-2 or 4-1-2-3) or 3-v-2 (if Vila were to start with 4-4-2) battle in midfield. Add to this the roaming presence of Suarez and Sturridge and it was easy to see how Liverpool would have dominated the ball, ensuring quality build-up play. The penetration was going to be delivered by mainly having Suarez and Sturridge working in tandem up front. In addition, Henderson (from deep) and Sterling (from out wide) were both capable of diversifying the attacking patterns and actively supporting the attacking play. Defensively the stability was going to be provided first and foremost by being able to press effectively. The front quartet, joined by Henderson, would be there to close down efficiently in Villa's half, meaning less defensive workload for the centre-backs and the deep-stationed midfielder. In addition, having two forwards up top meant there was no need for the full-backs to either simultaneously push forward or see them always being ahead of the play. All that was needed was to either see them overlapping late on, once the team was obviously camped in Villa's half and the opposition was pinned back (meaning decreased threat from a potential counter-attack), or simply having one of them always hanging a bit deeper than the other in order to be quick to provide the required positional support when the attacking move breaks down.
Villa not playing as expected
In the context when Villa were mainly defending and Liverpool were to enjoy possession dominance and look for ways to break down a stubborn defence, it all looked perfect for the home team, based on the suitability of how Rodgers lined-up his team (both in terms of formation and personnel). The problem though was that Villa didn't play as per all the initial info, expectations and previous games suggested they would, thanks to their manager going with a massive tactical surprise.
Instead of having his team deep-stationed and defensive-minded, Lambert surprisingly chose a much more proactive and attacking starting strategy. The key to this was Villa's aggressiveness when without the ball, their direct but purposeful passing and the fluidity with which their players moved on and off the ball.
Right from the start the visitors were quick and determined to close down Liverpool to win the ball back, preventing them settling into any kind of a passing rhythm. Aston Villa pushed up the pitch, enabling their midfielders and attackers to be close to each other in order to offer the required pressing lines. Not only did they have the numbers to do so (a midfield and front trios allows you that) but Villa's players were all mobile and energetic players able to offer the required pressing dynamism.
Once the ball was regained the players looked like they always knew how, when and where to pass the ball in order to create dangerous moments for the home team. The overall fluidity of the team helped the passing be crisp and meaningful. There wasn't any unnecessary dwelling on the ball or signs of the players being instructed to slow things down. Villa were direct in possession – without reverting to route-one type of passes all of the time – with their passes always looking positive and threatening.
However, perhaps the most crucial aspect of Villa's approach was the type of movement they offered within their shape. Nominally the formation was a 4-1-2-3 but in attack there were certain patterns changing the overall outlook of it. Delph was, on paper, part of the midfield three while Agbonlahor was the left-sided attacker among the front trio. But it was visible how Delph often drifted to the left flank, allowing Agbonlahor to move infield and drift across the whole penalty area, often ending up even down the right channel.
Presumably this was designed for Agbonlahor to exploit the pockets of space left by Liverpool's centre-backs, who were logically mostly concerned about how to deal with Benteke. Whenever the Belgian target-man dropped deep or drifted either side, there were gaps across the penalty area – Agbonlahor was quick to sprint into them. In the first minute, such a combination was only an inch away from yielding the expected result: Benteke received a long ball from deep with Toure and Skrtel close to him rather splitting their duties. Agbonlahor – moving across from the left – picked up the knockdown and headed through on goal, only for his shot to just miss the target. In other situations Villa's left wide men moved over that side of the pitch to act as the facilitator, entering in some good passing combinations to send a teammate in shooting positions.
The rest of this article is for Subscribers only.
[ttt-subscribe-article]