By Ben Feltham.
Chance, Part 1:
It matters not how strait the gate,
How charged with punishments the scroll,
I am the master of my fate:
I am the captain of my soul

William Ernest Henley
I am sitting here sinking in the self-congratulatory glow of contentment that has become Liverpool Football Club, or Liverpool Football Club fandom at any rate. Even those that usually ensure a semblance of perspective have been softened up by the wellspring of 'goodfeeling' that is following us around like a bad [perhaps that should be 'sweet'? – Ed] smell at the moment. I know, it's nice to be nice, but nice guys finish sixth, winners go home and fuck the prom queen (no article of vent is complete without a Face/Off quote #fact). It's all this "wow, what a great season this is…oh, it's so open….wow look at us…we're really making progress….I don't really think we need anybody this window….we're doing pretty well as is….none of our rivals are doing anything…blah blah blah…"
Allow me to sieve through the vomit and regurgitate that through the prisms of those nasty fuckers that win titles, like Alex Ferguson and Jose Mourinho. Not in the modern history of the English top flight have four of the protagonists for the crown executed such an inept first half of the season. This will NEVER happen again (as the last couple of weeks have started to demonstrate). Whilst some hold their balls preening at how close they are to the top, others will bite down on their gum shield and do the things others are not doing. These are the people who have a chance of winning. Everyone else will delude themselves that it was never going to happen for them anyway, and didn't they do well to end up in a Europa spot?
We are six points off the top of the league at the time of writing, with every team above us still to come to Anfield. Now read that sentence again through nihilist tinted glasses of 23 years of pain and despair, and then tell me we're alright as we are. As things stand there is a chance for Liverpool to win the league. There is a chance for maybe four other teams to do so too, nothing is promised, we are making up history as we go along. Some will wring every inch of advantage available to them, and will most likely prevail. That needs to be us. All we've ever asked for is a chance. That chance is now.
So what am I saying? Before I answer that, let's first define what a club is. There's the players and the staff, of course the owners, but West Ham United doesn't belong to eighty odd people, otherwise so what if they go down? What makes a club is the hopes and the dreams of all those who believe in it, that's what makes a club regal, powerful beyond its remit. Now we've established that, let's clarify what the above diatribe is calling for.
Well we need action in this transfer window. I'm not a spoilt brat so I understand that some of the players we want, the players we need, might not, for varying reasons, be obtainable. However I want those that administer our club to know that, seeing as though we are a gnat's piss away from our first league title in 24 years, that they are not to rest in the pursuit of securing an advantage for Liverpool Football Club, and that is the will of the people, the Club. I'm inclined to believe the ownership, who have proved themselves winners of rare quality, have the ambition and the balls to deliver on this, but just in case they're wavering, the pressure needs to be known. After all, money talks.
Chance, Part 2:
'Once more unto the Bridge dear friends, once more…'

William Shakespeare (almost)
To go along with the truly wonderful football our manager has us playing most weekends (and inducing our stalwarts into comas of contentment), and perhaps in the face of this evolved human being, we need some, well some old-fashioned cunning from our manager. We got a good reminder of the dark arts from Jose Mourinho in the Chelsea game the other week; I don't think I can remember a fanbase so confident in facing Chelsea at the Bridge, such was our pomp in the Spurs and City aways. There we were, happy folk, confident in the verve and fortitude of our brave young warriors, when we were reminded with a bump what the benefits of having a dark Magus as your manager brings. Brendan has learnt his lessons well, let's hope this one from his old mentor isn't lost on him when he gets a second chance.
These last few weeks have also hinted at an unnecessary chance that has been taken. Amongst the fallout to the Damien Comolli sacking was the less reported news of the dismissal of the Head of Sport Science, Peter Brukner. His initial objective was to reduce the amount of football missed by players through 'preventable' injuries (muscular as oppose to collision/impact based). We have seen in the last couple of weeks a re-emergence of those types of injuries with Gerrard, Allen and Sakho. The manager bears his responsibility, with rotation and substitutions, particularly at the end of games that have long since been won; cunning comes in many guises.
Chance, Part 3:
There is a tide in the events of men

Which taken at the flood

Leads on to fortune.

Omitted, all the voyage of their life is bound in shallows and in miseries.

On such a full sea are we now afloat.

And we must take the current when it serves, or lose our ventures.

William Shakespeare
Though my footballing gib was cut under the gaze of Kenny Dalglish, I am 36 so it was Benitez, the Messiah of the maturing mind, who is the tactical springwell from which all strategic appreciation is measured. That notwithstanding, it was chance that precipitated our greatest formation in 20 years, and one that in its pomp was the best team in Europe.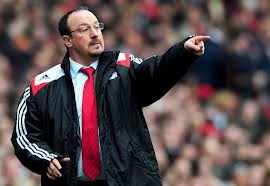 I have this theory that Friends (the TV show) is a work of genius that belongs in the cannon of great works. It's a complicated posit – and one which I may some day base a dissertation on, so I'm going to, for the most part, keep my powder dry – but suffice to say it stems from an almost mathematical combination of character traits and behaviours (two each per character), and their mystical ability to produce, well, laughs, when used in combinations. The disparate character traits and behaviours of Xabi Alonso, Javier Mascherano and Steven Gerrard are to me the footballing symmetry of Friends, the quintessential 'greater than the sum of their parts'.
"The Messiah of the maturing mind" …
It seems now that it was fated, this majestic midfield; that it was a master plan in waiting, turned by the dialling of phones, and greasing of palms. Mascherano though, the last of three to join, was first brought to Anfield (on loan) on 20th February 2007; yet it wasn't for another 18 months that this trio would establish itself. A series of convoluted actions and mis-actions involving Robbie Keane, form, Alonso and Gerrard injuries, even Momo Sissoko and an off-scene Gareth Barry all conspired, culminating in a near pivotal game at the City of Manchester Stadium on Sunday 5th October 2008. Benitez having benched Alonso at the start of this campaign, then Masherano – who returned following a Gerrard injury – seemed almost forced into the formation by the Manager's unhappiness with Robbie Keane; he duly set out the 4231 whose spine has gained legendary status in recent Liverpool history. It was the game we went down two nil, before a Torres inspired second half and a Kuyt injury time rebound won the game for the Reds and had the fans believing, possibly for the first time under Benitez, that this could be our year.
They forged the blueprint for the perfect midfield. I know I need to move on, but somehow I can never get totally past it; The ultimate destroyer, the ultimate playmaker and the ultimate attacking midfielder. I feel somehow cheated by the power of that trinity. Of course it's the brevity of it, the what might have been; We witnessed the yellow/blue explosion as when a fire is first lit, but not that satisfying warmth of the orange and red that sustains. Like I said, I badly need to move on, but I find myself trying to recreate that symbiotic combination via the transfer window, or the players we have, and here is where this worrying strain of obsessive behaviour has landed me;- Henderson, Allen and Gerrard.
It was often said that Keane was Ferguson on the pitch, their epitaph both 'we will dominate you'; Could Xabi then can be described as the same for Benitez – their strap line 'we will out-think you'? I am wondering if Allen, Rodgers' signature signing, will be in the future seen as his embodiment on the pitch, one is tempted to add the moniker 'we will outplay you' though in truth the first letter hasn't even been scribed yet.
As with that earlier incarnation, this set up looks likely to come about through a reconciliation of injury and form, and of course chance. It will probably mutate into a 4222, but initially I would set this up giving Henderson his head as the deepest lying midfielder – a Mascherano for this age, yes, less destructive for now, but certainly more artful. I have always seen Allen, the 'Welsh Xavi', as the 2nd man in a midfield 3, perhaps lacking the versatility to play other roles, but in that position, the potential is limitless. And although it's a moot point placing Gerrard in the attacking midfield role, I'm going to make it anyway. I just feel with all Steven's experience, skill and know how, if you said to him, 'Steven, you just need to do one thing for this team, orchestrate goals', I think he'd turn around and say, 'I can do that'.
The encouraging thing is what players like Sterling and Henderson have done with the chances they have been given, and for that I look to the boss. He's obviously creating a culture which allows young players to develop and execute where it matters, on the pitch. I feel in my bones, that this team can begin its own plot on the history books, but that's the thing about chance. You have to take it. Every inch we gain now will become miles in the future.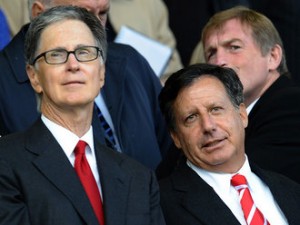 Over to you boys.