By Chris Rowland.
With Jonathan Wilson, author of 'Inverting the Pyramid' being one of our favourite football writers, this book was always going to be one worth checking out. And it is indeed pretty much compulsory reading for Reds fans.
Subtitled "A History in Ten Matches" and with a by-line that says "Jonathan Wilson with Scott Murray", the book's central premise was to "provide close readings of ten key games in the history of Liverpool", selected:
"not because they are necessarily the best games Liverpool have been involved in, or even the most important (though some were) in terms of happening in the latter stages of competitions, but because they highlight wider trends in Liverpool's history or because they lie on the fault lines of history, marking the end of one era and the beginning of another."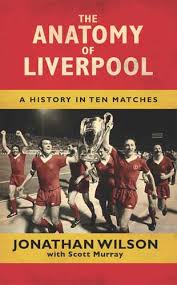 Of the ten matches, five were in European competitions, not all of them finals and not all of them in the European Cup/Champions League, three in the League and two FA Cup – again, one of them not a Final.
The rest of this article is for Subscribers only.
[ttt-subscribe-article]