By Mihail Vladimirov.
Both managers started with the expected XIs and team shapes. Villas-Boas continued with the 4-2-3-1 that looks more like a 4-4-1-1- that he has used since the Man City game. Meanwhile with Gerrard missing but Henderson fit to start, Rodgers simply went for the model Liverpool showed in the last half of hour of the West Ham match.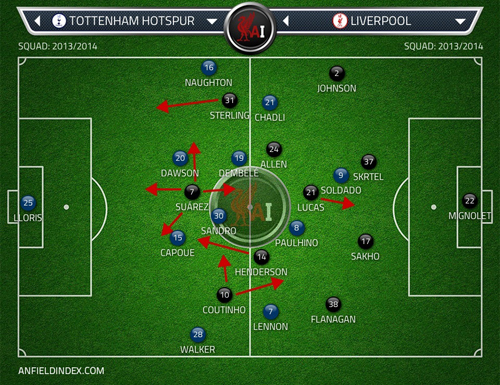 With the teams matched all over the pitch – 2-v-2 down the flanks, 3-v-3 in midfield and 2-v-1 at the back – the game could have turned into a very cagey and tactically-oriented clash. Instead, Villas-Boas' astonishing tactical naivety meant Liverpool's task couldn't have been simpler. It's hard to imagine the Reds would have an easier game against one of the big teams in the near future.
AVB's lack of basic tactical acumen
As it turned out, the game's defining tactical feature was the high defensive line employed by Tottenham. In principle there is nothing wrong using such a tactical weapon against this Liverpool side. Suarez is not the quickest, nor does he always stay on the centre-backs' shoulders waiting to latch on to passes in behind. He spends as much time being the most advanced attacker as he does dropping deep or drifting wide to join the build-up play and vacating the zone a typical #9 would be operating in. In addition, Coutinho is always going to drop deep and sit narrower as he prefers to join the creating phase than constantly making diagonal off-ball runs from the flank. This leaves only Sterling – of the front players – who, for all his acceleration, is yet to consistently show he is able to time his forward runs well enough to constantly catch the opponents by surprise (although in the past two games he's showed considerable improvement on that front).
But for that particular tactic to work you need to ensure three main things. First, that your defence is capable of playing so high up the pitch, by having the understanding to first pull forward as a unit and then the mobility to turn back and recover if something goes wrong. Second, to prevent any additional midfield runners coming from deep, your midfield unit needs to be assigned specific tasks and properly mark the opposition players. Third, to further minimise the chance your high line is caught off guard, you need to minimise the time on the ball the opponents have as this will limit the opportunities for them to pick out the right passes that might hurt you.
Simply said, what Spurs were instructed to do was the complete opposite. However, even this was not their biggest problem – even if both during his Chelsea and now Spurs days AVB has already made similar mistakes and showed the same tactical naivety. The astonishing thing is that he was quick to adjust his approach after each time his side suffered enormously (most recently after Spurs were trashed by City), only to then, a couple of games later, do the very same thing. This points to a person who is either so tactically stubborn or naïve or who is simply not as bright as he otherwise suggests.
The fact Spurs were robbed of key defenders was unfortunate for them, especially when the only fit natural defender is Dawson – the one who is the least suitable for such a tactical approach due to his lack of agility and acceleration. Villas-Boas was left to construct a duo between him and a midfielder playing out of position. But this was one of the main reasons – if not the main one – why a different tactical approach should have been adopted. Against Man Utd the Portuguese adapted by ordering a drastically deeper defensive line, with the wide men briefed to drop deep and form a tight midfield quartet ahead of the back four, instead of pressing from high up as they usually do. This gave time on the ball to the opposition, but without any space in behind and in front of the defence Spurs were rarely, if ever, truly penetrated from open play. In the following two games – when the Dawson-Capoue pair had to be used at the back – not only did they continue with the same passive defensive line, but given the nature of the opposition, Spurs largely controlled proceedings on the pitch, dominating with the ball and having territorial advantage. This meant the makeshift defence wasn't troubled as it could have been otherwise against better teams who would have put them under more attacking pressure.
These games showed AVB is alert enough to adjust some of the key aspects of his team's tactical behaviour – which makes his decision to return to the previously aggressive defensive line against Liverpool all the more surprising and even damning. He could have been forgiven for doing so if he wanted to put pressure on Liverpool early on and try to pin them back. Such an approach was going to be risky, with a 50-50 chance to be either a clear success or a total failure. But Spurs' ex-manager ought to balance his strategy much better by backing up the high defensive line with the explicit instruction for his whole team to press aggressively from higher up, with the midfield trio sticking tight on their direct opponents. Given the physical advantage of Dembele, Sandro and Paulinho over Lucas, Allen and Henderson, this strategy at least would have been excused – in case it turned out as a failure – by being logical and with clear aims behind it. And in case of it working, AVB would have been rightly lauded as having the tactical nous and bravery to do so with a makeshift centre-back pair.
However, insisting on such an aggressive and high defensive line but without the required pressure applied by the rest of the team was a sure recipe for a total tactical disaster. Tactically, there is the variant that a team might want to remain reactive when without the ball, standing-off their opponents in favour of a solid defensive shape. The usual approach is to back this up with a deep-lying defensive line, ensuring the opponents wouldn't have any space in behind the defence or between the lines. Your team will gift them the ball but will starve them for space to have the chance to do something with it – as Spurs showed against Man Utd. The unorthodox approach is to remain largely reactive without the ball but use a high defensive line. The aim behind this is simple – squeeze the play towards the midfield zone and prevent the opposition have the chance to spread their passing flow. This is done against teams that lack counter-attacking threat but you want to draw higher up to hit them on the break. This is also a good approach to be used against teams that are heavily possession-oriented and you want to break their passing flow through the middle, forcing them to just recycle the ball in deeper and less threatening areas while you are waiting for moments to catch them off guard.
The rest of this article is for Subscribers only.
[ttt-subscribe-article]