By Mark Cohen (Maradoo).
On August 20th, as the season began, Mark wrote an assessment of the relative merits of our perceived rivals for a top 4 place- Man Utd, Man City, Chelsea, Arsenal and Tottenham. Now, as we approach the halfway point, he re-appraises – and adds another to the race.
As Christmas approaches and the league table takes shape, it is interesting to revisit a few deductions that I made earlier in the season, and see what portents those bring for the second half of the season.
This is a nigh on impossible task – and I am certain to end with egg on my face, but it's still fun.
So here's some conjecture!
Manchester United
My initial thought that United would find the Moyes transition from Ferguson difficult was correct. I felt that he is too defensive a manager for a club that has built its ethos on attacking football, and so it has proven so far.
In years gone by, United would routinely attack with seven players, but this season has seen that number drop to five (at most) and with it, the year-on-year goals-to-game ratio has dropped a full goal from 2.52 to 1.56.
This is instructive. About ten years ago, in 04/05, United reached this date with just 30 goals, in third on the table, but with a goal difference of +17 still, as opposed to this vintage who are at just +6 now. This year is their lowest 'goals for' at this point since 92/93, telling you just how tough this adjustment has been for Moyes.
What is partially in his favour now is the lowering of expectations for the season by the fan base. If the Glazers hang on to Moyes and don't kneejerk him onto the street, he will benefit in the second half of the season from this adjustment in expectation. It seems as though the club will accept a 4th place finish now with pretty good grace as they could see Moyes acting as the 'buffer' between the irreplaceable Ferguson and a new manager without the stress of having to follow the 'auld master' next year, if they choose not to keep him.
Either way, the pressure to compete for the title is no longer on Moyes' head in reality (even though he might not have a job with a 4th place finish next year).  He actually said as much on the 17th December when discussing his luck at being at clubs that are not trigger happy. His reality is that he has a six-year contract, and unless told otherwise, he will hope a top 4 place is enough to keep the position into a second year. He can now focus on leading a charge for 4th, which is not beyond the realms of possibility given the January transfer window and the strong resources at his disposal.
Expectation verdict:  Lowered expectations will help United recover, but their arcane tactics will limit this recovery to a bout for 4th place.
Tottenham Hotspur
This is a perfect example of underperformance of expectation leading to overwhelming pressure, resulting in the sack for Villas-Boas.
Spurs were always up against it following on from their strong showing last season. Those performances, though, owed a great deal to Bale, and they have since found him irreplaceable. The main issue was that expectations, unfortunately for AVB, were not corrected in the summer, and Spurs confused the £100m spent on squad improvements for first team improvements. These purchases were always likely going to take time to bear fruit in the first team.
The second issue was my assertion pre-season that Spurs had actually set their sights too low this year. AVB had already stated in pre-season that CL qualification was the summit of the clubs ambitions and as Serpico pointed out in a brilliant post a couple of weeks back, in this division, where there are four title chasing teams to begin with, you generally 'fall' into 4th, not 'achieve' it, so this 4th place ceiling in effect created a paradox in Levy's thinking:
On the one hand, Levy knows 4th would be brilliant for Spurs' growth and would be 'the next logical step', but on the other, he spent £100m on his young superstar manager and could not accept the reality that a team he has been ahead of like Liverpool could come to WHL and destroy his expensively assembled side.
Where does this leave them? Strangely okay I believe. With a new manager comes reset expectations, and for a club with a history of 'glorious failure', this type of thing is never more than a season away. If Spurs go out and get themselves an astute manager like a Laudrup or Capello, they could still regroup and make a push for top 4 as the pressure is now also off.
Expectation verdict:  Lowered expectations will help new manager settle but the squad will suffer confidence problems for a while and I can't see them achieving a top four finish with Everton, Liverpool and United in better states than them.
Everton
What a surprise. I didn't even discuss Everton in the original article, telling you just how well they have done so far. Whenever an outlier over-performs they have the added advantage of exceeding fan expectations, making their journey all that more enjoyable. Take, for comparison, last year's Swansea. They played with great freedom for much of the campaign, culminating in a brilliant League Cup win. Much of this was done sans pressure as the weight of expectation is not exactly crippling in the Welsh club's shirt.
Thus Everton are benefiting from two main elements, with the first being that they are exceeding expectations. Their fans were fed a diet of battling football on a slim budget for ten years by Moyes, with the national media only too happy to fuel the 'plucky club fights' narrative for him. Everton's fans were probably very nervous to lose Moyes as uncertainty is scary, but they have quickly embraced the fresh, vibrant and effervescent football they have seen under Martinez.
Indeed, the freedom with control with which they play leads one to believe that the sky is the limit for Everton this season.
It is beyond the scope of this article to surmise where Everton might be next year, but if I can hazard a guess, they will plummet down the table due to the Spurs syndrome of heightened expectations combined with the loss of key players to bigger clubs (Lukaku for certain and Barkley to United is a relative certainty).
In the meantime, they are a joy to watch (even for a Liverpool fan), playing football which belies their so-called small time, people's club crap that Moyes peddled for a decade.
Verdict: The fans are enjoying the ride and the pressure is not on at the levels that the other big boys are at, so provided injuries are kind, I expect Everton to be in and around the top 4 to the final day.
Manchester City
Although I sat on the fence about City's chances in my initial article, I did rate them as the favourites for the title as they were working off a strong base and added to it to the tune of 100m squid too.
This has not changed. Teething problems combined with individual errors have contributed to a hefty four defeats already, but it is unlikely that figure will be doubled by the end of the season, probably handing them their second title in three years.
Fans expectations have been exceeded, not because of the league position which at 4th is barely acceptable, but rather because of the utterly sumptuous attacking form at home, which has been formidable. Indeed, they have bashed 35 goals in their opening eight home games which is a record, bettering the previous mark of 27, by 25%.
There is a sense that they are champions in waiting, as their quiet neighbours used to be, such is the quality of the squad and the skill they possess. The narrative that they are only a moment away from an eight- or nine-game winning run is palpable and I actually expect them to do just that anytime now.
Pellegrini has also largely avoided the type of public buffoonery that saw AVB targeted by the media, avoiding inviting extra pressure whilst he has also overseen the sort of football that neutrals love, making any poor results seven day wonders, instead of the start of a malaise like what happened to Spurs.
Verdict: Expectations only invite crippling pressure when non-performance becomes the norm. Provided City keep the horrid away days to a minimum, the fans will remain on-side and the pressure manageable. Surely the title is theirs to lose.
Chelsea
I initially felt that Chelsea under Mourinho would struggle to hit the heights of days of yore, and although they sit tied 2nd presently, I feel more certain than at the beginning that this season will end badly for the Blues.
From an expectation perspective, the fans are meaningless – it's Roman that's the problem.
When you are dealing with an Oligarch who wants to own Barcelona but wound up in West London, you have to understand that the expectations are always out of line with reality.
Chelsea won back to back championships under Mourinho's first tenure, but he was jettisoned acrimoniously shortly after, with barely a thought given to his status as a superstar manager. They have since been through eight managers in six years since he left in 2007 in search of this Barca Globetrotter football before returning to the only man cheeky  stupid enough willing to come work under this clown.
I followed Mourinho's time at Madrid with interest, and my assessment is that he attempted to overhaul Barcelona with the same template that he used to dominate a shocked Premier League in 2004 – huge money coupled with brilliant defensive, counter attacking tactical nous.
It largely failed to 'knock Barcelona off their fucking perch' as it were, and I posit it will fail in England this time too:
They are no longer the richest club, and, more importantly, I argue that football in the Premier League is presently in a cycle that places greater emphasis on attacking football. This change was born out of Ferguson's insistence on outscoring the opposition over his last ten years at the helm, whilst Ancelotti's and Mancini's brilliant goal glut teams also brought winning, free-scoring teams into the public's psyche.
As a matter of interest, since Mourinho's last league win in 05/06, achieved with a goals for column of 72, the following years have registered: 83, 80, 68, 103, 78, 93 & 86 for an average of 84 goals or a 17% increase in scoring. That is some difference at the top of the table. The trend is continuing, as it seems City are on course for the 100 goal mark this year too.
Mourinho strikes me as a man who could see the efficacy of his style of football was starting to fail at Madrid and thus ran to his old bastion at Stamford only to find the landscape has changed markedly from his first time out. Look, it's not as if they not scoring, they have 32 strikes in 16 games, but I sense that in the final analysis, the 25-30 goals more that City will wind up scoring should translate to the ten or so points I feel they will beat Chelsea by.
Also, Mourinho looks as though he has lost the arrogant swagger that helped him instil such confidence in his team whilst making him such a fierce adversary to opponents too. Indeed, considering his team remain well placed in the league and CL, it is strange to see him behaving like a dead man walking. Perhaps he has the intelligence to see what's around the corner?
Verdict: The way Chelsea fans and journalists carried on at the beginning of the season, the expectation was nothing short of a convincing march to the title. That won't happen, and they will be fortunate to even be in the title race come about April. I cannot see Abromavich accepting even one season in second place, to a side that entertain and win like City.
Arsenal
I asserted that the expectation, wrongly or rightly, was for a genuine title tilt at the beginning of the season for Wenger, and to be fair, Arsenal have been superb for much of the season, actually matching this expectation.
I think the problem Wenger is facing is that coming from a base of winning nothing for nine years, the fans are not willing to accept anything less than a season-long effort, and you sense that any slip ups will be met with a horrible feeling of dread by the fans, sending the pressure of the initial expectations higher still.
Even this last week, one got the feeling that Fleet Street sensed the animal was wounded following the late equaliser against Everton, the Napoli defeat and the City shellacking and quickly started to gorge, asking pertinent questions like 'do Arsenal have what it takes?' or 'is this the same old brittle Arsenal?'.  Fans nervousness is up now, and when you factor in that a defeat to Chelsea on Monday, alongside positive results for Everton, City and Liverpool would suddenly leave Arsenal in the middle of the title-chasing pack instead of sitting 5-8 points clear, you begin to realise just how much of an effect trajectory has on expectation too.
Arsenal's season started abysmally against Villa, putting Wenger on AVB street possibly, but a few great performances later and they looked like they had finally come of age. Houllier once said he was a victim of his own success, and even though he was wrong, that notion is better applied for Wenger here.
If his squad come through this testing run of results and performances, and enter the new year well placed for a title push, the expectation for the beginning of the season will remain met, and Wenger will be fine. I expect this will happen, because I rate his team this season and feel a 2nd place finish is well within their grasp.
However, a few bad results will leave the Wenger that we know and love standing on the side-line in that big coat like an overgrown moth from The Far Side (thank you Johnny Nic), staring into the abyss that is the pitch. The expectations of a title chase will be over, and the doomed to eternally repeat trajectory that Gooners hate – promises of a title push, only to fail and struggle into 4th, will make the pressure on Wenger seem like being inside a beach ball rolling along the Marianas trench.
Verdict: Arsenal possess a strong team, and will end in the top 4. I just don't know whether it will be smiling or kicking and screaming yet. The title push may be on too, but they will need to show belief against the big teams away from home in the second half of the season for that to pass.
Liverpool
My initial assessment of Liverpool's chances were allied to the belief I had that our first team was under-rated, by both opponents and our fans alike. This led to a lowering of expectations allowing us the opportunity to build something without thinking it could be ripped up at any moment à la Spurs. 
This lowly valuation of our team was strange to me too, given the fact we had outscored every team in 2013 – a bellwether for a good team.  We nonetheless were in the position where most of our fans felt a 5th or 6th place finish was probable.
I further posited that Rodgers second season with a settled side and concretised methods would be better than the first. I think this would have been proven wrong in hindsight, had Luis Suarez not stayed.
The Suarez factor is the defining reason why Liverpool's expectation and potential to match that heightened  requirement remain met at the moment. Frankly, there is not a footballer on earth scoring like this against this quality of defender at the moment.
Let that sink in – right now Liverpool possess the best footballer on the planet.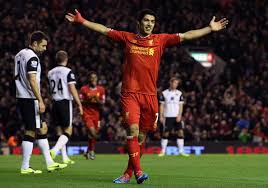 If this is true, which I believe it statistically is, one can start to reassess our expectations for the season:
If your first eleven is good, which ours is, as evidenced by the performance for nine league games without Suarez (P9 W6 D2 L1), then the addition of the world's best footballer to this already strong side actually needs to propel the team into a title race, even if we feel that makes us uncomfortable.
Let's look at it this way: if after game five this season, when we sat in second place, we were told Messi has joined the club, we would not have hesitated to dream of a genuine title push, as you'd have felt he would add 35-40 league goals to our tally giving us a chance of first place at least.
Messi = Suarez. Maybe not long-term, but his present scoring rate in the league of 17 goals in 11 games (1.55 a game) is higher than Messi's season long record of 46 goals in 32 games (1.44 a game).
Yes, of course we don't know if what Messi achieved is sustainable for Suarez over the course of a season, but we do possess today's facts, and based on that, the expectation for Liverpool should be for a genuine title tilt.
But yet it isn't.
Paul used to speak of a perfect storm going against Liverpool in Kenny's final season and few could argue. Expected to qualify for CL, we hit the post the most, had the most debatable decisions go against us, had Evragate and the ensuing media storm and just generally had quite frightful luck all year long.
This year is almost the opposite. Expectations remain low, Suarez can't miss, the fixture list was perfect to get our trajectory off to a good start and even now, with the unbeatable City looming at the Etihad, they lose Aguero for the fixture, giving us a massive mental lift. This is all not to mention the massive state of flux enveloping the league (Rodgers is ridiculously the fourth longest-serving boss as of today).
These things are elements that are oft overlooked when we analyse, but bring great pressure to bear on the final results.
Verdict: Lowered expectations coupled with having on form players who are enjoying their football is a recipe for success in this division. Couple this with an attacking strategy and the sky's the limit. I don't expect a title win, but I do expect a challenge at this point, and the two are different things.
One could go on and on about Liverpool, but I believe the remit of this article is best served by leaving it at that, and letting the TTT community chew it up, digest and hopefully add to it.
Predicted Final League finish:
Manchester City
Arsenal
Liverpool
Manchester United/Chelsea
Everton
Tottenham Hotspur