By Mihail Vladimirov.
As anticipated Pellegrini solidified his midfield by both switching to a 4-2-3-1 formation and having Silva as the third midfielder behind Negredo. This meant Nasri was placed on the left, adding another midfield body by drifting infield. With Zabaleta fit to start the home team re-established his fearsome wide partnership on the right with Navas.
Rodgers continued with the same 4-1-2-3 formation as has been the case lately. The only change was due to Flanagan's injury, he was replaced by Cissokho. However, in contrast to the recent games, Coutinho played closer to the touchline and only occasionally venturing infield.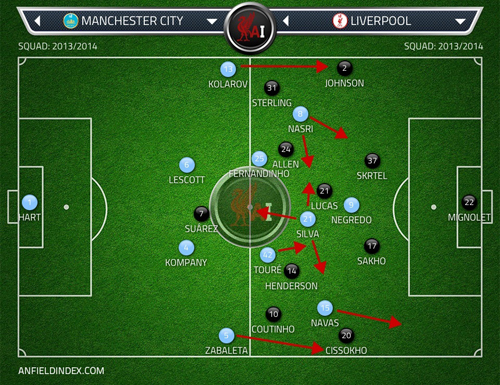 The game was enjoyable and produced an interesting tactical battle. But as a whole it felt like both teams paid too much respect to each other, which resulted in neither side playing with their usual attacking swagger and technical brilliance. So, except the brief period towards the end of the first half, the majority the match was all about careful passing and played at a slow tempo.
Man City dominating early on
Being the home team it wasn't a surprise to see Man City dominating right from the start. They had  the upper hand in terms of possession, and this allowed their players to spread in attack and put pressure on Liverpool.
However, what was immediately apparent was just how careful and patient the hosts were with their passing. Their usual ferocious attacking drive was replaced with cautiousness and extra emphasis on gradual build-up play. This was as much down to the different shape and extra ball-players, as to Pellegrini seemingly accounting for Liverpool's current form and their ability to be a threat both proactively from their possession based play, and reactively on the break. Presumably, the Chilean manager wanted his team to dominate the proceedings and as a result to push Liverpool back rather than allow them to show their own passing quality.
Man City focussed on two areas where they were able to create promising attacking moves. The first one was down the right flank, using the Zabaleta-Navas partnership. With Cissokho featuring for the first time in almost a couple of months (his previous game was against Fulham on 9th November) it was logical to assume the home team would see him as the weakest link. Also his wide partner was Coutinho, a player expected to drift infield and leave his colleague vulnerable to a 2-v-1 overloads down the flank. Even though the Brazilian stayed predominantly down the flank, instead of constantly sitting narrower, and so theoretically in position to offer defensive assistance, City started to put pressure on Liverpool's left side immediately. Zabaleta consistently motored past Coutinho and was always in touch with Navas. From there it was a case of the two of them working together to overload Cissokho and produce dangerous crosses.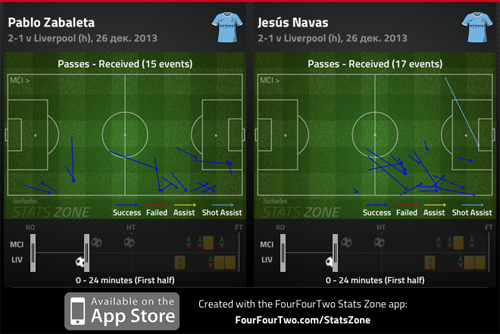 The problem was that even when he stayed wider, Coutinho was too easily beaten positionally by Zabelata, often looking completely unaware of his forward runs, and so consistently failing to track back with him. On paper the Brazilian is not the ideal player you'd like to assist defensively and cover for the full-back. And of course, by seeing him stationed much wider than usual, Liverpool were robbed of that extra midfield body that would have allowed them to, if not dominate, then at least compete with City for the ball. Liverpool were playing with three midfielders, but City have had four as Nasri was always keen to come deeper and narrower. As a result the visitors were unable to exert the same midfield control as recently and City managed to quickly and relatively easily establish a commanding position in that zone.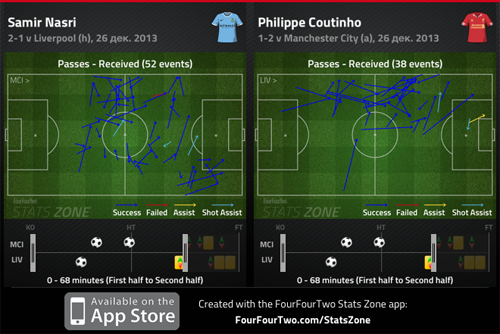 If Liverpool's plan was to have only three midfielders and see both wide men staying near the touchline, one can't help but wonder why Rodgers insisted on Coutinho playing on the left flank. It wasn't a surprise at all that City lined up with this XI and shape. It was easy to foresee that with Zabaleta and Navas City would have a massive advantage on their right, especially with Cissokho starting at full-back. To try and prevent this becoming a reality, the visitors could have looked to either compete for the ball by having Coutinho moving narrower and creating the suitable midfield structure for such an approach (and so minimize the chance City attacking), or alternatively, change the shape in order to accommodate for the apparent insistence of having only three midfielders. For his industry and defensive input it could have been Henderson staying wide on the left flank, allowing him to track back Zabelata's runs. Meanwhile Coutinho could be used centrally and ahead of Lucas with Allen sitting alongside him.
With City bossing the possession and enjoying a 4-v-3 numerical advantage, it was logical to see their second attacking route being through the middle. Although Liverpool looked to be compact in defence (using a high defensive line but looking to drop their midfield behind the ball and form a 4-1-4-1 shape) the home team managed to create and then exploit gaps between Liverpool's lines. With Nasri moving infield and Toure pushing from deep it was a case of City having the positional fluidity to drag Liverpool's midfielders out of position and then send someone into the spaces that had been just created. City's midfielders were all the type of players capable of varying their positioning and offer the required passing fluency to support the build-up play too. Silva was constantly dropping deep and drifting wide, showing his intelligence and spatial awaraness. He was either trying to further overload Liverpool's left flank, or trying to tempt Lucas out of position. Meanwhile Nasri's narrow position meant City had that extra man to work around Liverpool's trio and try to involve either or both Toure and Fernandinho higher up the pitch.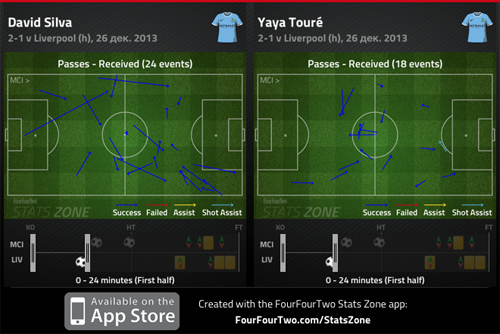 There were several situations where the home team managed to postionally open up Liverpool through the middle, using movement fluidity to create gaps and then quickly exploit them with some nice fluent passing exchanges. Two particular examples perfectly illustrated Liverpool's vulnerability through the middle. First, in the fifth minute, Silva drifted to the right to drag Lucas out of the centre and secure the gap for Nasri to surge infield and become the free man on the edge of the penalty area. With both Allen and Henderson focussed on Fernandinho and Toure there was no-one to cover this gap. Luckily Skrtel was quick to dive in and block tackle Nasri's shoot on goal. Then in the 12th minute Liverpool's midfielders were all in position, but Silva's dropping off encouraged both Fernandinho and Toure to push on. Eventually a quick one-two between Toure and Negredo put the Ivorian into a good shooting position.
On top of all of this, City's left flank also chipped in with some dangerous attacking forays. With Nasri dropping deep or moving between the lines, Kolarov had all the space on the outside to overlap and stretch the play on the left flank too. In a similar vein to Zabaleta and Navas, his input was mainly in terms of dangerous crosses. The situation in the fifth and 18th minute followed a similar pattern. The Serb would simply overlap, receive the ball and whip in a great cross. In the first situation his cross was narrowly missed by Negredo but was used by Navas to head the ball against the post. The other chance saw Negredo once again making a good run towards the near post to meet the ball only for his shot to go wide of target.
There was also the corner situation in the 10th minute (which resulted from yet another Zabelata-Navas attacking move on the right) from where Kompany beat Skrtel to head dangerously off target. This served as a sign for what was coming later on.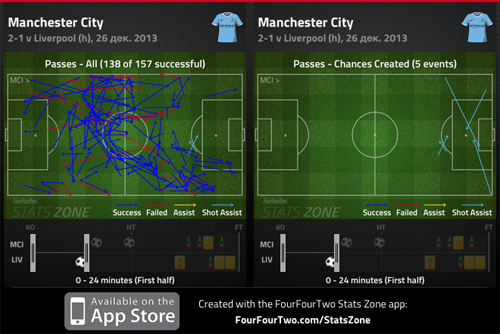 Liverpool struggle in attack too
It was obvious that Liverpool were trying to keep it tight at the back and weather the expected initial storm and then take it from there. But not only were Liverpool struggling defensively through the middle and down the flanks, they posing almost no real threat going forward. Being unable to exert any midfield dominance, Liverpool could not match City's attacking moves built upon a foundation of possession, and so had to rely on sporadic attempts to break forward.
Liverpool's most successful way of attacking was actually coming as a direct consequence from what City were doing. Right from the start Silva was seen joining Negredo in trying to close down Liverpool's centre-backs, both in open play but especially at goal-kicks. But with Lucas constantly dropping deep to make it 3-v-2, the visitors ensured a safe passing out of the back.
The problem, from City's point of view, was that once beaten, Silva simply jogged back and so didn't drop deep quickly enough, hence leaving only Fernandinho and Toure through the middle (as Nasri's role within the shape when the team wasn't in possession was to remain wider). In these situations Liverpool managed to create numerical supremacy through the middle by either having Suarez dropping deep, or one of the wide men coming narrower (surprisingly it was mainly Sterling). As a result the team created some of their better passing moves by simply working the ball forward quickly with guile and clear purpose.
The other attacking route for Liverpool was following throw-ins. Here, similar to the goal-kicks situations, City acted poorly in terms of space coverage and how the players were adjusting. Whenever there was a throw-in in Liverpool's half, the home team would strangely push forward in numbers and leave themselves too open at the back. The first such situation came in the 16th minute, when following the throw-in Zabaleta's poor pass was intercepted by Suarez who run forward before sending Sterling in behind. Fortunately for the hosts, Kolarov anticipated the situation and quickly moved across to block-tackle Sterling and clear the danger. Following a Liverpool throw-in three minutes later the situation repeated. After initially regaining the ball Kompany (who strangely was in Liverpool's half) failed with his pass and again the ball reached Suarez who quickly attempted to send Sterling in behind, only for the winger to be stopped by an incorrect offside call this time.
It wasn't a surprise to see Liverpool struggling so much in attack. Apart their inability to go through the middle and create some decent attacking moves from open play, they also failed to break forward down the flanks. Seeing how efficient City were exploiting the strength of their right-sided wide pair to put emphasis on Liverpool's weaknesses on that flank, one has to wonder why Liverpool couldn't have done the same by involving Johnson and Sterling much more. Not only they were playing on the same flank, but the visitors should have use the fact Nasri was often in narrow positions, leaving him unable to offer Kolarov any positional assistance. In a way this was understandable as obviously Liverpool wanted to go through Coutinho, who was on the opposite flank. In addition it was clear the ball was often coming out from the back through Sakho rather than Skrtel, which is another reason why it was the left channel the preferred one for Liverpool to build their attacking moves on. Naturally this meant Cissokho became the full-back who was most involved in the team's passing moves. Still, Liverpool arguably ought to have shown much greater awareness and mix their approach more often, seeking to switch the play from time to time to the right flank and see whether they could use their own right-sided pair to inflict the same threat as City. It could have been a case of the ball being fed to Johnson to carry it forward in order to enable Sterling to either work with him and create a 2-v-1 advantage over Kolarov, or have the winger darting infield to support Suarez.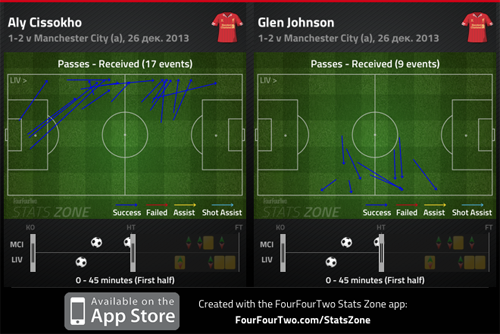 Anyway, twice Liverpool succeeded in creating a decent attacking move from open play, and unsurprisingly twice they managed to exploit City's weakness between the lines (their lack of a permanent midfield holder to plug the space in front of the back four). The first situation came in the 23rd minute when, for the first time, the visitors worked the ball with more than just a few passes, allowing enough time for the team to spread properly in attack. Allen was found in a good goal-scoring position, heading into a one-on-one situation with Hart, only for his first touch to let him down. Just a minute later Liverpool repeated the exercise, only this time with even greater passing fluency and managed to score the opening goal. Although the goal came largely against the run of the play, there were two key aspects that made these situations different to what Liverpool had been doing up to this moment. First, Coutinho was in a narrow position, enabling him to influence the play from between the lines. Second, both Allen and Henderson were keen to push forward and support the attacking moves, and as a result target that space in behind City's midfielders.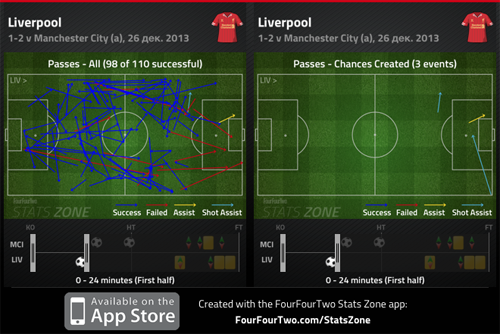 To the end of the half
Logically, after the goal Man City piled forward and managed to pin Liverpool back in their half. In the 27th minute Toure had another fine chance, following yet another dangerous cross from Kolarov down the left side. The situation just showed what City had been doing so well with their prolonged and carefully built passing moves, working the ball from side to side. Then using the positional fluidity to send a midfield runner near or into the penalty area, all supported with constant width on both sides serving well in terms of dangerous crosses coming into the box.
With Liverpool twice benefiting from set-pieces (the two throw-in situations) it was City's turn to create dangerous moments from such sitautions. First, in the 31st minute Kompany once again managed to beat Skrtel to the ball and this time head it home. Two minutes later, following a Liverpool corner, City broke forward dangerously for a 2-v-2 situation. Silva passed to Navas who cut infield into the box but produced a very disappointing shot.
After the equalizer, and especially in the last ten minutes, the game suddenly changed from the previously slow and cautious affair into a much more direct and attack-based end-to-end clash. Both teams start to swarm forward at every opportunity, attacking in numbers and leaving themselves open at the back. Such behaviour could be at least understandable for City, in that the home team might have felt a sudden surge of the adrenaline which invigorated them to push forward and capitalise on the change of the momentum. But from Liverpool's point of view it was hard to think of a logical reason to justify the team adopting the same highly risky approach and going toe-to-toe with their opponents.
Without needing to do too much City several times exploited the gaps in Liverpool's defence . Apart the Navas chance in the 33th minute, the three best situations City had all followed the same pattern. Possession would be regained, the ball would be worked up the pitch and in the right moment the team would pick out one of the many gaps with a simple forward pass. In the 35th minute after a prolonged recycling of the ball Toure slipped a great through ball for Negredo (Skrtel made the crucial interception and cleared the ball). Two minutes later City attacked via Nasri through the middle. But instead of quickly feeding one of his better-positioned teammates around him, he dwelt on the ball too long and eventually sent an anemic shot on goal. In the 42nd minute it was Fernandinho's turn to push forward and send an angled through ball for Negredo, who this time managed to apply a shot, but once again Skrtel was there to block tackle him and put the ball out for a corner. All of this was finally peaked in the final minute of the half for the second goal. Once again Liverpool were caught out too high up the pitch and congested through the middle, and leaving oceans of space down the flanks and around the centre-backs. City regained the ball and within a matter of a few passes managed to transition forward, first sending Navas in behind Cissokho, for him to quickly square the ball for the on-rushing Negredo to power the ball past Mignolet.
Meanwhile, as a whole, Liverpool were too ponderous in possession, showed a lack of clarity, and any clear method of attacking. It seemed as though, swept along in the overall events on the pitch during this period of play, Liverpool were too chaotic, and all sense of shape, patterns of play, and precise passing gave way to much less disciplined and far more intuitive behaviour. The only chance they managed to create in the 40th minute even felt that way. The passing was crisp and sudden, as the ball quickly reached the final third. There Sterling chipped the ball to Suarez, who with a one-touch through ball set up Coutinho in a clear chance for goal, only for the Brazilian to miss a sitter with his tame shot.
That's why, instead of so easily being misled by City's sudden switch in emphasis to becoming more direct attack-oriented, Liverpool ought to have remained cool-headed and careful in their overall application. If not after going ahead, at the very least once the equalizer went in. Instead of being lured into such end-to-end action in the final ten minutes of the half, arguably the visitors should have become even more tactically disciplined and stayed firm in their defensive responsibilities. With the scoreline, the period of the game now so close to half-time, and how City suddenly upped the tempo and started to rush forward, meant there was really no need for Liverpool to be as attack-minded and risk so much by committing men forward on the break every time. Instead of leaving themselves so open at the back, they might have done better by managing the situation tactically and try to stifle City's impulse. This could have been achieved in two main ways. Either focus on gaining control of the game by trying to boss the play with the ball (for this to happen Coutinho was needed to play as the fourth midfielder). Alternatively, Liverpool could have adopted a more reactive approach by changing their shape to account for the threats posed by City. Swapping Henderson and Coutinho could have led to a greater ability to cope with City's runs down the left, while putting Allen alongside Lucas might have meant another body to cover between the lines, especially when/if Lucas is dragged out of position.
Perhaps it was a case of Liverpool's players simply being misled and caught up in the occasion. More so given City was a team full of highly technical, intelligent and very experienced players. That's why, as the manager, it is arguable that the responsibility is on Rodgers' shoulders to recognise what is happening and urge his team to exercise more calm and cautious in the final stage of the first half. But he is a young and relatively inexperienced manager. When you add to this his general enthusiasm, it could be questioned whether he was 'engulfed' by the events on the pitch even more than his players.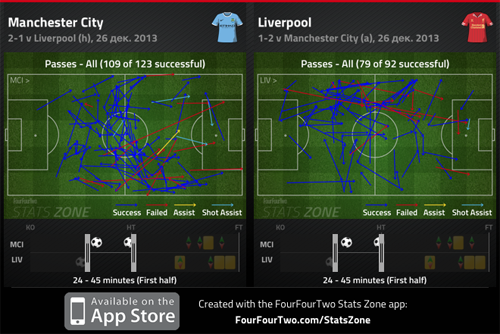 Second half
Liverpool started the second half brightly, showing a willingness to attack and put pressure on City. Johnson started to be more involved more down the right flank too, with Henderson now keen to surge forward from deep.
As a result the visitors quickly created a couple of dangerous attacks. First, in the 47th minute they worked the ball nicely into advanced areas, feeding Johnson on the right who quickly sent a low cross into the box for Suarez. The Uruguayan back passed to the on-rushing Henderson whose shot was off target. Again, four minutes later, they created a good attacking move, this time down the left channel, for Sterling to chip the ball towards Henderson (again attempting  a vertical run off the ball). Hart cleared and the ball fell to Kolarov. But instead of clearing it up right away, the Serb attempted to dribble past Suarez. The Uruguayan dispossessed him, and his attempted shot on goal (which might have been going off target anyway) was blocked by Henderson, and the ref awarded an offside.
However, apart these two situations Liverpool failed to put City under any sustained pressure. This was partly down to how well City started to defend. As the second half got under way it was obvious that, when they were without the ball, the home team were now keen to drop deep and form a compact two banks of four behind the play. In contrast to the first half, where City played a high line and the midfielders were often joining in the attacking moves, this now minimised the space behind the defence and between the lines. As a result Liverpool were forced to approach their attacks in a much slower manner as there was no space for them to speed up their passing flow. In addition, with City compressing the space in their half, the visitors were forced to play mainly in front of them and pass the ball in deeper, and therefore non-threatening, areas.
In part, this was also a result of Liverpool's own failings though. The Reds were guilty of lacking any urgency and were too slow to transition the ball higher up the pitch. It was taking too long for the team to morph the recycling process at the back into something more meaningful in midfield, let alone into the last third. Generally speaking, during the period before the first sub (45-68 mins) both teams had the same numbers of passes in the middle (84/87 for City, 74/82 for Liverpool) and in attacking third (28/37 for City, 26/33 for Liverpool). But Liverpool passed the ball five times more than City in their own third (attempting and completing 32 passes against City's 6 out of 6). It just shows how slow the visitors were going forward, which given the scoreline and the lack of any real danger from higher up the pitch, ultimately suited the home team just fine.
Furthermore, whenever City had the ball, they simply reverted to the approach of the start of the first half. They were happy to just recycle the ball, be careful, and not take any unnecessary risks when moving into attack. Going forward, City were intelligently and calmly probing with the ball until there was a chance for something more creative and penetrative to be attempted, and as a result they only broke forward dangerously a few times. With this in mind, Liverpool were guilty of remaining reactive and not attempting to close down City and deny them time on the ball. As a result the home team were handed an easy opportunity to just get going with their recycling, which further reduced Liverpool's chances to do something in attack.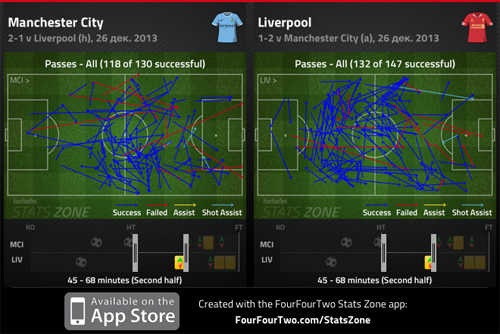 Based on all visible evidence, it would seem that Rodgers planned to head into the second half with  the initial aim of seeing his team settle down and establish a commanding position in terms of exerting passing dominance, before opening up his team in attack. In theory it was a sound strategy as there is no need to gamble big time at the halfway stage when you are only trailing by one goal, There is still a whole half to be played, the opposition is having the quality to hurt you in different ways, on top of which you don't know what their strategy is going to be be at the start of the second half. But by the opening ten minutes it became quite clear how City would operate (sitting back and letting the visitors play) and that Liverpool were already in a good passing rhythm and will definitely enjoy a fair share of the ball. Therefore arguably it was just a waste of time to see Liverpool remain so ponderous and cautious on the ball. There was no reason for Rodgers to wait so long before attempting to change something in order to increase his team capabilities and attacking verve to penetrate the opposition.
If, for whatever reason, Rodgers felt the 55th minute was too early to turn to the bench, then there was the opportunity to at least try some tweaks to his starting XI. Potentially, a swap between Coutinho and Henderson would have seen the team being more dangerous in attack. With Coutinho central (and thus with greater freedom to drop deep, collect the ball and pull the strings) the team might have gained a better and more creative passing fluency going forward. Meanwhile with Henderson  tucked in on the left, Sterling trying diagonal runs on the right and Allen joining later on from deep, on top of the two overlapping full-backs, the Braziilan will have been surrounded with enough willing runners and attacking bodies from different angles for him to try to feed.
Then, around the 65-70 minute mark Rodgers could have further expanded his team and introduced Aspas in place of Lucas, going for 4-2-2-2ish shape to try and camp in City's half and put their rigid defence to the test.
Substitutions
Based on how uninspiring and lacking in imagination Liverpool were by this stage, it was strange to see Rodgers waiting so long to try introducing some spark from the bench. However, it was a straight like-for-like change with Moses replacing Coutinho down the left flank, while continuing with the same shape and overall positioning of the players.
There may have been some logic in wanting to introduce another mobile ball-carrier to try and provide some much needed verve and directness in an attempt to rejuvenate Liverpool and add that extra urgency to their otherwise ponderous passing. But the lack of further tactical tweaks arguably minimised the chance of this change being more successful and providing that 'missing something'. If Rodgers was so fixed on introducing Moses, it could at least have been in place of Lucas, and allowed Coutinho to move centrally. Given that twenty or so minutes had now passed in the second half in which Liverpool had not really troubled City at all, it was a time for Liverpool to be more brave tactically and take a few more gambles. Putting Moses on the left would have led to both wings now having an overlapping back and a winger capable of both running with the ball and making diagonal runs. Meanwhile Allen (from deep) and Coutinho (from advanced) could have provided enough for the team to show far greater guile coming through the middle, enabling Henderson to offer support in attack with his late runs.
Unsurprisingly, Liverpool continued to look flat and struggle in attack. There was no real improvement in any sense, with no better movement off the ball, and no improved ability to morph the deep possession into meaningful attacking moves near City's penalty area. Whatever plan Rodgers had in mind with that change, not only did it clearly fail to improve his team at all, but with Pellegrini now starting to make tactical changes, Liverpool found themselves further stifled and their minimal threat became totally nullified. In the 72nd minute Milner was introduced for Nasri down the left flank. With his work-rate and defensive nous, any potential threat from Johnson was now prevented (as the below chalkboard illustrates nicely).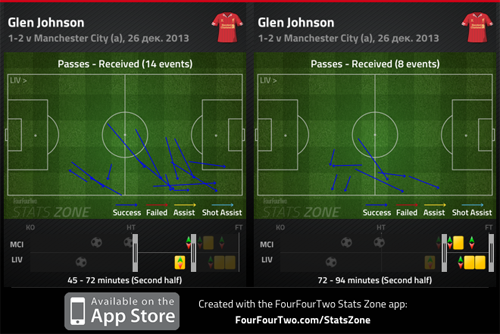 Liverpool's best chances in the second half were again arising from City's individual mistakes. First, in the 70th minute a Henderson's floating cross into the box was poorly cleared by Lescott and the ball fell to Johnson. But instead of capitalizing on the chance, Johnson's poor first touch prevented him getting a shot on goal at all. Two minutes later Liverpool had a throw-in deep in their own half. As in the first half, City strangely took the decision to push their team high up the pitch and leave themselves wide open at the back. Suarez received the ball down the line and ran forward, before sending a great cross for Sterling completely unmarked on the far post, only for the winger to connect poorly with the ball and see his shot go way off target.
Even by the time Rodgers opted to introduce Aspas and go for a more attacking formation, Liverpool had by this stage already surrendered their previous possession dominance. Meanwhile Pellegrini wasted no time introducing Javi Garcia in bid to solidify his midfield. The Spaniard went alongside Fernandinho, with Toure just ahead, to sit in that space between the lines and now help protect the centre-backs more against Liverpool's two roaming forwards.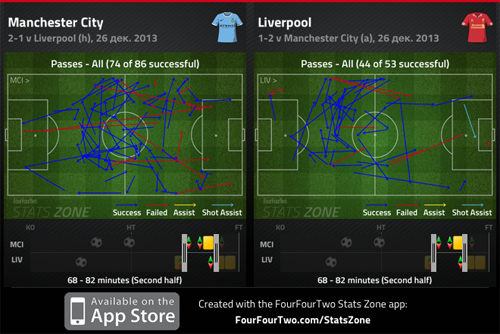 Although in the final ten or so minutes of the game Liverpool completely dominated the possession, just as with the rest of the second half, they did so in deeper areas away from City's penalty area. As such the visitors failed to create a single decent goal-scoring chance from open play in that period (with their only registered shoot on goal being the Suarez shot from an indirect free-kick in the 85th minute). What's more it was City who were the more dangerous team in attack, breaking forward really dangerously few times.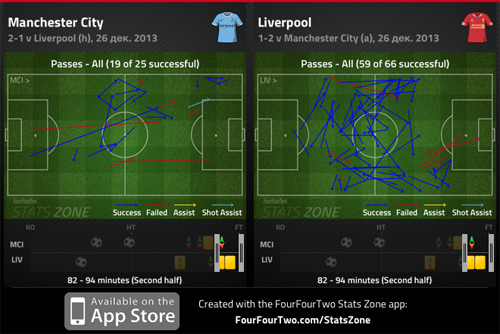 Post-match thoughts
As a whole, compared to their recent performances it could be said neither team impressed at all in this game. Liverpool weren't poor per se, and at the very least did enough to prevent being humiliated in the same way as the other big teams were at this venue. But the visitors weren't that good either. They struggled defensively in the first half and failed to improve enough offensively in the second half to deserve any more than just a shout at trying to compete equally. They failed to show the same positional fluidity, passing fluency, and pressing that this XI have shown in the last few games. The majority of their chances were either from City's individual mistakes or (bizarrely) from throw-ins situations when they managed to catch City off guard. Only the Allen and Coutinho chances (both missed) in the first half were due to Liverpool creating something through open play as a result of their own actions and quality build-up play.
Meanwhile Man City did not show their usual attacking verve and fluency, and ultimately did just enough to secure the win here. It was clear Pellegrini felt respect for Liverpool, and as a result this game was much more a tactical win, as City never really opened up in attack to push on to overrun the opposition in the way they have done against other teams. His in-game management in the second half and the nature of the subs were telling too.
As such it could be said the draw might have been the fairer result here. But it's hard to argue against City's efficient, if not effective, all-round display here.