By Paul Tomkins.
Well, that was unexpected. My pre-match fear about the Reds never doing well at White Hart Lane proved somewhat misplaced. Not for the first time, I was proved wrong.
One post-match Tweeter seemed unusually keen that I admit I was "wrong over Rodgers". Football writers are no different from terrace and armchair pundits in that we want to be right; we want to say something that rings true. After all, who wants to be wrong all the time? What kind of pundit would that make you? That said, football makes mugs of us all. Anyone who can't see that is deluded.
That said, I'm baffled as to how I've been wrong on Rodgers. I've remained fairly neutral; unconvinced either way, for much of the time.
I didn't sit on the fence over Rafa (although only RAWKites got to see my uneasiness in his first few months, as I struggled to come to terms with things like zonal marking), and I was certainly on the other side of it with Hodgson. But I don't see why I should be in a rush to come down on one side of the fence just to please other people. I give my opinion, and if it's not a controversial one, well then I'm sorry. I try to make my writing interesting, but bar the odd cheap shot here and there, above all else I look to be fair.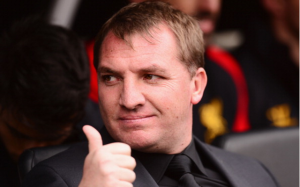 I started off feeling fairly optimistic when Rodgers took charge, but why paint myself into a corner over a promising young manager with a thin CV? Why this need from people to be so entrenched in one camp or the other?
I actually really enjoyed the way Rodgers' team played when picking up just two points from his first five Premier League games. I was heartened. But then things went south, with performances dipping, even if results, on the whole, generally improved. So I became a waverer, a fence-sitter. In fairness, I was fairly confused, but my apologies for admitting it, on numerous occasions, and again now. If Rodgers wins the title I won't be able to crow about being spot-on; and if Rodgers loses the next ten games, and his job, I won't be able to crow about calling it right.
Things improved in the second half of the season, but the pressure was off. And aside from a second-half comeback against Spurs at Anfield, the wins were almost exclusively against lower-half sides. So I remained unconvinced.
This season started off better – great results, but some quite terrible second-half showings, where the Reds were hanging on for dear life. United were then beaten at home, and that felt great; but then we looked at their subsequent results, and realised that it wasn't the United of old. Still, always a great three points.
But there was still a schism. Liverpool, aside from the soporific display against Southampton, were growing increasingly sensational at home (for added sibilance, Suarez and Sturridge were simply sublime). However, on the road there were too many limp displays. Every time I thought "Rodgers had cracked it", cracks appeared.
And again, the thrashings were handed out to the weak, with all but one of Liverpool's victories (United) coming against bottom-half sides. Having said that, the Reds, so alarming at Hull, were getting better and better against the cannon fodder, and you can still rack up a lot of points that way; it's just limiting if you can't win many away games, or beat the better sides in the head-to-heads.
But the destruction of Spurs was a landmark for Rodgers. It was the most complete Liverpool display in quite some time, and it came at a tricky venue, against a team who had the best defensive record when it came to limiting opponents. Yes, Spurs were shafted at City, but then so were United and Arsenal. No-one expected Liverpool to go to White Hart Lane and win by a five-goal margin.
The win was achieved in the style I originally expected from a Rodgers side after those early games in August 2012. There was so much energy – pressing after pressing – allied to quick and incisive passing. It may be a coincidence that it came in Gerrard's absence (however, many think not), but the running of Allen and Henderson, along with their sensible use of the ball, was too much for Spurs to handle. That built the platform for the trickery of Suarez, Coutinho and Sterling, each of whom missed sitters and still impressed.
Like many others, I've seen Lucas and Gerrard as one of the problems during Rodgers' tenure. Individually I have no problem with either of them – Gerrard is a legend and Lucas is impossible for me to dislike – but there doesn't seem quite enough movement and energy between them these days.
Also, I've wondered when Sahko would get a chance, given his pace, power and height; he's the kind of defender I've been dying to see in a red shirt for a decade. It seemed odd that he spent so long on the bench, even if I am a die-hard Agger fan.
Now, can I brag and claim to be right over these decisions, which worked in Liverpool's favour at Spurs? Maybe.
Equally, I'd have sold Suarez in the summer. I also thought Jon Flanagan was never going to make it, especially once Rodgers pulled him aside in Being: Liverpool and basically told him he'd be an okay journeyman if he didn't cross the halfway line.
Of course, does Rodgers need to admit that he was wrong, especially when Flanno curled a pearler into the top corner? No.
What about when Rodgers tried to offload Henderson to Fulham for a few million?
Whatever led him to think that was sensible, he deserves great credit for helping the player become something rather special (not spectacular, just special). He has helped build the player up in all senses, and it has to be said, the player himself has shown an impeccable attitude, in the face of some moronic criticism.
I just judge things as I see them, and I may see things differently to you. I've had a list of pros and cons about Rodgers that had me sitting on that fence. However, as bad as Spurs were, this weekend's result answers the question about getting the better of a strong team away from Anfield, and it did so in some style. It showed that the goals don't have to only flow against the minnows. In fairness, ten wouldn't have flattered the Reds, as they ran in behind Spurs time and time again.
It showed that Rodgers' Reds could get in the faces of a good team, even if Spurs seem to suffer a Europa League hangover on a regular basis. (At least Rodgers doesn't have that nonsense to contend with this season.)
Sterling and Allen, so abject in one or two recent-ish games, were full of confidence and composure against Spurs. Who'd have thought young players could be inconsistent? Sterling suddenly looked like he was facing youth team full-backs again. Allen played with real stature against a physically bigger opposition midfield.
I have constantly praised Rodgers for his foresight in bringing in Dr Steve Peters, and with so much of the game trapped inside a player's head, it's encouraging to see someone like Allen take up the opportunity. (Personally I'd be tempted to sell anyone who didn't make use of this incredible resource, unless they are in such shit-hot form that they don't need it; which basically means Luis Suarez is exempt!)
Rodgers' Liverpool have confused me these past 18 months, and this is not the first time I've said so. The style changed, the personnel altered, and at times it was hard to see where it was going. Hopefully the Spurs performance was precisely where it was heading.
It's just one game, but it was a big statement; just as Olympiakos was a big statement for Gerrard and Benítez. That doesn't mean what follows will match Istanbul, but managers and players often need a touchstone performance to draw strength and confidence from.
Rodgers, with few big-game wins under his belt, is starting to feel less like an ex-Swansea manager, and more like someone who can handle a big club. In fairness to him, he has never worn the confused, befuddled look of a Hodgson at Liverpool or a Moyes at United, but he doesn't have much of a CV to fall back on.
Having said all this, it could go horribly wrong in the next five games, and then people will be asking me to admit I was wrong about Rodgers in positive pieces such as this. (Sitting on the fence is hardly easy: it hurts, and you get attacked from both sides!)
But that's the way it is for young managers, just as it is for young players. They don't have the depth and breadth in their body of work to counter any naysayers. A few weeks ago many thought Raheem Sterling was a waste of space whose career was nosediving; a bit like Gareth Bale between the ages of 17 and 20, you might think.
I'll continue to do what I've always done, and say it like I see it, as an expresser of opinions. But ultimately I'm just the same as almost every other football writer out there, in that I'm just flipping a coin time after time, and looking (and probably failing) to get it right more than 50% of the time. And as other football writers have no doubt said, I'm off for another toss.