By Paul Tomkins.
It has to be said: even though this exciting Liverpool side is flawed, it fully merits its place in the table on account of being less flawed than its rivals.
Of course, three games against those rivals in December might change the complexion of the table, and expose Liverpool's defensive frailties. But equally, you have to expect that Spurs, Chelsea and City aren't looking forward to facing Liverpool's attack, and that they might find it difficult getting past Simon Mignolet.
At times Liverpool have resembled last season's United (whilst – delight of delights! – United, this season, resemble Hodgson's Liverpool.) Great goalkeeping and great goalscoring is really making a difference for the Reds; which is not to say that the others in between are doing nothing, or superfluous, but the clinical conversion rates of Suarez and Sturridge (both together as a partnership, and apart), and the save percentage of Mignolet, is what's winning the points.
It's true that Liverpool aren't regularly 'controlling' games in the manner we expected from Rodgers, and every performance seems to have its shaky moments. But there are also periods of devastating fluidity, with the pace, movement and cleverness of Suarez, Coutinho, Sturridge (before his injury) and now Sterling backed up by the hard-running, huge-heartedness of Henderson and the gravitas and guile of Gerrard. It's like night and day in contrast to the turgid football Hodgson served up (on a pooper scooper).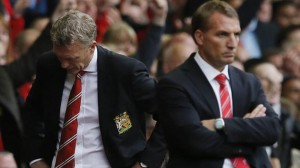 I said in the summer that I felt David Moyes would be United's Hodgson. There's something small-time about him, something that suggests a lack of ambition and imagination. Neither he nor Hodgson are bad managers, but they don't inspire confidence in top players. It's perhaps too early to suggest that I've been proved correct, but as things stand I'll count it as good forecasting.
Of course, I also said in the summer that Liverpool should sell Suarez. I honestly thought he'd burnt – maybe even chewed through – his last bridge when biting Branislav Ivanovic, and then agitating for a move. I'd have taken £50m for him in a heartbeat, but his form this season has been better than I could have imagined. He's been out of this world.
Part of the problem last season was that despite his goals, the team got better results without him. This season, it's two points per game without him, but also two points per game with him.
Perhaps more crucially, Liverpool average 2.16 points per game this season when both Suarez and Sturridge have started, which extrapolates to 82 points over 38 games. To temper that, the wins were against Fulham, West Brom, Palace and Sunderland; teams currently in the bottom seven. The dropped points when Suarez and Sturridge were in tandem were away at Arsenal and Newcastle, two teams in fine form.
The sample is small, so maybe it counts for nothing, but it could be seen as suggesting that the pairing enable Liverpool to batter weaker teams. Suarez has plundered five goals this week in home games against two teams also in the bottom seven. If there's one thing we can say for (almost) certain, it's that a Rodgers side will, well, well and truly rodger cannon fodder at Anfield.
This area is the clearest improvement in Rodgers' 18 months, having taken on a side that was getting used to losing at home. It's a shame that there aren't enough "weak" teams to go round, but if the Reds can batter the bottom ten teams at home that will provide a nice platform for the tougher games.
Of course, last season there was the issue of struggling against teams in the top half of the table, and this season's only success against teams above halfway came against United, who barely count right now! Draws at Everton and Newcastle are what you might expect (although traditionally they're good for three points), as is defeat away at Arsenal, even if a few draws have been salvaged there in recent times.
Right now, the single home reverse to an improved Southampton could be a mere blip, but even visits to mid-table sides Hull and Swansea have only garnered one point out of six. As with last season, the points, and goals, are coming thick and fast against the bottom third of the table. That in itself is great; but unless rival teams continue to suffer their own serious issues, it needs more to sustain a top four push.
The key to how far Rodgers' side has progressed overall will be what they take from visits to Spurs, City and Chelsea this month. Come out of those 'pointless' and the Reds could easily be back down to 7th, and then the season has a whole different vibe; one of stagnation. However, just three points from those three games could be considered good going.
Win just one, or come away with three draws, and it would be hard to argue that progress isn't being made. I do think that Liverpool are developing under Rodgers, but this month will help define whether the team is making big or small improvements. (With a reasonable amount of money invested in players during his time you'd expect some improvement anyway.)
Against weaker teams the Reds have got away with a lack of midfield balance, on account of the strike force being so lethal and, at key times, Mignolet producing dramatic saves (such as the one that stopped West Ham going 1-0 up). But in tougher games it's been possible for teams to starve the front two by controlling the midfield. Also, the other top four sides will test a disjointed Liverpool defence that has been shipping too many goals for comfort. (I was pleased to see Sakho start against the Hammers, although I hear that he's now in therapy after being exposed to dangerous levels of Sam Allardyce.) It really does feel like a big few weeks ahead.
Given the increased chance of muscle injuries when games there are shorter gaps between games, you have to wonder why Rodgers didn't take Gerrard off at 3-0 or 4-0 against Norwich, with 15-20 minutes saved at the end of games helpful in preserving fitness. I'm not expecting the manager to rest him for entire games, but how many 33-year-olds in positions other than defence or goalkeeper play every minute for big clubs? I appreciate that he's managed through training, but it still seems an unnecessary risk, especially with some other big names already missing, and a possible season-defining run of games coming up.
Gerrard is now going to miss a few matches, and that gives people a chance to see how things will function without him always present on the pitch. I remain a believer in Joe Allen's potential, and his improved performance this weekend hopefully augers well in terms of deputising. Lucas hasn't yet reached the level he was at before the injuries, but his experience and calmness could prove vital for the rest of 2013.
Liverpool are undoubtedly good to watch right now, but can it lead to success? Ultimately, you have to think that Manchester United won the league last season by being bold, as two outstanding strikers and a shot-stopping keeper compensated for a lack of real quality in between. Moyes' more cautious approach is causing them problems. (Although I had to laugh when numerous pundits this weekend excused him due to the lack of quality midfielders; didn't he spend £40m on two this summer, one of whom was his own £27m protégé? Imagine if some other managers had spent that kind of money on a player who was flopping badly. You expect more when you spend almost £30m on a player.)
Moyes' old team, Everton, have been transformed by the bold, annoyingly likeable Martinez, who despite coming from Wigan is a manager who actually knows what it's like to win something. As with Roy Hodgson (bar his Scandinavian jaunts), United have gone for a man who has a record in organising sides and doing okay, but who always flunked it when the pressure was on. (Several dozen big away games in Moyes' case, plus cup finals and semi-finals, and the Champions League play-offs.)
For some reason Moyes, who though uninspiring is no mug, was lauded as some kind of genius in most of the media, whilst those very same people castigated Rafa Benítez for being dull and cautious. (How do you win two La Liga titles and a whole heap of cups by being cautious?)
Moyes' United tenure is actually reflecting Hodgson's Liverpool debacle pretty well. Both teams started poorly. Then both teams picked up a little, and during the second week in November had an excellent home result (Chelsea beaten 2-0 by Liverpool, Arsenal 1-0 by United). Believers in momentum had their wish, only for December to turn very dark indeed. Perhaps fittingly, Hodgson's Reds were 9th a week before he was sacked, and 12th when the guillotine fell.
If fortune does indeed favour the brave, then Liverpool should be all right with Rodgers. After all, unlike Hodgson he's not going to take his team to Manchester City with the aim of "not getting beaten 6-0". He's more likely to go there and try and win 6-0.
Can he go there and be happy with a point, though?
I don't think Rodgers is as naive as some make out, but right now he just needs to improve the balance of his side, especially in the tougher games. When everyone is fit he has five or six players who wouldn't look out of place in a title-winning XI, and two or three who could actually shine in title-winning teams; so if that's not enough talent and strength in depth to win the league (as if we'd expect that at this juncture!), it should be enough to nab a top four place.
And if United, under the dour, joyless Moyes, fail to recover, that only improves Liverpool's chances.