By Mihail Vladimirov.
With Mikel presumably jaded after playing 180 minutes against Arsenal and Swansea over the Christmas period, it was decided a third start in six days would be too much for him. With the additional factor of the Ramires ban, Mourinho faced the puzzle of how to reconstruct his midfield. As it was, he opted to partner Lampard and David Luiz, which enabled him to field his three most technical and dynamic attacking midfielders.
Rodgers didn't rotate his squad too much and made only one change, with Cissokho being replaced by Agger. Rodgers publicly admitted that both Allen and Henderson were not fully fit for this game, and, in hindsight, this was a gamble that eventually backfired and played a big role in why generally this team struggled to find the energy and were less inspiring than we have seen in recent matches.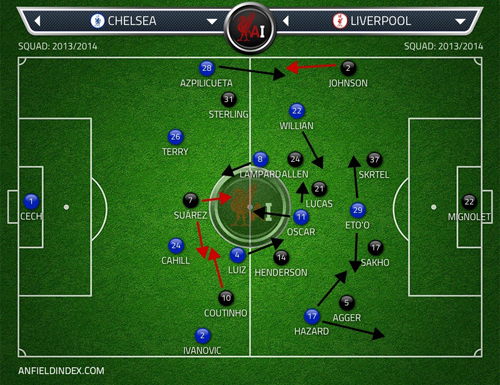 The main theme of the game was about how the energy and dynamism of Chelsea contrasted with Liverpool looking fatigued and depleted. Tactically the clash was all about how Mourinho instructed his team to play differently during the course of the game, switching between three different strategies. Liverpool's visible lack of energy meant that they struggled to match Chelsea as well they otherwise might have done.
The early goal
Liverpool's goal came in the fourth minute, but actually the foul from which the goal originated happened two and a half minutes earlier (with the game stopping for Henderson to receive medical help following Eto'o's bad tackle on him). As such, you could say that Liverpool literally scored after only a few touches of the ball.
Obviously, the basic objective in every football match is twofold; try to score goals and in the meantime prevent the opposition scoring goals. But while goals are what win you games, they also change the flow of the game. Sometimes a goal scored or conceded leads to your initial game-plan being completely thrown out of the window as the opposition are now forced to respond. If you had  planned to defend but then concede a goal, you can expect the opposition to then sit back, and you will be forced to attack much more. To do this you are also forced to change your overall strategy. On the other hand, if you have planned to attack, or at the very least set out to keep things calm and prevent the opposition putting you under considerable pressure, scoring an early goal might actually turn out to be counter-productive. Because of that goal the opposition is now forced to attack you, which is something that you, for various reasons, might not be so well prepared to deal with.
It's debatable, but given the lack of rotation and the obvious fatigue creeping in among the starting players, one could make the case Liverpool would have preferred this game to be limited to a dull and cagey affair, where both teams will be happy to just tread water and be rather passive. Instead of a fast-paced, action-packed clash, it may have suited Liverpool for this match to be played at a slow pace, allowing them enough time on the ball to just wind the clock down and take it from there. Obviously scoring a goal is not something to be unhappy about. But ideally, Liverpool might have been better served by keeping the score level as long as possible, before taking the lead later on. You could argue that such an early goal meant that Chelsea now had to attack, upping the tempo and putting pressure on Liverpool. Which is something this tired Liverpool side might have preferred not to have to face.
The rest of this article is for Subscribers only.
[ttt-subscribe-article]