By Chris Rowland.
Welcome to today's daily digest, listing the day's Liverpool FC news, the latest LFC transfer news, other major football news and also providing links to the best posts on the site's debate section.
LFC News:
Glen Johnson will win his 50th England cap if he features in tomorrow's friendly with Germany at Wembley.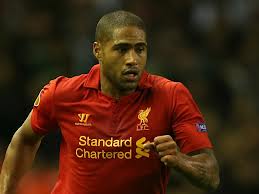 England half-century up?
Academy duo Marc Pelosi and Cameron Brannagan have signed new contracts.
LFC Transfer Talk:
Liverpool are poised to beat Arsenal and Man Utd to the signing of £12million Derby County wonderkid Will Hughes.
Hughes is a long-term target for Rodgers, Wenger and Moyes, having impressed in central midfield for Derby.

But the 18-year-old finally looks to be on his way out of Pride Park after Liverpool agreed to meet the Rams' £12m asking price.

According to reports, the Reds will land the highly rated England U21 international in January. The move will come as a blow to Wenger and Moyes, who have both watched Hughes' development with interest.
Other Football News:
"The publishers of Sir Alex Ferguson's autobiography Hodder and Stoughton have agreed to refund a customer after as many as 45 factual errors were found in his new 402-page book My Autobiography" (Daily Mirror).
Presumably saying Steven Gerrard is not a top, top player is one of them? See Tattva's post for more on the subject.
World Cup and Euro 1996 winner, and once Liverpool manager candidate Jurgen Klinsmann says future England success depends on a "change of culture".  
"I'm a strong believer that if things don't work, then you've got to go a different way and take the risk," 49-year-old Klinsmann, now coach of the United States, tells Football Focus."If you keep on doing what you did before, you will never have the success that you wish to have. It needs a lot of strength from the people in charge to say 'it's going to be different'. That's the question for England: are they ready for a change, in terms of approaching things right from the very early age groups? It basically needs a change of culture, because if you don't change the culture then you will never know the end result."
This links in with the beginning of the 'Best/Most Interesting Posts Today' below.
Articles Published Today:
Tactics for Beginners – No.12, by Bob Pearce and Mihail Vladimirov.
Best/Most Interesting Posts Today:
Last night El Indio posted a piece by Didi Hamann comparing German and English football, sparking off some good debate. Joe P entered the debate in controversial fashion with this post, a sample of which is here:
Germany have won more World Cups than England for a few reasons, but the most predominant of them are – 1) They are a significantly bigger country with a bigger population, and 2) Luck. If Chris Waddle doesn't blast that pelanty over the bar in Italia 90 it's most likely we'd be sitting here discussing how England and Germany both have two world cups each. It is obviously a factor that Germany are very good at football, but they haven't had a player over the last 30 years as naturally gifted as Gascoigne.
Lots of replies, as you  might imagine! That debate is worth following from #2667 onwards.
Humdul1 posted an interesting exchange from journo Rory Smith's Times webchat:
From a Saints fan:
Why would more be expected of JJ (Jay Rodriguez) then say Lampard or Jack W on début? I presume for instance when you first came to the Times you were not expected to write an intro to the standard of the two Tonys??? (Tony Evans and Tony Barrett, both of The Times)
Part of the reply:
It's ludicrous to write a player off because of a quiet debut, especially as England were uniformly poor, which doesn't really give Rodriguez or Lallana a fair chance to impress. This actually hits on two issues, though: one is the haste with which we write players off (you get one go, and if you're not AMAZING, you're out) but the other is the fact that we are still looking for individuals to shine. Did Rodriguez make the team play better? Does he fit the pattern? Even if he's not Pele himself, does his presence help others to excel? They're the questions that should be asked. Not whether he scored or not.
Dan Kennett posted some save percentages:
Liverpool's 5-season average (08/09 to 12/13) Save% for all shots on target was 73%

I currently have Mignolet as 80% although there's small discrepancies across the various stats websites

I'm starting to build-up an "Expected Saves" measure based on shot-type (Shot, Head, Pen, DFK) and location (6 yard box, centre, box wide, outside etc)

For the current season, based on the location and types of shots he has faced, Mignolet is +3.7 saves more than expected.  Last season in the PL, Reina was +0.1 saves more than expected in the games he played.  Not "bad", just "average".