By Chris Rowland.
Welcome to today's daily digest, listing the day's Liverpool FC news, the latest LFC transfer news, other major football news and also providing links to the best posts on the site's debate section.
LFC News:
Goalkeeping coach John Achterberg claims Liverpool are not ahead of schedule in the Barclays Premier League so far this season, insisting they were always confident of making a good start.
"I don't think we are ahead of schedule because we want to win every game," he told Liverpoolfc.com.

"If we won a few more we could have been on top but we just have to be focused and ready every time a game is coming up, and use the same attitude and focus to win every game."
Joe Allen is striking a balance between patience and an ongoing determination to earn himself a place in Brendan Rodgers' team.
The 23-year-old said: "I'm working hard and waiting patiently for my chance, but Liverpool is a massive club and we are having a great season.

"The competition for places is really good and you want that at a top club, and I have to work as hard as I can to get back into the fold.

"You want to see your team doing well, especially when you are out injured – the lift you get is from seeing your team doing well.
A decade may have passed since Patrik Berger wore Liverpool colours, but the former Czech Republic star retains a strong connection with the club he considers 'one of the best in the world'.
He told the Liverpool Echo:
"Pretty much every weekend that I am at home I make sure I watch Liverpool's games. So far, so good this season.

"Liverpool are just a couple of points from the top of the table and if somebody had offered me that at the start of the season, then I would've taken it.
A lifelong Liverpool supporter is attempting to raise money for a unique tribute to Bill Shankly.
Lee Hodgson, who has been blind since the age of 16, applied for a guide dog just a year later. Now 46, the passionate Red hopes to mark the 100-year anniversary of Bill Shankly's birth by raising money for a guide dog to be named after the legendary Scot.
Lee commented: "Bill Shankly was one of our greatest club heroes, and his vision of 'You'll Never Walk Alone' really translates itself perfectly to those who have a guide dog.

"As a result, in what would be his 100th year, I can think of nothing more fitting than raising money for a new guide dog puppy called 'Shankly'."
You can donate by clicking on the link in the official site article, or contact Guide Dogs Liverpool on 0118 983 8749.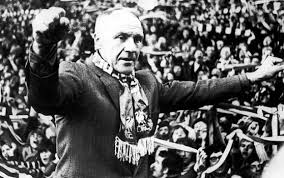 Any excuse for a Shanks photo to be honest …
LFC Transfer Talk:
Liverpool are lining up a bid for Hamburg left-back Dennis Aogo after learning that the German international could be available for as little as £2.5m.
Atletico Madrid star Diego Costa, a target for Liverpool in summer, can leave for £20million next summer – sparking interest from Europe's elite.
Although Borussia Dortmund are lining up the 25-year-old as a replacement for supposedly Bayern Munich-bound Robert Lewandowski, big English clubs are also in the running, including Chelsea and Arsenal.
Jan Molby says Liverpool should "add a player who is the younger version of Steven Gerrard" – and gives us his name:
My suggestion would be for Liverpool to go after Bayer Leverkusen's Lars Bender. There are a lot of top players in Germany and I look at Bender and believe he is the real deal. For me, he ticks all the boxes.
Other Football News:
Looks like Dan Petrescu might be heading for the vacant manager's job at Crystal Palace, according to Sky Sports News. They also report that Cardiff City manager Malky Mackay has turned down an offer to take charge of Palace.
Manchester United manager David Moyes is set to add the Premier League's head of elite performance John Murtough to the staff at Old Trafford, according to Press Association Sport.
Murtough was in charge of the academy at Everton when Moyes was manager, but United sources say he would not be taking over from Brian McClair, who currently heads the academy set-up. Instead, Murtough has been earmarked for a role working across a number of different areas at Old Trafford.
Rock star Robert Plant has paid £900 to play for his beloved Wolverhampton Wanderers. The 65-year-old former Led Zeppelin front man successfully made the bid during Jody Craddock's testimonial dinner which raised £8,000 for Birmingham Children's Hospital, where Jody's son Toby has been treated for leukaemia.
Articles Published Today:
Great Liverpool Captains, by Chris Rowland and Jamie Mclaughlin.
Best/Most Interesting Posts Today:
Several more worthy contributions to the Symposium debate Will You Be Disappointed If We Don't Make Top 4?, including Steely, who showed a list of all the CL qualifiers from the turn of the century with their previous seasons position and points off qualification if they finished out off the top 3 or 4 the season before.
In the thirteen seasons highlighted only four teams have qualified after finishing lower than one place outside the Champions League places. It's certainly rare but definitely not unheard of, especially when Everton and Spurs achieved qualification after missing out by a massive 21 points the season before.
Axeminion felt:
I wouldn't be disappointed at all.  It all comes down to expectations and such expectations cannot be fluid depending on current form.

—-

he'd (Rodgers) almost have to break the record books in order to come 4th from such a position. So if he doesn't we can't then be disappointed with him, surely! If we do come 4th, we must also recognise what a massive result that is, and that this is beyond expectations.

For once, let's leave the goal-posts right where they were and just enjoy the fact that we are currently over-achieving!
ChrisK79 concisely summed it up when he said:
I would actually appreciate simply feeling disappointed at the end of the season rather than being resigned to philosophical musings and borderline indifference as I usually am by that stage.
Marksmy dampened any optimism about possible future CL involvement by reminding us about the UEFA co-efficient, concluding:
So as great as it will be to get CL football, we will probably end up in a group of death like Man City, get bugger all points, then miss the following year, only to be back in the year after and get a group of death again!!!

Not the prospect I am looking forward to to be honest 
Zohaibsalman contended that "with the way the season has gone for the other teams, I feel that this year could be our best chance to grab 4th spot!", and added:
I may add that in terms of the top 6, we are under the least pressure from the media to come 4th this year after a subdued summer in terms of a big flair signing. I feel this is helping us at the moment. No one talks about us as they are all expecting us to fall away eventually.
On the topic of international football, Maradoo triggered some interesting comments when he said:
International football's dwindling popularity for the big footballing countries seems to be as a natural result of the jump in quality in club football over the last 20 years to the point that even a mid table side in the Prem is stronger than all but a handful of the best footballing countries. 
Aziz12's response itself sparked off some responses :
Watching one's national team is an 'event' in most countries.

Also, I am not so sure that the way people feel about England here is mirrored in countries like Spain and Germany, say.The same as I can't imagine a Ronaldo or a Xavi saying the same thing as Carragher …
Beez added:
Perhaps my biggest bugbear is with the FA. They would far rather qualify for a World Cup under Hodgson even if we have next to no chance of reaching the latter stages, than employ a progressive coach who could bring through a new wave of exciting youngesters, as that would likely end in non-qualification.

So my passion for Liverpool is largely irrelevant here. It's the bungling by the FA and the fawning by the press that have turned me off.

Which is a shame, because as I say I used to be a fanatical England fan. I was so proud when all 5 goals against Germany in 2001 were by Liverpool players, for instance.
Leeberolf, Garythespud and Chris Rowland's comments are also worth a look (Internationals/World Cup #1212).
Beez linked to a Kristian Walsh article on ESPN assessing the season so far – it's worth a read. The same poster also quoted Roy Hodgson's motivational, inspirational to his two nervous new England debutants tonight,  Southampton pair Adam Lallana and Jay Rodriguez:
"It's going to be a big night for them and unfortunately, if they do fail spectacularly and do really badly, it will be held against them."
As Beez said, "Way to motivate your troops, Roy!"