By Paul Tomkins.
It seems strangely elusive, judging how good our team actually is right now, and indeed, how good we have a right to expect it to be.
You look at points per game, but then you have to stop and consider the quality of opposition played. You extrapolate the points per game over a season, and think that being on course for 76 is very good going, but then a greater number of teams seem capable of reaching those figures. Are you improving, or the teams outside the top seven or eight diminishing? And as a league table is relative, does it really matter if the rest are strong or weak, as long as you win enough games?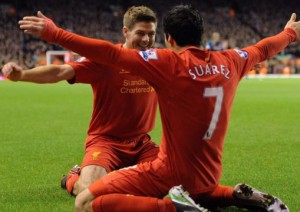 To me, this is the strongest squad Liverpool have had since the end of 2008/09. It's not perfect – there are holes up front, beyond the current stellar front two, for instance – but no-one should expect perfection at this stage, on this budget. You have to allow for off days and  accept weak areas of the squad if you haven't spent anywhere near as much as other big clubs, and you don't have Champions League football to offer.
While it's not quite clear (beyond Mignolet's obvious and important shot-stopping ability) what impact the summer's signings have made in terms of results, they do mostly seem sensible purchases who should have their best years ahead of them. Add those bought 10 months ago, and the squad looks much better than it did in November 2012. Almost all of those brought in are still fairly young.
As I've been noting on this site this week, I think the front two are sublime, with Coutinho, Moses, Sterling and Ibe representing some excellent ability and potential in supporting roles. Beyond them, the midfield contains some excellent players, including one of the world's most famous. And the defence, with Skrtel back in form, includes four very strong centre-backs, and an excellent right-back in Glen Johnson.
In other words, bar a reliable left-back, the components of a very strong side are in place, with strong cover in some areas. But as yet, in terms of performances, they have not quite gelled as a unit for most of the matches this season. There have been moments of brilliance, but few sustained performances. You don't expect 90 minutes of great play every game, but this season it's mostly topping out at a good 45 minutes or so across both halves.
Aspects of the Reds' game look very exciting, but the side can also look too stretched, and the early-season clean sheets, from grinding out results, have vanished. At times the midfield doesn't seem to be holding the show together.
The system is still largely experimental, and of course, roughly half of the starting XI most weeks weren't even at the club 12 months ago (that's true of seven of the 13 who featured against Arsenal, once the two subs are added). From being touted as title challengers a week ago, the Reds could quickly fall back to 7th or 8th – currently just a single point above Everton in 7th – as the club now finds itself immersed in a trickier run of fixtures; one that takes us up to match 19, the halfway point.
Equally, Rodgers' side could win the next couple of games and be touted as title challengers again.
If it all clicks, as it did against West Brom, it's easy to see an XI to rival most sides, with at least some strength in depth. Progress is being made, but it remains a very strange season in terms of performances. So much has changed in 2013, from the personnel to the formation to the possession quota (with a manager who himself is still relatively new) that it still feels like a journey into the unknown, with all the excitement and fear such an odyssey can create.
The remaining two-thirds of this article is for Subscribers only.
[ttt-subscribe-article]