By Chris Rowland and Daniel Rhodes
Welcome to today's daily digest, listing the day's Liverpool FC news and latest LFC transfer talk, other major PL news and also providing links to today's best posts on the site's debate section.
LFC News:
The families of Hillsborough victims and their heroic, dogged campaign for justice are being honoured at the Daily Mirror's Pride of Britain awards tonight (ITV, 8pm UK time).
Brendan Rodgers said Jose Enrique "has all the attributes to be one of the best left-backs in the Premier League. He's a threat when he goes forward and defensively he's very difficult to beat. Jose has been playing with a little bit of an injury, but he's still been showing his determination and pride for the team," Rodgers told the Liverpool Echo.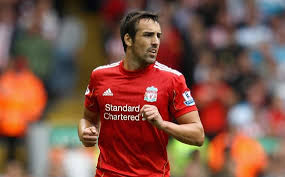 Jose Enrique – hard to beat
Joao Teixeira's loan at Brentford is officially over – and he scored in Liverpool U21s 5-0 against Spurs yesterday.
LFC Transfer Talk:
Derby County boss Steve McClaren has accepted he will struggle to keep Will Hughes past the January transfer window with Liverpool and Manchester United vying to sign the 18-year-old winger. (Daily Express)
Fulham boss Martin Jol is ready to battle Arsenal and Liverpool for highly rated defender Alexander Milosevic, 21, who plays for AIK in Sweden. (Daily Express)
Other Football News:
Sunderland announced former Brighton boss Gus Poyet as Paolo Di Canio's replacement as head coach at the Stadium of Light.
James Milner says England's players cannot bear the thought of watching the World Cup finals in Brazil on television should they fail to qualify.
Oh I don't know, plasma screens, high definition, pint o' cider and a bag of tortilla chips, it ain't all bad …. oh, it's Gary Lineker isn't it? Fair point.
Couple of odd ones to finish off – a sure sign it's international break time again.
First, Stoke are to be given the Freedom of the City of Stoke-on-Trent. The club are celebrating their 150th anniversary in 2013 and will be honoured by the Lord Mayor's Office alongside The Queen's Royal Lancers.
Chairman Peter Coates said:
"We are delighted and honoured to have been handed the Freedom of the City of Stoke-on-Trent. It is an enormous honour, especially in this our 150th anniversary year."
There's very little about that story I understand – and even less about this:
Jose Mourinho says his sense of smell can predict the different phases of matches before they happen, including when goals are scored. (Daily Telegraph )
My sense of smell always alerts me when that stuff that bulls do is around …
Articles Published Today:
Liverpool 3 Crystal Palace 1: In-Depth Tactical Analysis, by Mihail Vladimirov
Best/Most Interesting Posts Today:
Bob posted the Liverpool Echo's report that the "Hillsborough battle (for justice) is being recognised at the Pride of Britain awards tonight. The awards will be shown on ITV at 8pm today." 

Lee Mooney argued that producing some of the ground-breaking work and original thinking that goes into a lot of TTT content is hard work:
To produce the kind of work that Tony and I do takes time, commitment and sacrifice. The least any critic should do, even if they think it is complete shite, is respect that investment.

It's one of the most annoying things about the modern world, content is 'cheap' from a consumer perspective. Rest assured, it costs something to create.
Soccerlifer wondered whether the reason we've never signed an understudy to Lucas is that we already have one: "Perhaps Rodgers knew all along what everyone just found out this weekend: Henderson is more than capable of playing defensive mid. Perhaps.."
Chardo34 linked to a thisisanfield piece saying John Barnes has been dropping hints about wanting to return to the club in some capacity, and he wondered "why should he need to drop hints?"
He's been sticking up for the club with his calm, rational and articulate media comments, especially during Evragate, that he should have been appointed long ago.
Red Pukeko linked to a Guardian article about Luis Suarez's calmer approach:
"I am aware that in recent matches that I played I've been calmer," he said on his return to Uruguay ahead of crucial World Cup qualifiers. "I am very self-critical and I realised that playing well, with more tranquillity, is helping me a lot. I realise and I prefer to continue and not be the same as before."
In the same article he also heaped praise on Steven Gerrard who helped persuade him to stay, and who is "always a benchmark and at club level the best player I have played with in my career, as a person and as a footballer."