By Chris Rowland.
Welcome to today's daily digest, listing the day's Liverpool FC news and latest LFC transfer talk, other major PL news and also providing links to today's best posts on the site's debate section.
LFC News:
Aly Cissokho is set to return to the Liverpool squad for Saturday's Premier League clash with Crystal Palace at Anfield.
The French left-back, who is on a season-long loan from Valencia, has been ruled out by an ankle injury since making his home debut against Notts County in August. However, Cissokho is now fit and has played a full part in training this week.
Glen Johnson and Joe Allen have returned to light training. Neither will be involved against Palace but Rodgers expects them both to be available for the trip to Newcastle United on October 19.
Good news for Kolo Toure maybe, not sure whether it is for Liverpool given the number of injuries we've suffered from international duty in recent years; he's earned "a surprise recall to the Ivory Coast squad for their World Cup qualifying play-off against Senegal."
The 32-year-old Liverpool defender won the last of his 106 caps as a substitute in March before being dropped. However, he was named on Friday in a 24-man squad for the first leg in Abidjan on 12 October.
In an interview with the Liverpool Echo, Brendan Rodgers and his Melwood chalkboard explained why he'll be playing two up front rather than one up front and one wide, explaining that Sturridge and Suarez are both '9 and a halves' rather than No.10s:
"It's about exploiting the strengths of our players and I think this does it well for us," Rodgers told the ECHO.

"What I've found is that if I play one up top and one wide, I take a little bit away from them. They work better as a proper front two.

"The thing I have learned is that Suarez is not a No 10 for me. A No 10 is someone who is more of an offensive midfield player.
Brendan Rodgers and some Liverpool players including Steve Gerrard went to watch Bayern Munich's masterclass against Manchester City on Wednesday, and they were both impressed and inspired by what they saw.
Rodgers has also revealed his delight at Jordan Henderson's progress over the last year. Henderson has played every minute of Liverpool's Premier League games this season, and Rodgers said:
"I've been so impressed since I've been here, Jordan has become better and better.

"His level, tactically, is very good. He's one that wants to improve all the time. If I didn't think he could play the role and function in the roles properly I wouldn't put him there so it's great credit to him."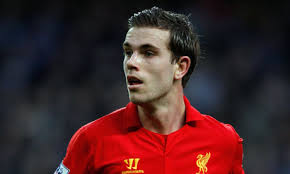 Impressing his manager …
Liverpool's goalkeeping coach, John Achterberg, has provided a fascinating insight into the role of Simon Mignolet in the 3-5-2 formation Brendan Rodgers has tested in recent weeks. He explained how the 'keeper has an adapted role to play when the make-up of the backline alters:
"In terms of the goalkeeper playing out, he'll still look to play the ball into wide areas," he told Liverpoolfc.com.

"But in terms of when the opponents are on the attack, he needs to look at the shape of the team and see if he can help with tactical information that the three centre-halves and others need.

"In terms of the centre-halves, he needs to help them to play with enough distance between each other. He also needs to ensure that, if the ball is on the right side, then the left-back needs to drop in to make up the numbers and make it four at the back."
Beez posted the full piece from the official site.
LFC Transfer Talk:
Picking up from yesterday's theme, the Daily Mail says "Liverpool are braced for Real Madrid to return with a £45m bid for Uruguay striker Luis Suarez, 26, when the transfer window opens in January. " In a state of bracedness, we are.

Meanwhile,  TalkSPORT say Liverpool are eager to sign Anzhi Makhachkala striker Lacina Traore, 23, who is set to leave the Russian club in the January transfer window. Traore has been linked with us before, during Kenny Dalglish's reign as manager.
Liverpool have been cleared to sign Jeremy Menez in the January transfer window after he was kicked out of the PSG side. "Reds boss Brendan Rodgers is known to be a long-term fan of Menez, who was linked with a £10million move to Anfield over the summer."
Other Football News:
That 2022 World Cup thing, where FIFA thought it was OK to host the 2022 tournament in the northern hemisphere summer in Qatar in up to 50 degrees C. Then decided it wasn't such a good idea, and came under pressure to move it to the northern hemisphere winter, with all the associated catastrophic impact that would have on that season's European domestic leagues and cups, the Champions League and Europa League, broadcastinfg rights and payments, not to mention the Winter Olympics. Well FIFA members need more time to decide and a decision is unlikely on Friday, said CONCACAF president Jeffrey Webb. In fact:
"A Fifa task-force, which will look into how the Qatar 2022 World Cup can be moved from the summer months, will not report back with its findings until after the Brazil World Cup next year, according to sources close to the world governing body."
FIFA also announced that Qatar faces no threat to its right to host the 2022 World Cup, sources close to the governing body tell BBC Sport, despite allegations about the Gulf state's treatment of migrant workers as 'slave labour.'
Following his recent criticism of Roy Hodgson's England, the increasingly irritable Gary Lineker said:
"Sepp Blatter has been spouting his customary pompous nonsense. How on earth is this man still in charge of football?"
He's got a point, hasn't he?
Sticking with FIFA, with the international break fast approaching, they've dealt England's hopes of being seeded for next year's World Cup (hopes of just being there would be good enough right now) a blow after Fifa announced it would use October's rankings to determine the eight countries who are kept apart in the draw.
England are currently ranked 17th but if Roy Hodgson's team qualify it now looks impossible for the side to be seeded, and instead they would join the European pot with other non-seeded teams.

Had Fifa used the December rankings, then wins for England in their two November games – possibly friendlies against Germany and Uruguay or World Cup qualifying play-offs – could have seen them surge up the ranking table. Instead, England would be faced with being in a group with at least one top-eight side or hosts Brazil, and that would make the task of qualifying for the knock-out stages much tougher.
So England would have to climb nine places in four matches to be seeded? Yes, OK …. anyone see the game in Ukraine?
Manchester United's plc board confirmed they had received a "preliminary approach" regarding a "possible offer" for the company, thought to be from American tycoon Malcolm Glazer.
Arsenal manager Arsene Wenger has labelled Jack Wilshere's smoking as totally unacceptable and plans to take up the issue directly with the England midfielder.
Jack Wilshere's been caught smoking outside a London nightclub in the early hours of Thursday morning, and Arsene doesn't approve:
"I disagree completely with that behaviour," Wenger says. "I don't know really what happened, so I will need to have a chat with him about that."
Naughty step for Mr Wilshere by the look of it. Smoke detectors in the dressing room from now on. Though he later tweeted to the effect that actually he doesn't smoke, but Zinedine Zidane did. Which proves it's good for you, right?
Articles Published Today:
Silence Is Golden?, by Paul Gill (Rox)
Liverpool Academy 2013-2014, by Arnar Steinsson
Best/Most Interesting Posts Today:
Paul Tomkins took Neil Warnock and Gary Neville to task for suggesting that Rafa Benitez (Warnock) and Pep Guardiola (Neville) had had it easy in management because they had good teams.
Er, surely managing teams expected to win every week is harder? And surely Rafa has had great jobs because, y'know, he was given a chance and Valencia and exceeded expectations, then was given a chance at Liverpool and won the Champions League, and so on. He's at Napoli because he did a great job at Chelsea.
Paul concluded:
Until British mangers (bar Ferguson, who's now thankfully retired) take their chances – and this will apply to Rodgers too (when it's time to judge him) – and achieve their club's minimum goals, they can't moan at the foreigners coming in with their knowledge and experience.
Dan Kennett talked about 'home complacency' that has dogged Liverpool over many seasons, in domestic cups as well as the league, and said that Rafa wasn't immune either:
Since we last won the league all our managers have struggled to shake off the complacency.  Southampton was a massive kick in the teeth, just like West Brom and Villa last season.

Evans had a huge problem with it, Houllier had a problem, so did Rafa, Hodgson, Kenny (a huge problem in 11/12) and now Rodgers.

I disagree with Beez that Rafa was "impeccable" at home.  Yes he didn't lose but he drew a lot, just like Evans and Houllier suffered from too many draws.

I just want to see signs that we're starting to develop the right mentality.
ACSGP posted news of Sami Hyppia's stated desires, ahead of his Bayer Leverkusen side's home game with Bayern:
"I was born in Finland, and there the job as the national team coach is the biggest job. Liverpool has the other place in my heart. I don't want to say, 'That's my goal', but — after the ten years I played there — it would also be a dream to one day be the Liverpool manager."
Mihail Vladimirov looked at Rodgers' comments about playing two up front and wondered whether it was a case of being clever in hindsight:
"It's good the management is willing to, currently, 'show-off' with articles about the 3-5-2 shape (which actually is a 3-4-1-2) after one win against very poor opposition."

and

"would Rodgers or some of his staff would have come out to say how playing with four centre-backs vs Southampton was another tactical master plan, if LFC were to win this game two weeks ago?"
Graeme Riley composed a list of all the home defeats since 1992 where the visitors were 10th or lower on the morning of the game. There are 19 of them. There were two consecutive seasons under Houllier when there weren't any (2000-2001 and 2001-2) and five in a row between 2005-6 and 2009-10 – all of which with Rafa as manager.
Beez pinpointed three possible reasons why we seem to have changed from the possession-based football we were led to expeect – Suarez's return, Joe Allen's injuries and absences and also:
Rodgers has also taken the decision (rightly in my view) to replace a footballing keeper who couldn't save with one that wins points with saves but struggles with distribution. This also makes possession-based football much harder to maintain.
Jeff talked about how much "the world of being the manager of a top notch professional team in any sport has changed."
In today's world a manager is always before the media, whether this is the formal media or the informal media of the internet. In the old days, very little of what a manager said ever reached the public and today almost anything a manager says will reach the public. My point is quite simple: today a large part of being the manager of a club such as Liverpool is being a very very good public relations person.