By Chris Rowland.
Welcome to today's daily digest, listing the day's Liverpool FC news and latest LFC transfer talk, other major football news and also providing links to today's best posts on the site's debate section.
LFC News:
Luis Suarez today explained why he is savouring being part of one of the world's most prolific partnerships with Daniel Sturridge, and offered his insight into why they're so deadly when combining for Liverpool:
"I am so happy because when you have a very good striker, and a very good partner, for defenders it is difficult because they have to give their attention to two players – not just one."

"If maybe two defenders come towards me, this creates space for Danny. This is important not just for me, but for the team and our confidence.

"He is a very good player. He had difficult moments at Chelsea and City, but this is a good time for him and I am so happy with him."

In a recent interview about working in tandem with Suarez, Sturridge described the partnership as a 'beautiful thing'.
The Reds players will warm up for Saturday's home clash with West Bromwich Albion in commemorative t-shirts to show their support for the 150th anniversary of the formation of the Football Association , while an article will appear in the official matchday programme to help raise awareness of the anniversary. Saturday is 150 years to the day since the Football Association was created way back in 1863.
Lucas Leiva talked about the club, Anfield and what makes Liverpool supporters unique.
The club today announced the launch of its first full-time coaching complex in China:
The Reds have teamed up with Guilin Kingsborn to operate a purpose-built Academy complex, featuring full-size pitches, practice areas, classrooms, changing rooms, a gym, lecture theatre and medical facilities.

The Guilin International Football Academy, set in Guilin City in the Guangxi Zhuang region of southern China, was officially launched today at a press conference attended by Reds legend Ian Rush and aims to be a market-leading development centre for young players.
Kenny Dalglish has been lined up as a coach in the new Indian Super League scheduled to start in January 2014, along with Peter Schmeichel and Marcel Desailly (Daily Mirror).
LFC Transfer Talk:
Liverpool are keen on signing former Manchester United goalkeeper Ron-Robert Zieler, 24, from Bundesliga side Hannover 96. The player has a release clause in his contract that could see him leave for £7m before 1 May 2014.

Other Football News:
Tottenham's Danish international midfielder Christian Eriksen has told BBC Football Focus presenter Dan Walker that Spurs can win the Premier League this season, but their primary aim is to finish in the top four.
Bizarre story of the day – actors Tim Roth and Gerard Depardieu are to star in a film about Fifa president Sepp Blatter.
The film is due to be released next year to mark the World Cup finals in Brazil and FIFA's 110th anniversary. It tells the story of world soccer's governing body since its formation in 1904.
Don't know what to say really.
Articles Published Today:
Looking Ahead, Looking Below, by Krishen Bhautoo and Arnar Steinsson
Best/Most Interesting Posts Today:
Some of the Liverpool-related comments in Alex Ferguson's autobiography domintaed today's debate, starting when  ACSGP posted a Liverpool Echo interview with Brendan Rodgers about it:
"I'm not here to publicise his book, he's had enough coverage this week as it is," said Rodgers as he picked his words carefully.

Rodgers believes the way Ferguson singled out Gerrard and Henderson was borne out of frustration at his failure to take them to Old Trafford.

He admits in his book that he tried and failed to sign the Reds skipper in 2005, while United were also heavily linked with Henderson before he made a £16million move to Anfield in the summer of 2011

"In terms of the personal stuff about Stevie and Jordan, sometimes it can be like that when you don't get players that you want," Rodgers told the ECHO.

"I was bitterly disappointed with what was said about Jordan," Rodgers said. "Sir Alex is someone who worked with and nurtured young players so the statement in terms of Jordan was inappropriate really.

"I am sure somewhere along the line, if Sir Alex bumps into Jordan, he will apologise because I don't think it was right, especially from someone who knows that every word to a young player is important."

"He (Ferguson) is probably one of the few – if not the only one – who does not believe Steven is a top, top player. I don't think it was credible really in terms of what was said.  He is a world class player and still operates at a high level.

"To say he wasn't a top player after scoring so many times against Manchester United over the years, and Manchester United wanting to sign him along with Real Madrid, Chelsea and every other European team, must be a bit tongue in cheek."
And the article finished with:
Rodgers insists he will never follow suit and repeat what goes on inside the Liverpool dressing room.

"I would like to think in the changing room I have we can always speak honestly and openly. I would be bitterly disappointed if the players felt they couldn't say something because the manager might repeat it in times to come."
Chardo posted a similar article by Matt Lawson in the Daily Mail under the headline "His legacy has been damaged: Classy riposte from Rodgers over Fergie's spiteful jibes over Gerrard and Henderson."
It features Ferguson's astonishing attack on Liverpool's signing of Henderson in his autobioghraphy, a thinly disguised attempt to discredit Kenny Dalglish who signed him. Here's an extract; it's worth reading the whole post:
As a bright young manager endeavouring to establish  himself at one of the world's biggest football clubs, Brendan Rodgers would not have taken on Sir Alex Ferguson with any great relish on Thursday.

He did so out of a sense of duty and a need to defend two Liverpool players Ferguson chose to attack, quite gratuitously, in his explosive new autobiography.

While Ferguson's criticism of Steven Gerrard is utterly bizarre — a  midfielder he once described as the most influential in the English game is now 'not a top, top player' — his assessment of Jordan Henderson amounts to the most morally reprehensible couple of sentences on any of the 402 pages.

He declared an issue with Henderson's 'gait', claiming that because 'he runs from his knees with a straight back', rather than his 'hips', he will have 'problems later in his career'.

Ferguson wrote this with the sole intention of taking one last swipe at an old adversary in Kenny Dalglish, the former Manchester United manager's argument being that Dalglish made a number of expensive mistakes in the players he signed  during his second term in charge at Anfield.

Fair point, Ferguson might claim. But he did so with no regard whatsoever for the players, and in particular Henderson.

As Rodgers countered, it was a disgusting thing to say about an honest, hard- working 23-year-old footballer with the best years of his career ahead of him.

Imagine how Ferguson might have responded had someone given such a damning, amateurish, medical assessment of a United player.
And this at the end:
Ferguson took a swipe at Rodgers as well for being too young, at 39, to  manage a club of Liverpool's stature; forgetting he was only 44 when he took the reins at Old Trafford.

Not that Rodgers seemed too  bothered. 'Kenny Dalglish had won a number of titles by 39 when he was here,' he said with a wry smile.

For Rodgers the main concern was the need to 'protect the club', and more importantly protect a young footballer who must be wondering how on earth he became a victim of Ferguson's vindictiveness.

'We'll tell him to run on his hands and knees from now on,' joked Rodgers, before making one  mischievous dig in retaliation.

So, Rodgers was asked, is he eight players short of having a title  winning team here on Merseyside?

'That's probably two short of what they need,' he replied, and given that United approved the book before publication they probably deserved it.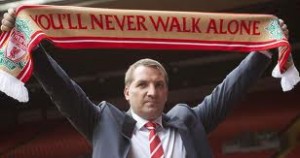 Brendan; supporting his club
On the same theme, Chardo posted this:
now that the dust is starting to settle, all he has done is reveal his true nature to the rest of the world.

Rodgers and Keane were put on the spot, and responded with dignity, whereas Gerrard, Rafa, Beckham and any others slighted by the old twat have been dignified by their silence.

After the initial titillation in the media about his 'score settling', it seems that the tide is turning, with the excellent Jon Snow showing that there's nothing to be afraid of.

And by displaying his bitterness and small minded bullying with apparent pride, all he has done is show what little dignity he himself possesses beneath his 'man of the people' mask.

So look out Palpatine, the hacks aren't scared any more and their axes could do with a good grind!
And Leeberolf said:
Fergie commenting on the youngsters we have on our books?

My my, we've reached a new low ladies and gentleman.

Can anyone else imagine any other manager in World football, talk with such disrespect and vitriol towards his fellow colleagues within the game?

I don't even think he likes the game! Suspect he's bitter about failing to become a top player himself. How else could you explain his utter resentment toward the players within the game?

Football has just been a conduit to his obvious dictatorship — zero respect for it!
And Melwood added:
I am truly ecstatic that he has written so much about us. It shows we are still under his skin and that makes me happy.
Contrasting quotes from Roy Hodgson and Brendan Rodgers, also both relating to Alex Ferguson and posted by Beez, highlight the difference between the former and current Liverpool managers:
Irrespective of the two men's merits as managers on the football pitch, which of the above would you rather the Liverpool manager said?

Well in, Brendan!