By Andrew Beasley and Mihail Vladimirov
Welcome to the preview for the latest round of 'Brendan Rodgers: Damned If You Do, Damned If You Don't' a.k.a Liverpool's next cup match, away at their fiercest rivals, Manchester United. Whilst the majority of the Liverpool fanbase would have been happy to see a weakened side against Notts County in the previous round, a trip to Old Trafford is a wholly different beast.
Many Kopites may wish to see a shadow side play against Manchester United, but after several poor recent performances, surely Rodgers can't afford to field an under strength side that will likely succumb to a potentially heavy defeat? Alberto, Ibe and Sterling all started in the previous round, but is this too big a match for all three to be included again?
It seems likely that Luis Suárez will be thrust back in to the fray following his ten game ban, and the Reds have at times missed elements of his all action style during this period.
In his last appearance, Suárez scored an injury-time goal, assisted another strike, gave away a penalty, was booked, and bit an opposing player. It's not usually dull with the Uruguayan in town, and of course he has 'previous' (to put it mildly) with the Salford-based outfit.
Rodgers was questioned about the inclusion of Suárez in his pre-match press conference on Monday, and as well as confirming that the striker will be in the squad, said:
"Everyone knows the depth of his quality and attitude. It's been a really difficult time for him not playing games. How he has prepared himself over the last number of weeks has been fantastic. He's really chomping at the bit (Beez: poor choice of words, Brendan?!) to help the team". Asked whether Suarez had learned his lesson, Rodgers replied with a smile: "We will see."
With regards to the availability of other players, Rodgers has said this regarding Agger:
"He could be a doubt for that game as he has not quite recovered. We wanted to give him time at the weekend, but unfortunately he was struggling with his breathing because he got a knock to his ribs"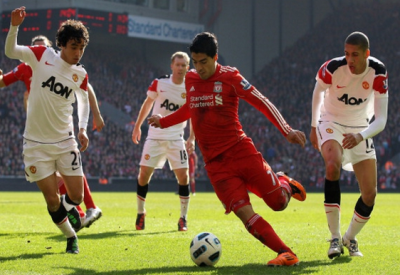 As for Enrique: "We've had to taper his load in training because he's had this niggle now for a few weeks and obviously we're in a period where we have three games this week. We decided to miss him out at the weekend to allow him to be involved over these next couple of games. But he's training and he's fine. We just need to protect his load and the last thing we wanted to do was lose him."
The clubs have met four times down the years in the League Cup, but only once in the Premier League era. For those who put faith in omens, the only League Cup meeting in Manchester was a third round tie which United won, and every domestic cup meeting since 1960 at either Anfield or Old Trafford has been won by the home team. The League Cup record is:
1982/83 – Final – Liverpool won 2-1 after extra-time at Wembley.
1985/86 – 4th Round – Liverpool won 2-1 at Anfield, and Jan Molby scored this amazing goal.
1990/91 – 3rd Round – Manchester United won 3-1 at Old Trafford.
2002/03 – Final – Liverpool won 2-0 at the Millennium Stadium. Steven Gerrard scored the opening goal, and is the only Red who played that day who is still at the club. Rio Ferdinand and Ryan Giggs are the remaining current United players who appeared in the match.
Whoever features on Wednesday, the atmosphere will be electric thanks to over 7,000 Liverpool fans being in attendance. Try telling them that this match doesn't matter.
Tactical Preview by Mihail Vladimirov.
For both managers this game is of significant importance. This is based on the associated pressure there would be if they lose this match, on the back of their recent poor showings.
For Moyes, this game is the perfect opportunity to catch Liverpool in a difficult moment – key players missing, other players not fully fit, poor recent form – and try to take maximum advantage of it. A win here would be taken as evidence that Moyes is capable of winning big games – especially given he lost two (Liverpool, Man City) and drew one (Chelsea) of his three big games up to now. More so, when you consider Man Utd failed to impress in any of these matches.
As for Rodgers – not only did he officially announce that he would take the Cups very serious this season, but he wouldn't want to lose second match this week (more so a derby with Man Utd). Especially given the overly poor display at home against Southampton and the 'grey area' that would be the game at Sunderland.
Man Utd approach and selection
With Moyes surely feeling the pressure, in combination with the growing concerns of his apparently unambitious tactical style, this games gives him the perfect opportunity – at home, against opposition with an injury crisis and in poor form – to show he is capable to formulate more proactive plans and go for the win in such big clashes. Surely he is aware of the potential harm to his authority and perhaps long-term future at the club, if he loses this match on the back of another uninspiring performances and lack of will to 'go for it' in a proper proactive way. Or to put it another way: for strategical (to make a lasting impression and decrease the pressure on him) and tactical (to actually be able to win this game and exploit Liverpool's current problems) reasons, Moyes simply ought to start this game in a completely different manner and use a different, less reactive, strategy.
This might mean he would be willing to approach the game with a relatively expansive style of play. In terms of shape – based on his Everton days and what he displayed in his CL debut – this should mean he will go for a lopsided 4-2-3-1 shape, with the aim to offer more fluid movement across the front quartet, on top of increased numbers of passing and penetrating angles in the opposition's half. Such a shape would allow him to incorporate another player looking to move into the space between the lines, leaving the flank open for the fullback to fully exploit. This means the usual emphasis on wide play for any Moyes team would include much more fluidity and a different outlook on both flanks – making the team less predictable and more creative when using the ball.
If Moyes does indeed approach the game with such an attacking-oriented strategy, expect to see the team being much more proactive without the ball too. This might means – especially watching how easily Liverpool succumb under pressure when being closed down once again – that Man Utd would adopt a high pressing game to upset the visitors' passing flow, which would have a massive impact on them defensively (prone to silly errors and gifting the ball back) and offensively (unable to offer any threat, be it on the break or in terms of gradual passing moves).
In combination to the high pressing game and attacking emphasis, the team would surely go for a higher defensive line, meaning United would try to play the game exclusively in Liverpool's half. The aim would be simple – put the away team under intense and constant pressure in and out of possession, on and off the ball. Liverpool is yet to show the required mental and tactical capacity under Rodgers to work around such fierce all-round pressure. Moyes should know all of that, hence insisting on it from his players, at least until they go ahead.
Based on the above, Moyes is expected to field what is close to his best XI. There might be few changes though, due to fitness reasons (Ferdinand), account for poor form (Young, Valencia) or giving some players chance to shine and stake a claim (Kagawa).
In defence, Lindegaard might be given a rare chance to start, given it's a Cup game after all. But with Rafael and Jones injured, Smalling is almost a guaranteed as the right back. The alternative being Fabio, but after his poor showing against Crystal Palace, he was benched for the CL game against Leverkusen and then dropped altogether from the match squad against Man City – suggesting he is not so favoured.
On the opposite flank it's a straight battle between Evra and Buttner. With zero minutes playing time, it's hard to see how Moyes would trust the Dutch player in such a big game. Not least because the Frenchman is one of the team's best creators and is so central to Moyes' tactics in attack. However, Ferdinand played every minute of every game up to now, and given we already known he needs to be managed carefully, he might be one of the sure changes – leaving space for Evans (making his debut for this season) to partner Vidic.
On the flanks, as per the above requirement to have diversity, Kagawa is more or less a sure starter. Starting wide on the left flank but moving infield to become the de-facto #10, allowing the player nominally playing there to push up and act as a proper second forward. This should mean one of Valencia and Nani would be deployed on the right flank. With the former disappointing in the Manchester derby, it could be a chance for the Portuguese player to be selected and prove his worth.
Up front – with van Persie injured – it should be Rooney in the hole and one of Welbeck or Hernandez up front. Presumably Moyes would want to engage Liverpool's back four with aggressive closing down, so Welbeck seems the better choice due to his overall tactical intelligence and application.
However, it's in midfield where it's less clear how Moyes would line-up. It's obvious his first choice midfield pair is Carrick and Fellaini. But having Anderson, Cleverley and Giggs fit and ready to be used, Moyes is capable to use and construct different pairs to suit his specific needs in that zone. Logic dictates – if he indeed wants to press Liverpool from high up – that Fellaini should be a sure starter. To use his brute physique and pressing capabilities he needs someone capable of sitting deeper and holding the station in midfield – hence one of Carrick and Giggs. An alternative – if Moyes would want increase their passing presence – would be to use Carrick and Giggs together, as a deep-lying passing duo. A more mobile and energetic duo – if Moyes would want more mobility and some rotation of who steps forward and who stays deeper – would be two of Fellaini, Anderson and Cleverley to start.
Assuming Moyes would want the closest thing to his best XI on the pitch – especially with the next game being at home to WBA – it should be Fellaini and Carrick starting. This would allow Moyes to have a controlling passer deep in his midfield (Carrick), who is going to set up and control the passing flow (even more so if Ferdinand is indeed rested). As a result the team should dominate with the ball, something that should leave Kagawa and Rooney to have enough opportunities to create from high up the pitch. Meanwhile, by being the more advanced of the midfield players, Fellaini would be able to help his team in terms of pressing but also with his well-timed forward runs.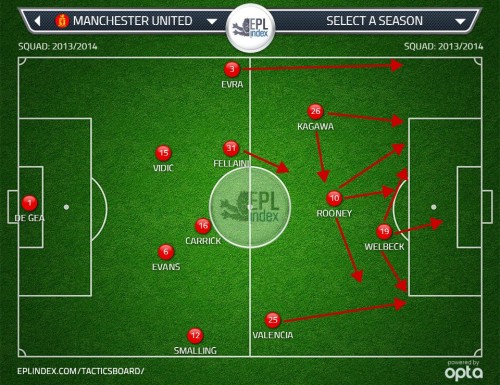 Major threats
With Man Utd expected to be the dominant team – in terms of territory and possession – for Liverpool, it will be of major importance how they set up in order to stop Man Utd's key threats.
The home team bossing the ball would mean they should be mainly in attacking mode most of the time. This would lead to certain movement from their players, enabling their key attacking and passing patterns to spread out. Down the left Evra would look to overlap the in-cutting Kagawa, with the Japanese seeking to come between the lines, trying to create overloads through the middle and allow for passing triangles and increased penetration. On the opposite flank, expect to see Valencia or Nani looking to stretch the play early on, always in position to receive the diagonal pass from the centre-backs or Carrick, sprinting down the line and searching one of the onrushing attacking players (Welbeck/Hernandez on the near post, Rooney and/or Fellaini surging from deep and Kagawa moving infield to the far post).
The lopsided formation will lead to Man Utd being able to stretch the play on both flanks, but in different ways. The right winger would be the initial resource of attacking width, always staying high and wide. Meanwhile, Evra would be dangerous with his late overlapping runs. With Kagawa overloading the centre – creating three in midfield to allow a duo in attack – the home team would be dangerous through the centre too.
The dual width, provided by Evra and whoever is playing on the right flank, in combination with Kagawa's infield runs – on paper – mean it will be extremely hard for Liverpool to disturb the home team's build-up play from the start. This mean any high pressing wouldn't be advisable, especially with Carrick dropping towards the centre-backs to ensure a safe path for the ball. With Evra and the right winger pushing on, the home team would always have wide outlets. On top of this with the right back and Kagawa staying deep and narrower, the team would have the bodies through the middle to create the required framework to safely bypass any incoming pressing waves. Plus, with Welbeck or Hernandez playing up top, Man Utd would have the option to boot it long for the speedy forward to chase in behind Liverpool's high line – which means additional space for Rooney too.
Liverpool approach
The above thoughts suggest Liverpool should play with a deep defensive line and be reactive in their overall application. As a result putting more importance on being capable to compress the space in behind and between the lines. And try to prevent Man Utd's width providers having a big influence.
Liverpool could do this differently in terms of starting formation and players, but the aim should remain the same: nullify Man Utd's biggest threats and be dangerous enough on the break.
Going with 4-2-3-1
Figuring out the best way to stop United's attacking assets might be the best way to decide the sure starters for Liverpool. And then, fit the rest around this.
To start with, stopping Untied having freedom to spread out their left-wing pair would require a right winger capable to track back in combination with a right fullback comfortable to tuck inside. In other words Sterling (as Henderson would be need in midfield, more on this below) to keep an eye on Evra's surges from deep – but also bother him on the break with his speed and directness on the ball. In behind, one of Wisdom and Toure seems a decent choice for the role of the narrow right back to prevent Kagawa's infield runs finding space in between the lines. Wisdom appears to be in poor defensive form, while Toure has the experience, anticipation and positional awareness to do such a subtle but important nullifying job and stick tight on Kagawa. Plus, with the good form of Skrtel – especially with him suiting a deep defensive line and a reactive style of play – Toure wouldn't be needed as centre-back.
On the opposite flank, Liverpool would need a specialist left fullback (Enrique) to deal with one of Valencia and Nani. After the Southampton game Rodgers hinted that the choice with Enrique was to start him on Saturday, and miss either the Man Utd or the Sunderland game. Implying that resting Enrique against Saints, should mean, he is capable to start the next two games.
In midfield, Gerrard seems like a guaranteed starter, given it's a derby with arch rivals United. With him inevitably playing as part of the double pivot, and given the expected threat posed by Rooney and Kagawa in that zone, the player next to him should pose the required anticipation and spatial awareness to deny these players too much space in that zone. Meaning Lucas is a must to start too. With the home team expected to dominate, it would be imperative for Liverpool to have an energetic and willing runner ahead of the static double pivot. 'Static' not least because of their lack of mobility, but because of the need to have them closer to the centre-backs, in order to compress the space ahead of the back four. This in turn means Henderson should be used centrally. This would have the following benefits: not only would Henderson be able to track Fellaini's runs (if he starts), but on the rare occasions that Liverpool would have the chance to break forward, Henderson's surges through the middle would be needed.
The risk of using a high pressing game means the Liverpool could adopt the alternative way of disturbing United's passing flow. Having Suarez and Henderson – the central front players – dropping on the home team's midfield duo, aiming to cut off the link between them and the centre-backs. This would not only slow United's build-up from behind but will also force them to build through the fullbacks. Indirectly, this will negate the threat posed by Evra – he would be forced to be a carrier of the ball, not a willing off the ball runner and width provider. Meanwhile, forcing Smalling to do the same, would signal Moses (starting on the left for Liverpool) to press, trying to dispose him as one of the routes for Liverpool to quickly break forward.
Still, the prime target of this rather passive behaviour from Liverpool – on top of showing United wide when building-up – is to invite the centre-backs to push forward with the ball, lured in a false sense of security. Then once they go near the centre line, Suarez and Henderson could start to press them, having both the chance to dispose of them, but also the space in behind to break into – with Moses and Sterling having the mobility to quickly catch up and surge infield.
Liverpool playing on the break would suit the deep and fixated position of the double pivot, especially Gerrard. Neither of them would be forced to push on and support the team's attacks. This should preserve their energy, leaving the running to the front quartet. In combination, Gerrard's passing range and ability to quickly switch play should suit him, and the type of the players playing ahead of him. With two dribblers down the flank, a willing runner through the middle and a roaming forward capable of individual magic, Liverpool's captain should have enough targets as soon as he gets to the ball and Liverpool look to transition quickly.
When United inevitably transition their possession higher up the pitch, Moses could stay high and wide down the left flank, not bothering to constantly drop back and help out Enrique. The Spaniard has the ability to deal one-on-one with natural wingers like Valencia and Nani. On top of this, Smalling is not the most dangerous player on the ball. On the rare occasions when Enrique is threatened to be overrun 2-v-1, Lucas (by playing left to the centre) could help out by either drifting wide himself or dropping deep, enabling the left-centre back to pull wide and cover for Enrique. Plus, sticking tight on Evra (Sterling) and constantly leaving Smalling free (Moses stay loose on him) could force United to build through the right back. Not only he is not so dangerous on the ball, but luring him to push up could mean extra space for Moses to pounce on the break, using his mobility and trickery.
An alternative to this formation is to use Alberto at the tip of the triangle and use Henderson as the defensive right winger. This might allow for more ball control through the middle with the Spaniard dropping deep. From an attacking point of view this would make Liverpool more fluid and dangerous, as Alberto dropping, might lead to Gerrard pushing on to support the attacks. Plus with Moses focused on dribbling with the ball down the left, Henderson will be in position to provide some sort of diversity. The right winger could tuck in and further help with the ball retention. But, would also be in position to offer a different type of off the ball movement in the last third.
Still, for all the attacking benefits, this might make Liverpool less defensively stable. Having a fluid midfield three, with two of the players rotating, could leave Lucas exposed and with too much space to cover. This would be due to the lack of mobility from Gerrard to quickly drop back into his expected defensive position. Plus, with Henderson moving infield, Evra could find himself with more space on the outside – something that could well overload Toure.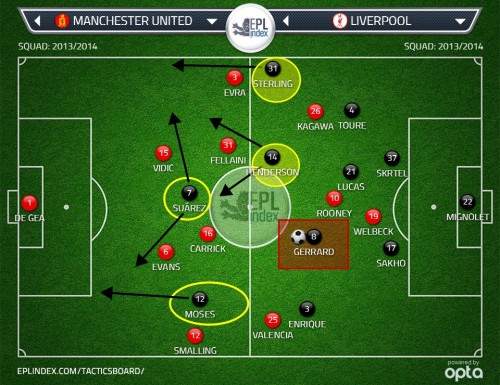 With Sturridge on the bench, Liverpool would have the joker sub to become much more attacking if/when needed to be. A simple change of Sturridge in place of Skrtel and putting Toure alongside Sakho could drastically transform Liverpool, making them a much more proactive and dangerous team. With Sterling now dropped back as the right fullback (Henderson now moved to the right flank) the team would gain both the ability to stretch the play on both flanks, but also to offer more sophisticated passing and movement patterns thanks to Henderson moving infield and Suarez supporting Sturridge from in the hole.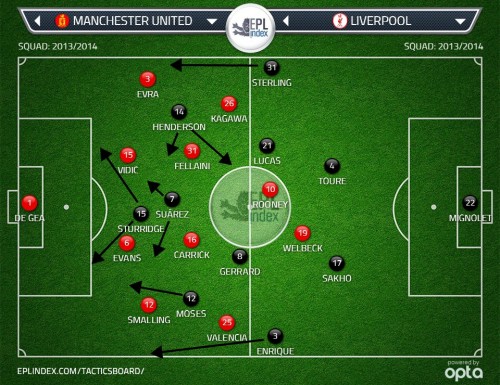 Going with three at the back
The lopsided nature of Untied's formation – on top of a lack of dual wide threats from both flanks – means Liverpool could easily use a sort of 3-5-2 formation. With Smalling not being a proper wing-back and with Kagawa expected to drift infield, it would be possible for Liverpool to play in a lopsided 3-4-3 formation to accommodate for United's wide and central threats.
A back three of Sakho, Skrtel and Toure would retain a spare man against United's front duo. With Lucas and Gerrard staying deep, Kagawa and Rooney would have less space between the lines. A spare central defender would mean Gerrard would be free from defensive duties, focused more on channelling the team's attacks from deep.
Enrique as the left wing-back should be up against United's right winger. On the right it's more tricky, if Evra and Kagawa aren't covered sufficiently, it could overload the right wing-back (Henderson). Defensively, Kagawa's infield runs should be covered by the right sided centre-back (Toure), in tandem with one of the deep-lying midfielders (Lucas, who in this scenario would be better playing to the right of centre). This would leave Henderson to deal with Evra and nullify his attacking threat. Still, there would be always the risk of having Kagawa adapting and staying that bit wider, which would either drag Toure wider – leaving space for a midfield runner to exploit from deep; or Henderson overloaded 2-v-1 (if Toure stays central).
To protect against such a possibility, Liverpool could use Moses high and wide on the right, up against Evra. This would leave Toure and Henderson to communicate and adapt as per the situation. If Kagawa stays wide, it would be Henderson engaging him with and Toure as the cover. If the Japanese player drifts infield, it would be between Toure and Lucas to communicate and handle him. All of this would benefit Liverpool offensively too. Not only would Moses would be a direct threat on the break, speeding past Evra, but Henderson would be free to play that bit narrower and join the build-up play. On top of this, between Moses and Henderson the team would have players capable of offering different attacking threats, by constantly mixing their approach on and off the ball. If Moses stays wide, Henderson could cut infield. If it's Henderson the ball carrier on the outside, Moses could then try to get in and around the penalty area and become a direct attacking threat with his off ball movement.
Meanwhile, the split forward duo could offer different outlooks depending on what the team's strategy would be. Having a spare man at the back would enable Liverpool to try and level United in terms of possession and time on the ball. This would make Liverpool more possession-based. To further underline that effect, Alberto could start as the third midfielder in behind Suarez, looking to drop deep and link up with the double pivot, encouraging the wing-backs to push on. With Suarez roaming and predominantly looking to drift laterally, United could be well exposed down the channels. This could be further emphasised with Moses targeting the space behind Evra, while Suarez could favour the left channel – in behind Smalling. Then it would be a case of Alberto and Gerrard providing the late runs through the middle, on top of the wing-backs providing the width.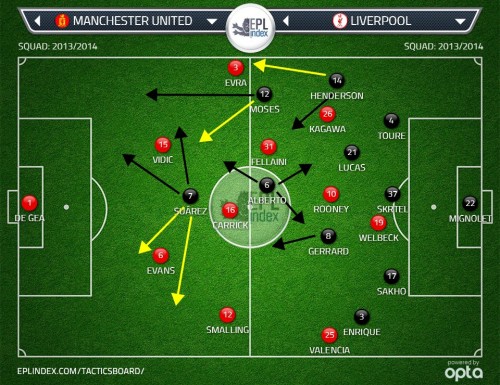 Here, a simple change of Sterling for Skrtel, could morph Liverpool into a proactive, attacking-oriented 4-2-3-1. Enrique and Sterling providing the width down the flanks, Moses and Alberto cutting infield from the flanks to support Suarez (roaming from up front) and Henderson (helping with the build-up play and then heading forward to help penetrate United) through the middle. Then replacing Moses with Sturridge, and Alberto with Aspas would be a case of switching to a lopsided 4-2-3-1 with Henderson tucked in from the left to make it three in midfield, allowing Suarez (centrally) and Aspas (off the right flank) to support Sturridge up front, with Enrique and Sterling continuing as the width providers.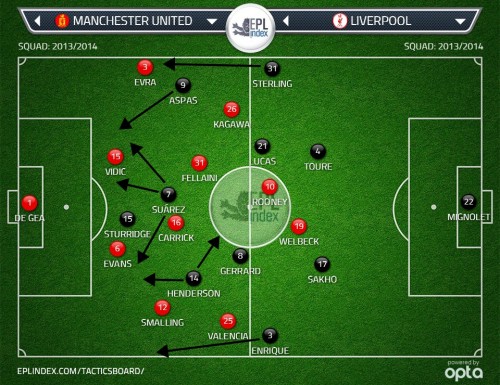 However, the risk of such a possession-based style is that it requires more fluidity and midfield runners, and could leave Liverpool more vulnerable defensively. That's why more of a counter-attacking outlook, and generally reactive style, is perhaps more suitable. More so, due to the risk of having the wing-backs caught high up the pitch, thus forcing the back three to be stretched in order to cover.
Everything could remain the same, as explained above, except instead of Alberto, Liverpool could count on Aspas to act as a second forward in behind Suarez. Hence the main attacking route for Liverpool would be to exploit the right flank – Henderson and Moses working in tandem to provide different things – and the attacking fluidity caused by Aspas and Suarez. With Lucas and Gerrard sitting deep and Liverpool focused on retaining a solid defensive shape, looking to hit on the break, Aspas could be the more useful player, providing the complementary runs to what Suarez is doing. With Suarez needed to provide the horizontal stretching and targeting the space down the channels in behind United's fullbacks, the Spaniard could push up from deep to become the de-facto #9.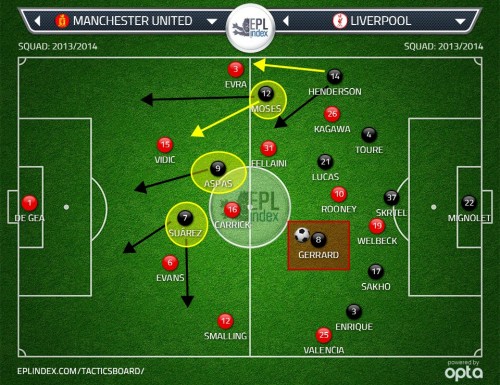 In such instances, a switch to a more proactive and lopsided 4-2-3-1 would be even easier if/when needed. Replacing Skrtel with Sterling and Moses with Sturridge would lead to the framework and patterns of play I outlined above.
Conclusions
A game between Liverpool and Man Utd is always a big game, no matter which venue or what tournament. What would make this game even more 'important', however, is if either manager loses it. Meaning both teams will be really up for it, selecting close to their best XIs as possible.
Assuming Moyes will show a different tactical approach, the onus is on Rodgers's adjustments pre and during the game. The good news is both managers are indirectly forced to be much more creative and suitable with their tactics. Something that could lead to an intriguing tactical battle. Apparently the home team has the squad depth to rotate and still look close to their best XI. In the meantime, the away team can count on certain tactical ingredients to be able to formulate suitable and efficient tactical plans to emerge victorious from this game.
The worst case scenario would be the fear of losing this game leads to both managers going for overly cautious and timid approaches. Leading to a tactically uninspiring and technically dull contest, potentially leading to extra time and even penalties.