By TTT Subscriber Ray Wilson.
Brendan Rodgers has just begun his second campaign as the manager of Liverpool Football Club. After an initial period of bedding in and jostling people around, the stage is set for emphatic improvements across the board and a wildly successful season that's sure to deliver the long awaited nineteenth title. That's it, no questions, the article is over. You may close the browser.
… still there? Good. Whilst the above represents an obviously and intentionally over-optimistic goal for the season, I do happen to think that it's perfectly reasonable to expect some solid improvements. Rodgers has had a year to implement his playing style, recruit to suit, and ship out players who simply didn't offer anything.
What I fear, though, is that the goodwill and hope that has built up over the summer could be destroyed within the first few games of the season. To me it still feels like there's a horde of fans saying they're okay with the direction we're going in and that they're willing to continue giving Rodgers the time to build something gradually etc, but they'll instantly flip their lid if we don't start the season strongly. I'm convinced that a sizable percentage of fans who profess a willingness to play the long-term game don't actually have the bottle to see it through. Certainly not without making a lot of discontented noise through any tough times, which of course there will be along the way.
What I'd like to do now is delve into a little history, starting with a table that showcases the league record achieved by Rafael Benítez's Liverpool in both his first and second seasons in charge of the club. Feast your eyes on this:

With Pepe Reina, Momo Sissoko and Peter Crouch boosting Liverpool's physical presence on the field, Benítez took the team to a gargantuan points haul of 82, a full 41.38% increase on the previous year. And they did it, you'll notice, whilst scoring just five extra goals. Imagine that.
Truly, Rafa's first two seasons – strictly in terms of the league, at least – weren't about scoring the goals. Here we have a table showcasing the tallies achieved by Liverpool's top five Premier League goalscorers, alongside their respective percentages of the whole: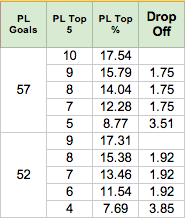 2005/06 up top, 04/05 below. The difference is negligible, with only small improvements and no great dependence on any single player in either year (which is something that I've researched before).
The key to the team's success was the improvement at the back. In 04/05, Liverpool kept just seven clean sheets, conceding an average of 1.08 goals per game. The home record was reasonable with just 15 goals conceded but away, with only one clean sheet all season and 26 goals conceded, it was not. This is where the points were dropped and Liverpool's poor away performance record was largely shaped. That season we picked up just 18pts on our travels with only five victories, three draws, 11 defeats and a goal difference of minus five. To give this some context, the average number of points collected by the fourth placed team (from 01/02 – 12/13) stands at 28.5, and nobody has ever done it with less than 22pts.
The following season delivered stark defensive improvements:

A tied fifth best defense in 04/05 rose to second best in 05/06, with a magnificent total of 22 clean sheets. As well you know, a team could score three goals but leave without a point to their name, but it is impossible to keep a clean sheet without gaining at least a point.
This defensive solidity led to some laudable sequences throughout the season. Whereas in 04/05 the team had only managed to keep two clean sheets in a row at any point, 05/06 brought a sequence of eight. 04/05 saw a maximum winning streak of three games and just four games in a row without losing; 05/06 brought a 10 game winning streak, and 12 games without losing.
Benítez's second season is probably best remembered for the FA Cup victory over West Ham, and I think that's perfectly fair. It was a wonderful achievement and a truly treasured memory. But the league season was also brilliant and, from a statistical standpoint at least, a really intriguing anomaly (which I spoke more about in A History of Goalscoring); entirely worth of note, admiration and exploration.
Now then, if I can step back for a moment… I'm sure you're wondering what this has to do with Brendan Rodgers? What's the lesson here? Well, although the final records make for joyous retrospective reading, let's now consider how the season actually started. Over the course of the first eight games, Liverpool posted just two victories, with four draws and two defeats killing the post-Istanbul buzz. This year's our yea… oh. Already!?
After the eighth game (a two-nil defeat away to Fulham), we sat in the bottom half of the table. With just 10 points in the bag, we were already nine points adrift of the top four. It wasn't looking particularly sunny. Indeed, Benítez's incredible second season began with quite the struggle. You could describe it in plenty of ways, but "hitting the ground running" would not be one of them.
And this is the point that I'd like people to take away, and something I hope Liverpool fans bear in mind as Rodgers takes his team through the 2013/14 campaign. Of course we would love to begin like a house on fire and, in fairness, the fixture list is reasonably kind in the opening months. But what Benítez's second season proves is that starting with indifferent, even poor form, does not close the door to it being a terrific season overall.
What may initially look like second season syndrome could eventually show itself to be highly commendable improvement. Until the season is over, of course, the context within which you can judge it remains incomplete.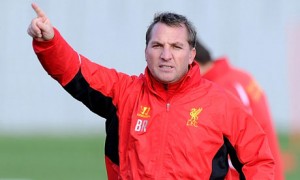 His second season got underway with a win