By Paul Tomkins.
Season previews from other TTT writers will appear next week, as part of our Symposium feature.
Much can change between now and the big kick off next week, let alone when the transfer window closes. But for now, here's how I see things.
It's time for Liverpool to finally match, or exceed, the sum of its parts, rather than fall below it. In the second half of last season the Reds seemed to do just that; but it was only half a season, and came at a time when expectations had fallen.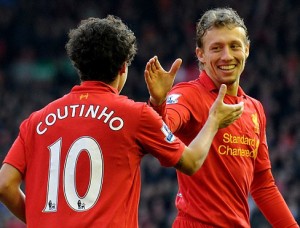 When the pressure is off, this side is superb; big wins in the second half of 2012/13, and a waltz through pre-season thus far. The improvement needs to be in the tighter games, the must-win games, the do-or-die ties.
This post is for Subscribers only.
[ttt-subscribe-article]