By Mihail Vladimirov. 
Both managers started the game with a somewhat predictable line-up. Rodgers opted to hand competitive débuts to Mignolet, Toure and Aspas. Henderson started over Allen, with the rest of the team being as expected with Sturridge being fit enough to start.
For the opposition, Hughes made only one change to the usual XI that featured during the pre-season friendlies – and it was due to some medical precaution. Palacios was replaced by Wilson at the base of the 1-2 midfield three, that will now be seen as one of the trademarks under Stoke's new manager.
Formations
With the Liverpool shape being 4-2-3-1-ish (which due to the specific movement patterns in attack often morphed to more of a 4-2-2-2) and the fact Lucas and Gerrard once again were selected as the double pivot, it was Henderson, and not Allen, starting the game. Henderson is the more versatile player, so he is able to fill in practically every midfield and attacking-midfield position, providing different nuances to each role.
The interesting thing before the game was that the Liverpool XI, especially the front four, allowed for several variants, with all of them having different tactical permutations. All of this speaks volumes of the flexibility and the enormous tactical potential (and the element of 'tactical surprise') that the current squad at Rodgers' disposal possess. As the game demonstrated, it was Henderson in a rather unusual (at least for the time Rodgers has been manager) position, on the right of the attacking band of three, with Coutinho coming off the left to join Aspas (who played just behind Sturridge) between the lines.
As expected Hughes opted for the 4-1-2-3 shape he installed right from the first days of his Stoke tenure. With Wilson instead of Palacios, Stoke offered something not seen during the friendlies – the deepest of the midfielders often dropping so deep he could easily have been called the third centre-back. Wilson dropping towards the centre-backs was seen the most when Liverpool threatened with yet another attacking wave, full of fluidity, with interchanging all over the place from the attacking players.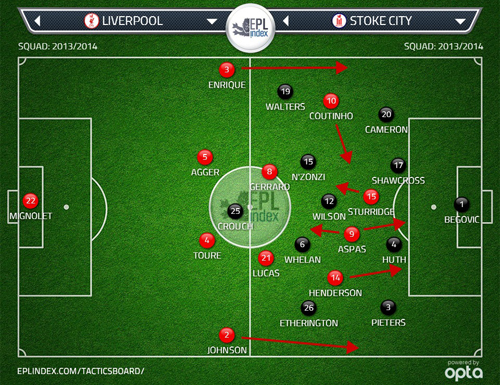 The rest of this post is for Subscribers only.
[ttt-subscribe-article]