Written by TTT Subscriber Chris Steel. 
Some things are synonymous with British summer: Wimbledon, strawberries and cream, England failing miserably on the international stage at some tournament or other. Last summer we endured England's lowered expectations all the way to the quarter-finals of the European Championships before an Andrea Pirlo master class put us to the sword. Fast forward twelve months and we've just witnessed England's U20s and U21s crash out of two youth tournaments with a combined group record of P6 W0 D2 L4. To be fair, they did come across international footballing heavyweights like Iraq and Egypt. It was even highlighted this week that England U20s have not won a game at the U20 World Championships since 1997 when the likes of Owen, Carragher and Murphy graced that age group. Shocking really.
With failure comes the typical response that everything must change. These dissenting voices gradually die down before a crescendo of optimism places us favourites (in this country) to win the next big upcoming tournament with nothing significant having changed. Rinse and repeat.
The first step to recovery is admitting you've got a problem. How far are the establishment away from this? If it hasn't sunk in by now then maybe it never will. The major cause of this denial comes because of the prevailing arrogance that exists on these shores:
 "We won the World Cup in '66 so we'll do it again."

"We invented football."

"Alf Ramsay never had a coaching badge."

"The Premier League is the best in the world."

"We are high up in the FIFA rankings."

"It's a man's game, GET STUCK IN!" and so on and so forth.
Once you've admitted there's a problem the next step is examining past errors. The issues that we have in this country mean there is no one problem to sort. There is no quick fix.
Problem 1: England needs a philosophy
Pick a big club or nation and you'll be able to identify how that team play. Philosophies are in vogue yet they've been around for decades. They've only really came to the forefront of people's minds because of the remarkable achievements by Barcelona. We all know about Ajax and Holland's total football, Liverpool's pass and move; but even the likes of Newcastle United have been built around a foundation of entertaining football, hence the nickname 'The Entertainers' – though, it's usually the opposition doing the entertaining these days.
Ask anyone to describe England and more often than not they respond with one of two phrases, 'long ball' or 'route one'. Everyone knows the damage Charles Hughes was allowed to inflict on the English game during the 1970s and 80's, which is hugely ironic considering it was a golden age for English football on the continent. Liverpool played their sophisticated brand of pass and move and Brian Clough's Forest played with the ball on the ground, hence his "If God wanted us to play football in the clouds, he'd have put grass up there" quote. English football however, has never managed to shake off this brand of football, even at the highest level. Stuart Pearce's England U21s were testament to this, despite the FA replacing Hughes's official coaching manual in the mid-nineties.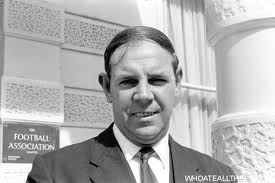 Charles Hughes, perpetrator and enthusiastic advocate of POMO (Position Of Maximum Opportunity), aka 'hoof it upfield as far and as fast as possible', copyright Wimbledon late 1980s.
There is no right or wrong way of playing. The Italians use a more defensive philosophy: Catenaccio. The Spanish are at the opposite end of the scale with their tika-taka, while Brazil's samba football is based on exuberance, enjoyment and individual brilliance within a team collective. Regardless of the path selected, it's essential that the whole country buys into any decision so everyone can collectively move forward with a clear goal to aim for.
Problem 2: Cultural change
Glenn Hoddle, Paul Gascoigne and Paul Scholes; three of the most technically gifted footballers this country has produced. All three, it could be argued, were not utilised to their full potential by the national team, which is a great shame considering how few 'great' technical players we've produced. The closest thing in today's game that could get near them on a technical level is Michael Carrick. That says an awful lot in itself despite the fantastic season he's just had. Carrick is also a victim of circumstance, as there is a massive distrust in players of his ilk. The sideways or backward pass is still misunderstood in England and still viewed as negative. Pumping the ball 60 yards aimlessly forward is viewed in a much more positive manner, which is why we're in the situation we find ourselves.
Why do England produce so few technically gifted players? Apart from inept coaching I think the main reason is the common view still held today that football is a man's game. Anyone trying to replicate Xavi, Pirlo, Alonso or even Sahin will be sussed out in the first five minutes of a game and be scythed down while the referee declares it an 'acceptable' challenge. The aforementioned players would not have been given the environment to thrive in in this country and conceivably would not have made it as footballers. That's not to say football isn't a hard game, far from it. Asked if Alonso would survive the rigours of the Premier League, Rafa quipped that he was Basque, so he'd manage just fine. The difference abroad is the players are far better protected than here, and although I'm under no illusions that players are hacked down in other countries, it's usually just once or twice a game as opposed to once or twice every two minutes.
The idea that football is a man's game is an absurd one. Rugby, yes. Boxing, yes. I'm even led to believe that hockey is rather brutal. But football? Football is a game of beauty, a game of art. Were Pele, Cruyff, Maradona and Zidane 'real men' or were they artists? Anyone can kick someone. What these players could do with a ball at their feet was as good as anything by Picasso. They were players who embodied and expressed the beauty of football. This country holds the likes of 'Chopper' Harris and Billy Bremner on a pedestal, while mocking any form of grace. Ronaldo's stepovers anyone?
This is a huge problem and one we may never eradicate. What's the answer? A more continental style of refereeing would be a start and this is where the media could play a part, but as we all know, they are part of the problem. Anyone who watches football on the BBC, ITV or Sky will know just what I mean; pulling your hair out at another Lawro quip, listening to Adrian Chiles talk utter nonsense while Roy Keane looks on with total disdain on his face, though judging from my time line on Twitter, their overseas equivalents are just as bad.
Is it time for more variety when analysing football? Ex-players don't always cut the mustard, just like we see with coaching. People like Jonathan Wilson would educate us infinitely more than Jamie 'top, top' Redknapp. Lawro doesn't even know who some of the foreign players are for god's sake. How are kids supposed to aspire to more when the people who can influence massively are repeatedly telling us that Stoke away on a cold Wednesday night is the hardest game in world football?
The written press aren't much better. Claiming everything English is great and denouncing anything foreign unless it wins a trophy, yet even then the knives come out as soon as things start going wrong. This clip of Martin Lipton speaks more than I ever could http://youtu.be/_arxGSGox-Q
It's an attitude that needs to change and one that will only change once those in a position of influence realise that it's impossible to make good decisions and take a step in the right direction without an honest confrontation with the brutal facts. We didn't learn in 1953 when Puskas and co embarrassed England at Wembley and we still haven't learnt some 60 years later because the people in power refuse to acknowledge that English football is technically and tactically inferior to other top nations.
Problem 3: The proper education of coaches
While carrying out research for this article I stumbled upon a couple of Tweets that caught my attention.
@the1lshane: I'm a level 2 (FA coach) and I hated every second of the level 2, too structured, no room or encouragement for creativity & different thinking.

@the1lshane: It's a case of do it this way, because that's how we've always done it, I won't be doing any more coaching with @FA, going for Futsal.
I ending up emailing the man responsible for the tweets and found his response to be very informative and reinforced some perceptions I already had of coaching in this country. Lee Shane is a primary school teacher, and an FA Level 2 coach and played at as a semi-pro while at university.
When and under which FA did you do your Level 1 badge?
I took the Level 1 in 2007 with the Middlesex FA.
What was the cost?
It cost £150 (it was more expensive than other areas). If you look on the FA website there isn't one cost. It varies depending on area. (Not sure if that's still the case with the opening of St. George's Park).
What level were the coach(es) that took the course?
The coach who took the session held an FA Pro license.
Why did you take the course?
I initially took the course with a view of perhaps pursuing a career in coaching or at the very least using it in my role within schools.
Can you describe the course?
The Level 1 lasted for two weekends:
The first weekend was an introduction and a lot of the theory on the first day was coupled with going through the various drills in the pack we received.
In between the weekends I had to complete an emergency first aid course.
The final weekend comprised practising our final assessments and delivery. I learnt a lot of little games that would be fun for younger players but it wasn't challenging and the paperwork that needed to be completed was easy to do so (all the answers were provided in the pack we received).
I expected the course to be more challenging and thought that there would be more tactical training. I was aware that it was possible to skip the Level 1 if you had sound footballing experience which I did, but thought it better to be safe than sorry. There was very little time for discussion. We were expected to copy our final assessment from the material given.
When and under which FA did you do your Level 2 badge?
I took the Level 2 in 2010 with the Hertfordshire FA.
What was the cost?
£250-£300 (I had my employer pay for it).
What level was the coach(es) that took the session?
The coach was a high ranking coach within a London based Premier League academy. (To be fair, he knew his stuff.)
Why did you take the course?
Further progression from the Level 1. I thought that it would be more tactical and allow me to continue with my own personal style of coaching, by this time I had coached a number of youth and adult amateur sides.
Can you describe the course?
The course was very intense. There was two weeks of theory and a practical element (which was a running drill), very physically demanding. Again I learnt new drills and training games, a little more about nutrition (although I already had a sound base knowledge), then there was a three month break while trainees gathered experience before taking the final assessment. It was more challenging than I expected but mainly again because we were following what the coach leading the session wanted. We had debates but the outcome was the coach was right and because he had done it to a certain level we had to 'bow' to his superiority. There was no consideration of our previous experiences which might have helped. The course is a one size fits all exercise.
Can you explain your tweets?
The problem I feel with our approach to coaching is that the philosophy is wrong. As a nation we have always been looked upon as strong, tall and physical but never credited with technical ability. In the '80s Glenn Hoddle was probably our most technically gifted player and he didn't win many caps, yet he was the heart of Arsene Wenger's footballing philosophy at Monaco. We used Paul Gascoigne a little better but since then, there have been only two naturally gifted footballers in the national team: Scholes (retired too early) and Joe Cole (ruined by Mourinho). We have also concentrated on fitness and stamina.
Gerard Houllier stated that until a player hits their teens they should always have the ball at their feet. They do not need to run around a field concentrating on fitness (paraphrased). Coaching over here has moved on and now there is more done with the ball but not nearly enough.
Is there anything else you would like to add?
There have been changes, thankfully. For instance, there is now a structure to the size of pitch children play on and for how long. In Holland they took an approach that every academy should coach in the same way and then coach players in every position until a certain age (making them technically gifted). This meant the goalkeepers could pass the ball and centre forwards could tackle etc. I think St. George's Park could help with this but was shocked Hodgson got the national manager's job.
This summer we have seen the U21s and U20s fail miserably on the international level. We had Stuart Pearce, who for me is tactically limited, and Peter Taylor both qualify for the tournaments easily because they never face real competition. When they get to the tournament they are inept.
We need to take a chance on young coaches who are prepared to change things. Pearce would have been better served shadowing Capello 100%, instead of dropping to the U21s. There also needs to be some blame laid at the door of the Premier League clubs. We have some very young players who made themselves unavailable for the tournaments – Chamberlain, Walcott, Wilshere, Sterling (injured?), Smalling, Jones and probably more. Juan Mata played in the Euros and won it before joining up with the U21 side and won a trophy with them. Winning is a habit at any level.
You mentioned Futsal in your tweet. How did your interest in that version of the game come about?
I saw Ronaldinho playing Futsal and researched it further from there. I'm and advocate of Futsal because it makes players develop the ability to pass and move. The balls are heavier so they can't be hoofed forward and there's no real bounce from the ball so it has to be played on the floor. The primary school teams I train will use Futsal balls in training and they will become better players for it.
A very frank assessment by Lee.
It has only reinforced my perceptions with regard to how coaches are coached in this country compared to abroad. I appreciate this is one man's view and others might rave about their experiences within the FA courses, however I'm yet to hear from those who have. The things you hear and see on forums aren't proof of inadequacy but they all paint the same picture: ex-professionals getting preferential treatment at the expense of other course attendees and a ceiling for those who have only played at a certain level. We can all name the select few managers who have had little experience at a high level football, but even the likes of Ferguson was on Rangers' books for a while and our own Brendan Rodgers was in a football environment before deciding for himself that he wasn't good enough so ventured on the coaching path. A prominent point made by Lee was the need for the footballing establishment to take a chance on young coaches. This could be the toughest nut of all to crack because there is a deep-rooted belief within the game (in most countries) that former players make the best coaches. Don't take my word for it, take the word of PFA chairman Gordon Taylor:
We are convinced – and we still are today – that those who played football at the highest level are best suited to teaching the game, as long as they themselves have proper instruction
Now wouldn't it be nice if England could set the trend for once and open the doors for everyone, not just former pros? Why limit your talent pool to a few thousand people? Football is the national sport in a country of 60 million people. Italy however could have stolen a march on us in this regard. Arrigo Sacchi had this to say upon his appointment as co-ordinator of youth development in Italy:
In Italy they have still not opened up the registrations. I would let everyone – from pharmacists to porters – any person – become a manager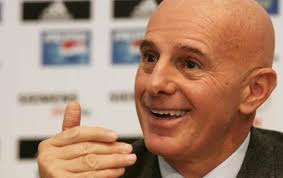 Arrigo Sacchi – a very different approach to coaching to the UK's
Just getting the coaches qualified is a fairly recent thing in England and it wasn't until 2003 that managing in the Premier League required a UEFA Pro licence. Instead of being a landmark on the English game it has simply become a chore to the British mangers. Instead of embracing the course and wanting to absorb as much information as they can, managers see this as nothing more than a paper exercise.
When Paul Ince took charge of Blackburn Rovers in 2008 he didn't have the relevant qualifications,which begs the question: why was he allowed to take the job? David Platt took the Sampdoria job in 1999 and was saved the indignation of being removed by the Italian FA only because he was sacked by the club first, due to a terrible ten game spell. Platt was given the job without any coaching badges and it led to the President of the Italian Coaches' Association threatening to resign over the saga, such was the magnitude of the issue in Italy. England, on the other hand, agreed to fast-track Ince through the UEFA B, A and Pro courses.
This isn't just for new managers. Ex-Bayern Munich, Man United and Manchester City midfielder Owen Hargreaves has also been promised to be fast-tracked through the FA's coaching system. Supporters and ex-players alike were overjoyed by the news that a brilliant player cruelly denied by injury to fulfil his career was finding a route back into the game. When all the excitement dies down you have to ask why the hell Hargreaves is getting fast-tracked in any way, shape or form?
Still found at Coverciano (the Italian FA HQ) is the original thesis that many top Italian coaches wrote while studying for their masters course:
In 1997, current Real Madrid boss Carlo Ancelotti wrote 'The Future of Football: More Dynamism', full of charts, diagrams and conclusions.
Capello's study of 'The Zonal Marking System', a piece he completed in 1984, is also there.
Ex-Manchester City boss Roberto Mancini wrote a piece called 'Il Trequartista' examining the role of the No.10.
If you're going to fast-track the likes of Ince and Hargreaves, then when are they going to have time to complete such works? I'd like to see Roy Hodgson's thesis on the benefits of fluid football. What about Stuart Pearce's work on alternative formations to 4-4-2?
One other aspect I picked up from Lee was the coaches that took the course and their 'my way or the highway' attitude. Take World Cup and Champions League winner Marcello Lippi's comments about his time at Coverciano and spot the difference:
The learning is not just something which takes place in the class setting. At Coveriano, interaction between students is not just encouraged, it is an integral part of the experience. Somehow one can't but help to open up to one's colleagues. That's what I found truly important about Coveriano, the exchange of ideas between myself and my colleagues.
That was Lippi talking about his first course way back in 1975. Nearly forty years later and our young coaches are taught from a handbook with no variation allowed. The constant challenging of what's accepted is the only way in which ideas evolve.
Problem 4: Development of 18-21 year olds
The main problem with the development of youth football, aside from the coaching aspect, is the chronic lack of game time players in this country receive. A shocking stat to come out of the U21 tournament only confirmed this fear. Spain's First XI had a combined total of 272 league appearances; their English counterparts had a meagre 76, sadly, most of these accumulated by just two players: Jordan Henderson and Spurs' Danny Rose.
The recent change to the reserve system by introducing the U21 league is a great start, but is it enough? Take a look at some of our fringe players like Shelvey (now gone), Sterling, Suso and Wisdom and they stand head and shoulders above that level. These players are caught between a rock and a hard place because they are too good for the U21s but not yet ready for the rigours of regular Premier League football.
This is where copying ideas from abroad may come in useful. The easiest solution would be the introduction of 'B' teams into the league pyramid. The idea is not a new one, with former Everton manager David Moyes already trying (and failing) to get an Everton B into the Blue Square Conference on the premise they couldn't gain promotion if it was achieved. The idea was thwarted due to the sheer depth of non-league football, with Moyes claiming it would have taken 10-11 years for any side to reach the top tier of this level.
The likes of AVB, Mourinho and Rafa have also championed this idea, yet when Rafa suggested it, it when down like a lead balloon:
It's a silly idea – out of order – we're getting knocked about by people who are not from our football world
Mansfield manager, Billy Dearden

It's insulting to suggest that a bunch of Liverpool kids could hack it as their own club in the Football League
Gillingham chairman, Paul Scally

No-one would want to watch the reserve teams of any club – I don't care if they're Real Madrid, Juventus or Fray Bentos! (Just for the record Real Madrid Castilla had attendances between 1,200-6,000 last season. Hardly no-one, Barry – added by the author). Clubs like Peterborough are part of the community, as are clubs like Rochdale, Bury, Barnet, all these clubs, and their supporters are only interested in supporting them. They're not remotely interested in the Liverpool's, Arsenal's, Manchester United's and Chelsea's. They support their local clubs and you will never be able to take that out of the towns and cities in this country
Peterborough manager, Barry Fry
Therein lies the problem. These same people want a successful national team but they also want the upkeep of tradition with England being the only nation in world football to have four professional divisions. Producing world class players and therefore a successful national side, and maintaining four professional leagues, are mutually exclusive in my opinion. We can't have it both ways.
If 'B' teams aren't the way forward, then what other possible alternatives are there? Italy has a part ownership scheme which allows a club to buy a stake in a promising player. Take Henderson as an example – we could have purchased 50% of his rights in 2011 while he remained on Wearside in a less pressured environment, slowly developing his game. If he'd progressed at Sunderland as we'd hoped, then Rodgers would be able to bring him to Anfield this summer. The benefit being that he's a more mature player than the one that was actually signed and thrown straight in at the deep end.
While Germany has a 'B' team system, they also employ a far more intelligent loaning system. For instance, Bayern loaned Toni Kroos to Leverkusen for eighteen months while Philipp Lahm enjoyed a season at Stuttgart. Both moves were highly beneficial to the players' development as they were playing in decent sides challenging for European places. In this country, we tend to loan players to the lower ranked teams and in many cases a loan move can be seen as a form of rejection as opposed to an opportunity to enhance one's experience. Andre Wisdom is currently at the centre of intense speculation linking him with a loan move to Fulham or Wigan. If he has been made available by the club then we should be doing our up most to try and get him to a top 10 side, even top 8. Hell, I'd even loan him to Everton, if it would be beneficial to his development.
One other option would be to acquire a feeder club in the lower divisions where they'd take several of our most promising youth players for the season and integrate them into their team. I suspect this would be met with a similar feeling to the 'B' team suggestion.
On the face of it there are options available to facilitate the 18-21 year olds in gaining more playing time, it's just a matter of coming up with a solution that suits everyone, or a solution that will benefit the players regardless of how people feel. It annoys me no end when clubs are accused of simply not giving kids a chance. It's a lazy excuse.
Problem 5: Grassroots
Grassroots football has made some dramatic improvements in recent years, coupled with some major investment since the turn of the millennium. The biggest change has seen the introduction of smaller pitches, smaller teams and smaller goals. These changes are to be phased in by the 2014-15 season. It means that U7s and U8s will play a 5 v 5 format of the game, while U11s and U12s participate in the 9 v 9 format, before moving to full size at U14.
On the investment front the FA has pumped in a colossal £780m on improving facilities at grassroots level since 2000. In March this year, there was a new three year plan launched by the FA, Sport England, the Premier League and the Football Foundation to further improve facilities across the country. They pledged to invest £150m on improving facilities such as 3000 natural pitches, building 150 artificial pitches, developing 100 all-weather surfaces while refurbishing changing rooms and toilets at a range of selected sites.
The third major change has been the mandatory requirement that anyone in charge of a youth team must hold an FA Level 1 coaching badge. On the face of it, youth football does seem to be making progress, but is it enough?
Having played football at youth level during the '90s and having two step-sons playing the game up until recently, I can see first-hand some of the changes, while other things have regressed. I can appreciate that this is only what I've see (in the North-East) and that other areas of the country might already have seen the benefits that haven't made it this far north yet.
As a young aspiring goalkeeper in the 1990s, I remember vividly not being able to reach the cross bar on many pitches. Goal kicks would barely leave the 18 yard box and the only consideration for our size was the fact we used size 4 footballs. Watching my kids play on these smaller pitches and seeing a young goalkeeper 'fit' the goal he's playing in is a world away from the environment my generation grew up in. Kudos must go to the FA for this introduction but this is as far as I'll doff my cap for them.
I grew up in a small town in Northumberland called Haltwhistle, which lies roughly between Carlisle and Newcastle. It is famed for being the Centre of Britain and Hadrian's Wall can be found just a couple of miles north. In 1990, part of the wall was used in Hollywood blockbuster 'Robin Hood: Prince of Thieves' and thus became the most exciting event to happen in the area for years. Nothing much else has happened in Haltwhistle, so the local community naturally turn their attention to football. The town is a Newcastle United hotspot, so you can imagine what my life was like in the mid '90s surrounded by hundreds of Toon Army fans.
With a population of approximately 3000, the town has produced its fair share of players. Our most famous exponent is a man by the name of Paul Boertien who started at Carlisle United with the likes of Rory Delap and Matt Jansen before moving to Derby County. He played Premier League football and was even on the winning side at Old Trafford, marking Beckham out of the game. Others include Craig Summersgill who played for Gretna and currently plays his trade for Annan Athletic. Graeme Armstrong was from a small village outside Haltwhistle but played in the Haltwhislte youth teams from U14s. He got as high as the Conference with Gateshead having also appeared for Queen of the South, Annan Athletic, Harrogate Town and Blyth Spartans. A man by the name of Keith Mulgrove was on Newcastle United's books in the 1980s. Add this to the numerous players to have played semi-pro or had trails and even be taken on by professional teams until they were deemed not good enough at a later date. Three players from my U12 team were taken on by Newcastle, none made it but one is now a youth coach for them which shows his level of his ability.
My point is not to tell you a history of where I spent my childhood but to illustrate that it is quite the little footballing hotspot. I'm sure that this is not a unique case and they'll be hundreds of towns around the country with similar success. What makes this more astonishing is that this small rural town has some of the worst facilities imaginable. There are three pitches. One at the local middle school, which is where I spent my early days playing at the U12 and U14 levels; this was as good as it was going to get as far as facilities were concerned. We used the school changing rooms which had toilets and communal showers, although the showers never worked. The pitch was smaller than a full sized adult pitch so maybe we were already ahead of the curve? By the end of the U14 season, it was becoming increasingly apparent the pitch was too small and the move to full size was therefore a smooth one. Haltwhilstle has two adult pitches and describing them as horrendous would be too kind. Pitch A is used for local events such as the carnival and bonfire. The goalmouths are that worn the crossbar is about 6-12 inches higher than it should be. In the wet, they turn in to puddles, in the dry they are as hard as concrete. The changing rooms are in the local scout hut next to the pitch which is just a wooden hut with one toilet. The last I heard, there were plans afoot to turn Pitch A into a village green. Pitch B is a very similar story.
Haltwhislte used to have a high level amateur team sponsored by the Crown Paints factory that resided there. There was a half decent pitch and a mini stand for spectators. Crown then left the town and Haltwhistle was granted a much needed bypass, however the plans went right through the Crown Paints pitch. Lots of promises were made about a new pitch and changing rooms being part of the plans once the bypass was complete. 15 years later and those plans have never been fulfilled. The local council want to shelve those plans and turn the area into a scenic trail which will incorporate the local viaduct. Pitch B did get built, yet it wasn't part of the original plans and it's of such a poor standard, with long grass and molehills to boot. The changing rooms were the worst I've ever witnessed; a rickety old shed with holes in the roof which struggled to get a youth team in never mind 15-18 adults. I've now been informed the shed has gone and been replaced by a metal shipping container so things are clearly moving in the right direction! In the past, my former youth coach had representatives from the FA come to Haltwhistle to witness the facilities first hand. 15 years later and Haltwhistle has never seen much, if any, of that £780m.
I now live closer to Newcastle and the town where I reside has just opened a new multimillion pound footballing complex on the edge of town, which my step-son was privileged to play at. Brand new club house accompanied by home and away changing rooms, fitted with toilets and showers. There's also a referees' changing room, a bar and some conference rooms. The complex is complemented by two football pitches for the various youth teams that play there. It's a world away from the disgraceful facilities in Haltwhistle. All in all, a very impressive place to experience youth football.
Having this all-singing and dancing complex is all fine and well, unless your teams don't perform on them. By performing I don't mean winning, I mean improving and actually being able to pass the ball. The coach who oversaw my stepsons' team was a fantastic bloke and anyone who gives up their free time to coach other people's children gets my respect. The problem with this coach was not his character but the way the team performed and how training sessions were carried out. My stepson would come home from training having done a few drills and then spent the remainder of the session playing a game. No stipulations like three touches or 5-10 passes before you could shoot etc. This was a regular occurrence throughout his time there, and the lack of nous was only confirmed when the team was taught the offside rule with three games of the season left to play. They'd played the whole season not having understood the rule or had had it shown or explained to them properly during training. All this from an FA Level 1 coach.
Was my stepson just unlucky to get a poor coach or is this symptomatic of the standard of Level 1 coaches nationwide? The standard of football being played by our opposition was nothing to write home about either, even when we were on the end of another double digit thrashing. I've since heard that you can't fail the Level 1 course. Should this be so? Or should Level 1 be split into an introduction then a proper test of one's aptitude? I haven't got the answers yet when it comes to grassroots football, although Holland does have the answers.
What have Sacchi's Milan and La Masia got in common? Well for one they produced the last two 'great' teams; however, the answer is that they were both heavily influenced by Dutch football. While outright copying might not be ideal, the Dutch grassroots model is something we should definitely consider if we are going to take grassroots seriously in this country. Smaller games are a start and the financial investment and introduction of mandatory coaching qualifications is a step in the right direction but it still doesn't fix the underlying problems that exist in our game on these shores. A quick look at the Dutch model would show how far we are behind despite all the good changes.
Between 2,700-3000 amateur clubs split into six regions.
1.2 members (7% of the population) with 480,000 youth players.
Investment of approximately £850m a year with 90% of that from local authorities.
Facilities at each club include floodlit grass and artificial pitches, medical centres, changing rooms with showers, club houses and car parks.
Each club has a board of directors.
All age groups play 4-3-3.
Competitive football up until U14s is between amateur and pro sides meaning the standard is closer.
Each club has around 3-4 million Euros of facilities which equals approximately 10 billion Euros nationwide.
The whole nation is focused on a philosophy of ball possession to create opportunities, even the amateur clubs.
It's certainly a real eye opener to see how a country with a smaller population than London can outshine us on every aspect of youth football which obviously then translates into the professional game. The FA will have pumped in close to £930m by 2016 which is just over what the Dutch have spent yearly. I'd imagine the Dutch rate of spending will decrease with time as most of the facilities will be in place and it will just be a case of maintaining current locations. The FA spent between £750m-£1b on Wembley stadium and a further £100m on St George's Park which is all very nice but did they need to spend that money on a national stadium when the Premier League has so many top class stadia? Most of the population doesn't live in London and therefore never get the chance to see them. That's part of the reason why I feel so disinterested in the national team. The only reason I feel so strongly about changing the youth game is because it directly affects Liverpool.
Why can't England start on a similar track to the Dutch? Money may be an issue. In 2000 the Football Foundation claimed the FA would set aside £20m a year for grassroots football. Last year the FA injected only £12m into this level. Add the Premier League's £43.4m which is less than 5% of the current £3.1m TV deal and you get the impression everyone is talking the talk but not willing to (sufficiently) put their hand in their pockets. There are 1,105 towns in England and Wales. Imagine every single one with the facilities the Dutch enjoy. Clearly the bigger towns would have more than one club (and that's before you include the cities), compound that with a single philosophy and I truly believe this country could rise from the footballing doldrums and become a force in world football. Sadly, I cannot see this ever being fulfilled due to the arrogant attitudes that still exist. I can hear it now – "why should we copy the Dutch?", and the unwillingness to pump the kind of money realistically needed to pull this country kicking and screaming into the twenty first century.
So there you have it. Five steps that might not solve everything, yet no one can admit that they aren't a concern or there isn't a problem in these areas of youth football. With so many bodies wanting different things and too many prehistoric and/or arrogant attitudes still knocking about, I doubt that major reforms will ever take place. The Germans only took action in 2000 after an abysmal showing at Euro 2000. The Dutch model has only been in place 11 years. If England wanted to solve these issues badly enough then it could. The question remains, is anyone going to stand up and be counted? Over to you FA…
I am not holding my breath.