By Various TTT Writers, Contributors and Subscribers.
For the last few weeks we've been running a series of articles where our panel assess the performance and contribution of each player who's made 10+ appearances this season, and give a rating out of 10. Subscribers could also vote in a poll on the site.
The articles have been published each day over the past few weeks, finishing on Friday June 7th. One of our panel, Disco 2000, had the idea of compiling a 'Best of' article to showcase the best writing of the many who contributed to the series. To be honest, such is the consistently high standard on here, any would have been worthy inclusions.
So here we go – the best of the series. The numbers by the players' names refer to the order in which they appeared in the series, rather than squad numbers. It's just a pity one more player didn't make 10+ appearances, then Carragher would have been perfect at No.23! The stats panels show the kind of detail we go to to ensure our subscribers have all the salient facts and figures at their fingertips.
1 – BRAD JONES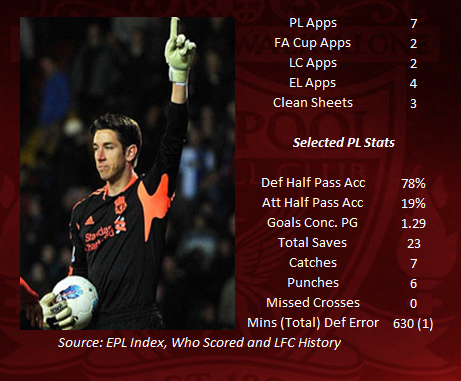 Andrew Beasley: The Aussie keeper has done exactly what is required of a back-up, and so deserves a decent rating as a result. Not least as he's outperformed Pepe Reina in some key statistics.
Whilst Liverpool's first choice goalie has saved 69% of the shots he's faced in all competitions this season, Jones has stopped 77%. In the league, Jones has also only made one on-the-ball error in 630 minutes, whilst his Spanish rival has averaged one every 435 minutes this season.
The passing stats illustrate why Jones couldn't ever be number one whilst Rodgers is in charge (with his accuracy of 54% being the lowest in the Reds' squad this season), but he has displayed his credentials to be second in command to Pepe.
2 – SEBASTIAN COATES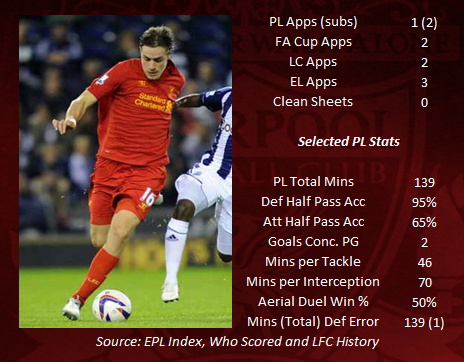 Dan Kennett: The only question that's left in my mind about Coates is, is he a poor player or one who just looks poor because he's not suited to the system? Whichever, it's difficult to see how he has a future at Liverpool because if he has strengths, we're never going to play to them under Rodgers.  The biggest concern is his chronic lack of pace but even his pure defending ability has to be questioned following his inability to handle a League 1 target man in the FA Cup.
3 – ANDRE WISDOM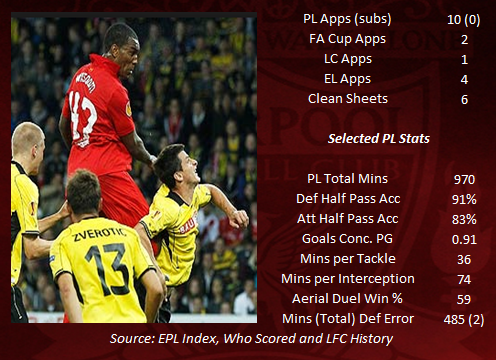 Dave Cronin: Wisdom's emergence was an unexpected positive to come out of this season. It's always risky to make predictions about young players but Wisdom looks like someone with the potential to be a Liverpool player for many seasons to come. At times he has looked exposed, but taking into account his age and lack of experience, not to mention the complete lack of defensive cover ahead of him, that is forgivable. Overall, he's looked decent enough and gained some valuable playing experience including away games at Goodison, Stamford Bridge, Old Trafford and the Emirates. Despite playing some tough fixtures, we won half and kept clean sheets in a third of the games he started, losing only three out of 18. That said, he has some way to develop before he can challenge for a regular starting place when his teammates are fit.
4 – MARTIN SKRTEL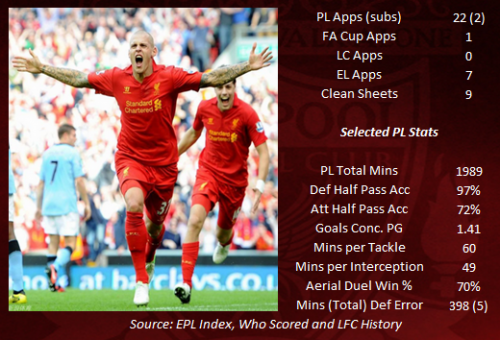 Chris Rowland:  The problem here is, there are two Martin Skrtels. There's the one that's ever so prone to human frailties like self-doubt and insecurity. He's prone to making mistakes, making him look hesitant, and spreading his jitters throughout the defence. He's a pussycat compared to how he looks, ie like he should have one on his lap stroking one – 'and now Mr Bond, I expect you to die! Huh-huh-huh ….'
Then there's his Cyborg twin – powerful, quick, decisive, and as hard as he looks. Brendan Rodgers seems to see the human version – and I think we should sell the human version for £10m+. If we can find the Cyborg again, I'd keep him.
5 – JOE ALLEN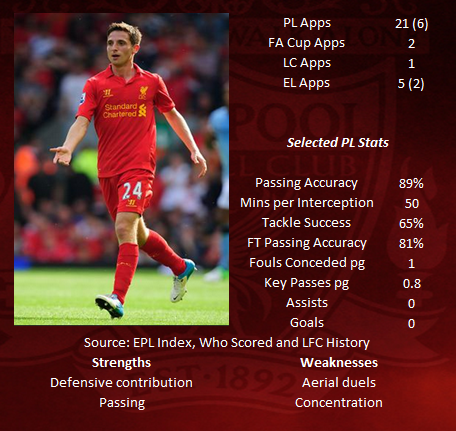 Si Steers: I have a great deal of sympathy for Joe Allen. His signing is very similar to that of Jordan Henderson where there is a big increase in expectation and a £15m price tag to try and live up to. All of this at 22 years old. As well as that, Allen also became the easy target for fans disgruntled with the sacking of Kenny and failure to speak to Rafa. He is seen as a poster boy for the Rodgers tenure.
So putting all of that to one side, I think Allen started well, he was calm, composed, assured on the ball and looked a class act. The wheels came off at around the same time his shoulder went; and in hindsight he should have had that treated immediately.
He then went on to suffer a loss of confidence and his form dipped. But he only needs to look as far as Henderson to see how quickly he can turn it around. I expect to see the 'real' Joe Allen come to the fore next year. He is a quality, classy player and just needs time to adapt.
I think he has had a 'steady' start; some of the noise in the background on Allen has little to do with his ability or impact and more to do with a resistance to a new manager. I have every confidence he will prove any doubters wrong.
6 – SUSO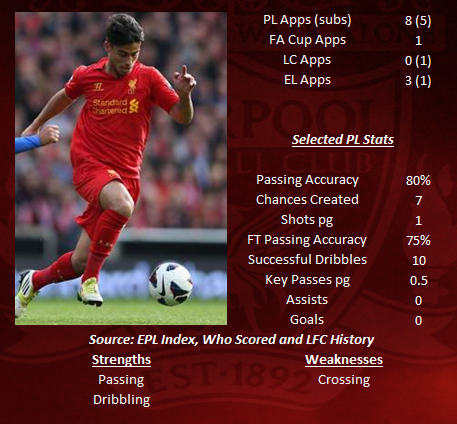 Dave Cronin: If you're a footballer called Jesus, adopt a cool nickname like 'Suso', are hailed as a wonderkid and look like this lad, you're surely destined for great things. Maybe Suso's exposure this season has come a tad too early but this lad oozes class. In terms of his contribution to this campaign, I can't score him higher but he has shown real potential for the future.
He perhaps lacks a bit of pace but he looks elegant and composed on the ball, has an eye for goal, skill in abundance and oozes confidence. I loved his performance against Stoke at Anfield when his reaction to Stoke's thuggish tactics was to take the fouls and force the ref to penalise them rather than dodging the contact and whining about it as his more senior teammates did.
He's been unlucky not to have scored on a couple of occasions and obviously the signings of Sturridge and Coutinho (not to mention Rodgers' non-rotation policy even when 4-0 up) have seen his chances limited since the turn of the year but he is one for the future, no doubt.
7 – OUSSAMA ASSAIDI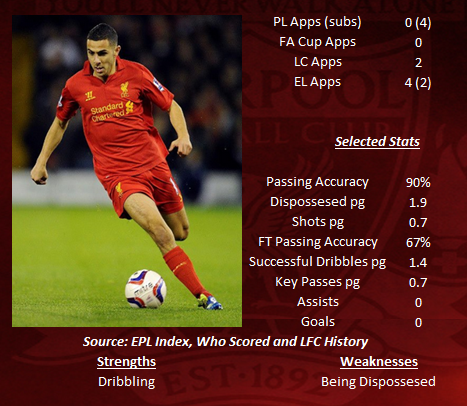 Alun Evans (FirePhoenix): How can a player who arrived with absolutely no fanfare whatsoever be a disappointment? Youtube, is how. There should be a ban on looking at videos of potential new signings on YouTube because they're very misleading. I was excited about Assaidi. He looked awesome on YouTube. And it's not that he isn't awesome, he might be, but we've just not seen him. Clearly Rodgers doesn't think so otherwise he would've played him. Will he still be around next year? Will we even notice?
8 – LUIS SUAREZ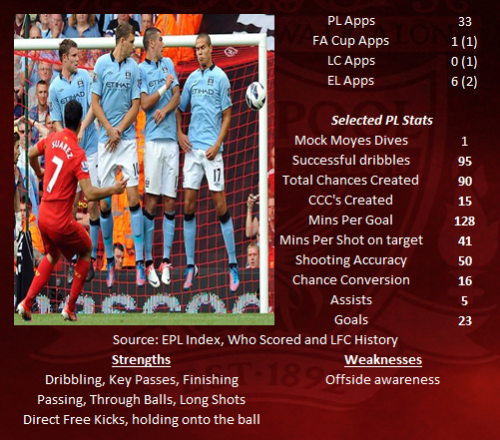 Daniel Rhodes: A genius. A maverick. A player, with the ball at his feet, who encapsulates everything you loved about football as a kid. A drop of the shoulder. A nutmeg. He turns you one way, he turns you the other, he's gone. He regularly makes opposition defenders look foolish. He makes the crowd gasp. He makes the opposition fans squirm with fear, or red with rage. A pantomime villain, in a production he didn't choose to be involved in, but then, he still throws the creators a juicy script every now and again.
He blows any other player out of the water when it comes to stats. As a whole package, he's an all-round phenomenon. He dribbles, he threads through-balls, he creates chances, he wins free kicks, he assists, he shoots (more than anyone in Europe), he becomes the focal point for the whole team. And, that's the issue. You can have as many individual world class talents as you want, but if they make the team worse, there's no point. Either Suarez adapts his game, plays for the team and stops trying to do it all himself (and, sorts out his disciplinary record) – or sell him, at the potential peak of his value. Anything over £50m would be very, very good business.
9 – PEPE REINA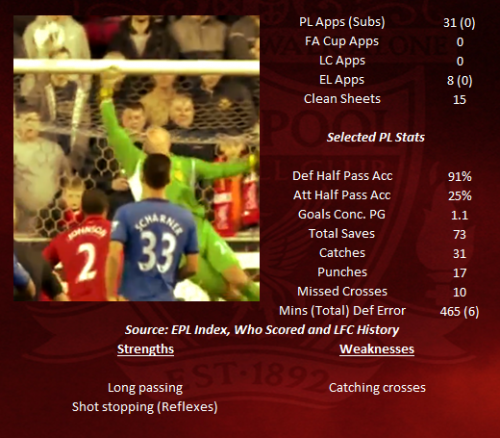 Alun Evans (FirePhoenix): A few years ago there wasn't a single Liverpool fan who would've traded Pepe for all the tea in China, but Roy Hodgson really messed with Pepe's mind. Can I blame Hodgson? Is anyone going to stop me if I do? What we do know is that Hodgson didn't like the idea of a European-style dynamic sweeper-keeper and really just wanted Reina to "just f**king launch it". Whether it was this that caused the alarming drop in form or whether it was something else, we don't know, but the drop in form certainly happened and for the first time people were casting envious eyes at other teams goalkeepers thinking, "Why have they got someone who can actually save the ball?".
In the second half of the season he seems to have started getting his mojo back. Better performances. More clean sheets. Less errors. More saves. These are the things we expect from Pepe and the talk of replacing the Spaniard seems to have died down, at least for now. Plus, according to his interview on the Liverpool website regarding the new Liverpool kit, he likes the kit because it's comfortable. Expect Reina to take the field in an LFC-branded onesie and a cardigan in the near future.
10 – GLEN JOHNSON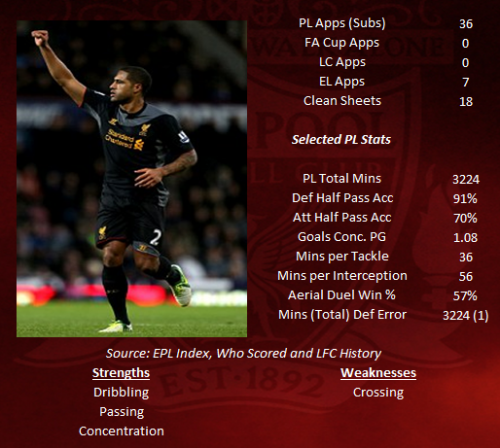 Shaul Mitelpunkt (Serpico): While I still think this is not a position we need to worry about, and that in Johnson we have one of the best right-backs in the land, this season was a bit worrisome in that it exposed Johnson's limitations. To put it bluntly, I don't think he is aggressive enough to really change games for us. To be fair, I don't know that there are many right-backs who change games (other than by screwing up in defence). It just feels a bit like Johnson didn't have much fire in his belly this season, realised that this is a bit of a transitional one, and kept a low profile. The pessimistic in me fears that looking back at things in two years we would realise 'We should have sold him at that point, when his price and age were still at peak market value.' The optimistic in me thinks that with a confident defence around him, attacking-minded Johnson can really help propel us to CL spots next year. With other burning issues to solve in the squad, I'll stick to optimism when it comes to Johnson.
11 – JOSE ENRIQUE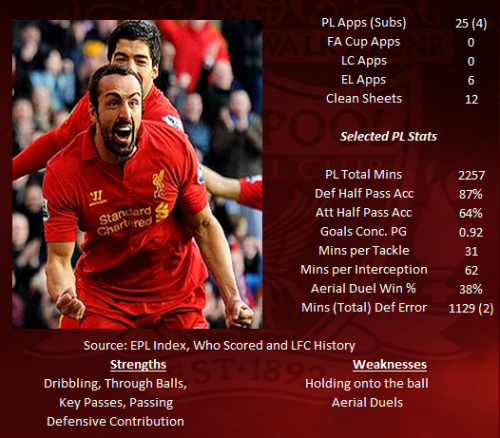 Barry Meehan (Bazmeen): I remember earlier in the season I heard a conversation where they discussed players' form and levels. The point was when someone has had a period of good form and a period of bad form how do you decide which is their true level. I believe the conversation was actually about Torres but I immediately thought of Enrique's Liverpool career. He had a whirlwind start to his LFC career but his form then dipped dramatically. There has been a gradual improvement until he has reached a decent level of consistency this season and I think he is currently, and through the best part of this season, playing at his actual level. I appreciate that at times he can look a little brain-dead as he runs down blind alleys but there can be an impressive end product at times too. I think it's telling that the players he connects with best in our team are Suarez and Coutinho who are our two best players. He has a very good knack of getting his body between man and ball when defending meaning he doesn't often have to commit to risky last ditch tackles, and he is often the one who can commit intelligent fouls. I think it would be possible to upgrade on him, but I don't think this needs to be a priority, we have other positions which need to be filled first.
12 – DANIEL AGGER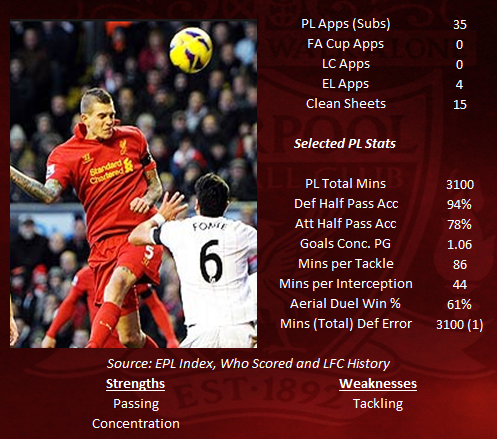 Alex Tate: A player that I've always admired and had faith in despite his fragile body. This season his injuries have been fewer, but he's still some way from being as tough as the metal he listens to. His nuisance causing forays in to the box have given his game a goal threat edge, creating chance for himself and others. Three league goals, three bookings and a solitary red card show a disciplined centre back, and one we'll need for the coming season. With his back conditioning underway, Agger's peak years should build upon this season's success.
13 – JORDAN HENDERSON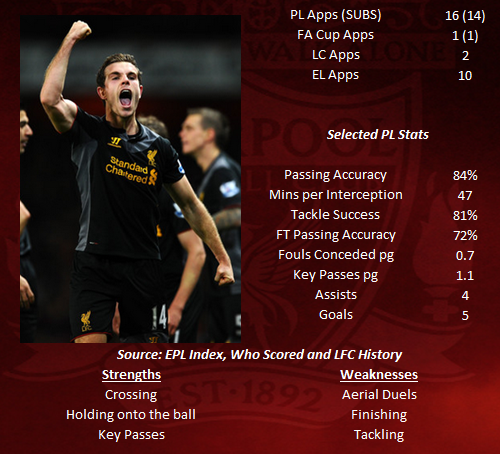 Paul Tomkins: I would probably have marked him higher, but for the fact he was a fringe player for so much of the season. When he's played he generally played well, especially later in the season. He looks stronger physically and mentally, and has a goal and an assist in his locker. He's moved from a player Rodgers was looking to offload on the cheap (one of the reasons I was a little wary of the new manager) to a potential future captain, judging by the way he conducts himself on and off the pitch. I don't know why, but you can harbour a greater desire to see certain players succeed, a Henderson, for me, is one such example. I'm not sure if he'll ever be truly outstanding, but he has something about him.
14 – LUCAS LEIVA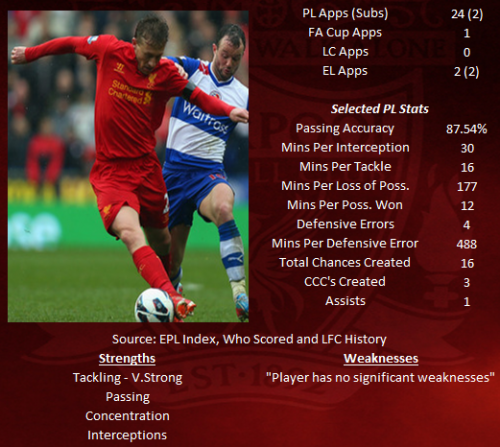 Alun Evans (Firephoenix): I love Lucas. There I said it. I do. His attitude and work ethic are incredible. Now with Carragher retiring we may be dreaming of a team of Lucas Leivas instead. He may even be a front-runner for the vacant VC's "armband" next year. If everyone showed even a fraction of Lucas' attitude we'd be doing alright. Lucas will forever be the go-to example of how just because a player starts poorly at a club, it doesn't mean that they're finished. Work-rate, determination and the ability to take your own fans booing you onto the pitch and still keep working. No Rooney-style swearing into the camera for Lucas, oh no. He just got his head down and worked… HARD! Admittedly his performances haven't been up to his usual high standards, but they've been affected by injury and there has seemed a marked improvement recently (the stattos will be able to correct me if I'm wrong here!). He's getting back to his best, and with a fully fit Lucas anchoring the midfield, Steven Gerrard alongside providing the forward thrust and Henderson tucked in behind the front three, our first choice midfield looks strong, and it's all because Lucas provides the foundation for the more flamboyant players to go and do their thing.
15 – DANIEL STURRIDGE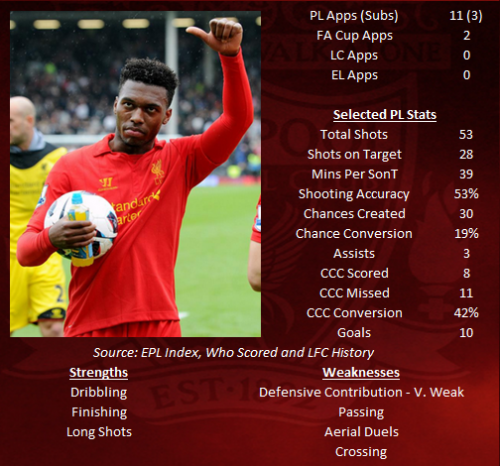 Joe Pepper: Is it right that Sturridge has scored more goals in his first 12 starts for LFC than any other player in the club's history? And yet – according to some he "needs a slap", has a bad attitude, doesn't try, is greedy, and is lazy.
I think this is crazy confirmation bias at work. I thought Sturridge was a potential world beater before we signed him, and now I think he's much better than that. He is the sort of player we have been absolutely screaming for for a long time.
His performance away at Man City was the best, most complete, leading the line type of performance I have seen form a Liverpool centre forward since Anelka vs Newcastle back in about 2001-02 at Anfield. I never got over Houllier's decision to not sign Anelka permanently. Until now. He's scored goals everywhere he's played. He is technically incredible. Extraordinarily quick. Very, very strong. He is a link up player, who holds the ball up exceptionally well. Except he is also ludicrously lightning fast. Like Mark Hughes combined with Usain Bolt.
Having Sturridge in the team means the opposition cannot push high up the pitch because he will kill them in the space left behind for pace. Usually this would just mean that the other team can sit deeper and close out that space. Problem with doing that against Sturridge is that his technical link up play, passing and ability to hold the ball up are superb. Forcing the opposition defence to sit deeper means there is much more space in front of them for clever players to exploit. Any player/matches in particular come to mind that might have shown this?
I wouldn't swap him for any striker in the Premier League. He'll score 30-40 goals next season, and be widely regarded as the most complete out and out striker in the world in the next three or four years. I think he's fucking brilliant. I'm only massively annoyed he wasn't signed last summer. 

16 – PHILIPPE COUTINHO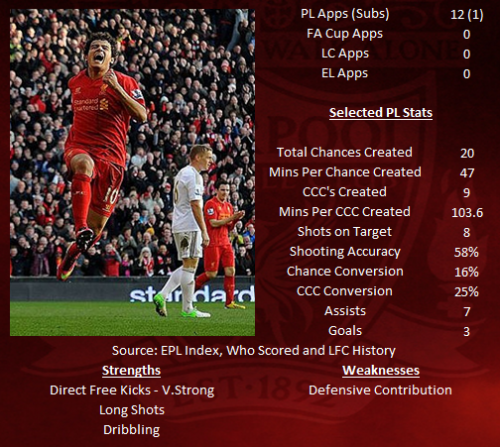 Damien Parsonage: Ever since he joined in January, I have found myself pausing and rewinding three or four times every game to watch and rewatch unbelievable through balls Coutinho has played. It's like listening to four voices in perfect harmony or seeing a stone skim effortlessly across a lake eleven or twelve times.

He's breathtaking. Breathtakingly brilliant. Exactly the kind of intelligent player I love watching; his craftsmanship is incredible, his talent immense.
He's got strength, too, which is always a worry with tricksy little ball-players when they come to England – the home of hoofball. But he's settled in well – and although he's had one or two games where he's struggled to impose himself, he's looked better and better as the games have gone by. He's contributed goals, too, and looks fearless when he gets a chance.
It's easy to forget he's only 20. In the number 10 role, he could be our lock-picker for years to come.
A superb January signing – for a snip – and augurs well for the transfer committee this summer. More of the same please.
17 – JONJO SHELVEY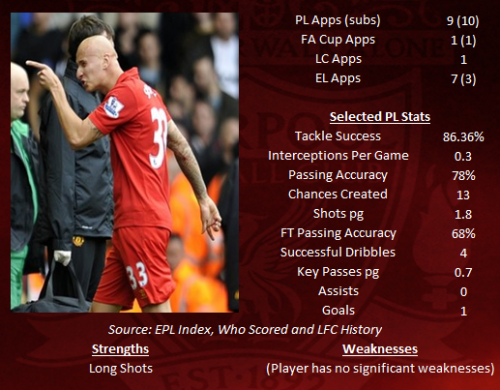 Dan Kennett: After regular first team appearances over three seasons, it's still difficult to know what type of player Jonjo Shelvey is. He doesn't seem particularly good at anything but he's not especially bad at anything either. His passing is average, his creativity is average, his winning the ball back is average, his duels numbers are below average.  Somewhat ironically, the numbers for his alleged strongest suit, that "he's got a goal in him", were diabolical last season.  Just one goal from 19 shots in the box and  one from eight clear chances, the worst in the squad for midfielders and forwards. Three of those clear chances came vs Newcastle (H) and Chelsea (H), drawn games that could've been turned into wins. Another two came vs WBA (H) and Stoke (A), other games where a positive result could've been achieved.
However, the most disappointing thing for me with Shelvey has been his attitude. For a young player, he doesn't put in anywhere near enough effort, in fact some of his performances this season have smacked of someone who thinks he's already "made it", which is unforgiveable.  If any kind of decent offer comes him for him this summer (£2-£3m plus) then I'd sell.
18 –STEWART DOWNING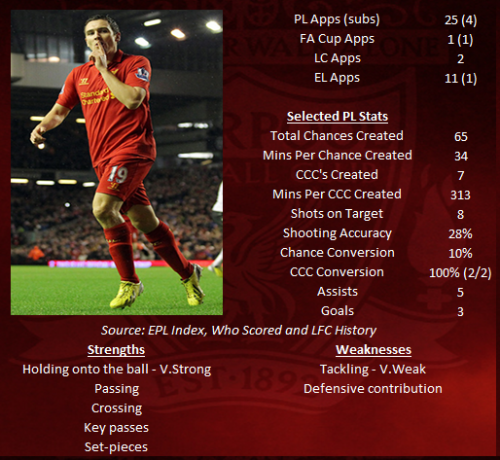 Matthew Young: It's a difficult one for me, this, because Stewart Downing is one of the most frustrating players I can remember watching. I think he has all the attributes to be a really potent weapon, except one – courage. Or maybe it's confidence, to be fair. He's fast, has good technique, can beat players, can cross a ball … he can do everything you want in a wide player. He really can … but he doesn't (or at least, very rarely). He constantly chooses the safe, easy option. He's almost the polar opposite of Suarez in that sense. Having said all of that, it's impossible not to have been impressed by his professionalism and determination this season. He looked certain to leave in January following Rodgers' public dressing down in late September, but responding by knuckling down, getting back in the team, and doing pretty well. For me, unless Steve Peters gets into his head, Downing is a case of a talent wasted. Which is a real shame, because potentially, he's exactly what we need.
19 – FABIO BORINI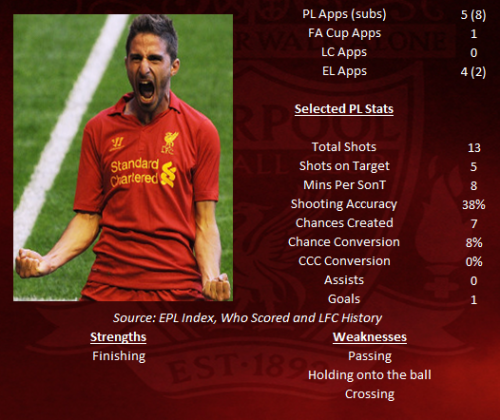 Chris Rowland: Hard to know what to make of him yet. Unselfish running, tick. Good movement off the ball, tick. Good positional sense, tick. Impact on the game – ah, well that's where it starts to unravel a bit. I know about the disruption of injuries, first the one on international duty then the dislocated shoulder, but he just looks a bit – peripheral. And you want more than peripheral when you cross the £10m barrier. Liked how he adjusted his feet to score at Newcastle though, that gave me reason to think there may be more to come. There needs to be.
20 – RAHEEM STERLING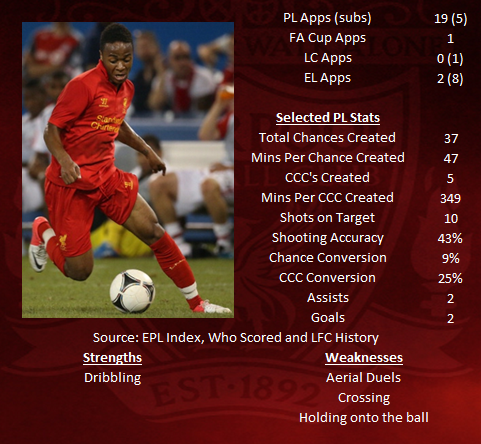 Joseph Curran (Disco2000): I vividly recall the confused excitement as news filtered through that Raheem Sterling would start against City. Unanimously those around me agreed that "he can't be worse than Downing was versus West Brom" and were genuinely encouraged by his performance in that 2-2 draw. Much will be made of the fact young Raheem played too much football and with justification – he wasn't ready physically or mentally to play every week. I think the most valuable 90 minutes to his development was the 2-2 draw at Everton; he should have been sent off for two bookings and should have scored (or passed to Suarez) when in one-on-one. Ideally, I would want to see him coming off the bench and running at tired defences with the same fearlessness he had in September and October before fatigue got the better of him. In many ways his drop in form has taken him out the limelight and thus the pressure off and we should see a more effective footballer next season.
21- STEVE GERRARD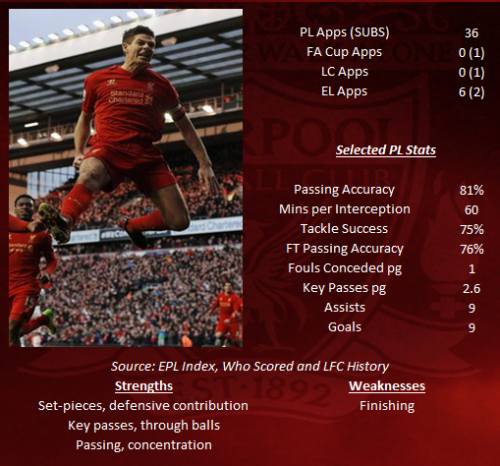 Krishen Bhautoo (Krishaldo): Gerrard has been the best player at Liverpool for a generation. The only players who come close in this time in my opinion have been Torres, Xabi and Suarez. His almost superhuman powers are on the wane, but after a shaky start to the season he has become an integral part of BR's team. On October 31st, a TTT poll rated him as our ninth best player of the season up to that point with 2% of votes (Allen got 56%). What is up for debate is whether the role he has been given is the RIGHT position for him and the team. It would seem that most of us agree that a Gerrard/Lucas pairing doesn't have enough legs. If we assume Gerrard will always play whilst still at the club, then he needs another CM partner. Is it wise to build your CM around a 33 year old?
For me, he needs to be moved to the top of the triangle and a replacement for him placed next to Lucas (Hendo? Allen?). But ignoring all that, and just looking at how his season has been, he's allowed us to 'tick', sprayed ball all over the park, looked more patient as the season has progressed (not forcing play) and has been directly involved in over 25% of our goals (nine goals & nine assists). All from a deep lying CM role.
22 – JAMIE CARRAGHER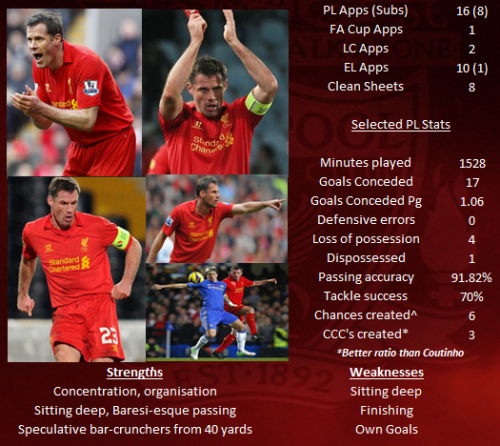 Anthony Mckenna (Macattack): His absence from the squad has not really begun to sink in; but I expect that during times, next season, his loss will be felt ever more keenly.  Not just because of Jamie Carragher, the Player, but because of Jamie Carragher the Leader, the Organiser, and the man who possesses that indomitable spirit that epitomises the optimum game state when needed most: witness Istanbul.  Such talents are unquantifiable and immeasurable.
How would I appraise his performance in his swansong season?  As it so happens, that is easy. Firstly, the backdrop: Rodgers' arrival had many sneeringly dismissive – Carra will not be able to play tiki-taka; he will not fit the system. For a while it seemed like he would be reduced to cameo roles, and he consigned himself to the bench with manifest dignity, an air of resignation tipping the hat to the 'younger players having a chance' – even in the knowledge that the clock was ticking down on his career. Then a replacement was needed for the ailing Skrtel. Carragher was asked to step up to the plate. He did so with aplomb.
Looking at EPLindex he recorded 100% pass accuracy in six games; and an overall 92% score in that Department.  Who said he couldn't do tiki-taka?  Or as I noted one time, it summoned a recall of a Jake Bugg lyric:   "I'm an old dog, but I learnt some new tricks".  Beez, no doubt, will tell you more about how he fared across Europe as a whole.
What score should I credit Carragher with for the whole season?  Well, forgive me this one time. I rarely go overboard but a career finale is a rare occasion; and, since he delivered a proverbial "two fingers" to the "tiki-taka doubting Thomas'es"; and since I have a nostalgic heart: (maximum score given!)
The Voting Summary, by Krishen Bhautoo
After the recent How Did They Do? series I volunteered to put the data together and see who TTT's Player of The Season is!
There are two sections to the voting. The rating given to each of the players by the TTT Brains Trust – the Symposium Panel – and a second rating given by the TTT community in the voting. It's quite interesting (but far from surprising seeing as we all support the same team!) to see how closely the two different groups correlated. Without giving away the name of the eventual winner, here is how the voting looked.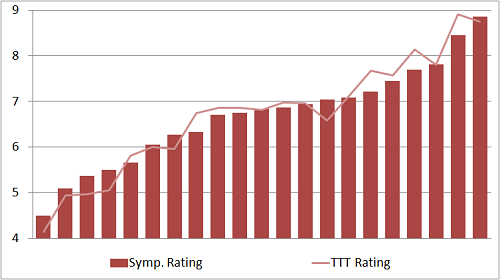 I don't think it takes a genius to work out which players ended up towards which end of the graph!
What is also interesting is the average score given to the players by WhoScored.com was 6.92 which sits us sixth (0.02 ahead of Everton!) when compared to the ratings they have give the other Premier League teams. Coming top was United with 7.01. Does a 0.1 improvement mean we would be challenging for the league? Conversely, Reading come bottom with 6.62.
Bearing in mind the 6.92 WhoScored score, the Symposium panel rated the team (on average) 6.69 and the TTT voters rated them at 6.70. Staggeringly close, but perhaps a touch too harsh?
So who wins the coveted TTT Player of The Season?!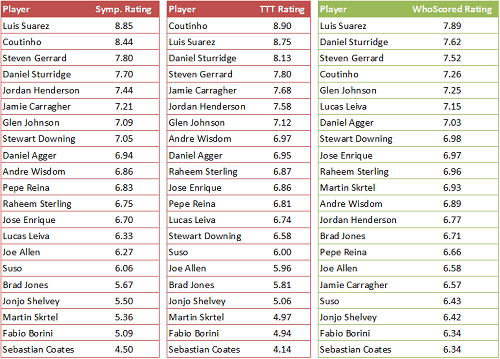 Well, there are two winners! Please stand up Mr Suarez and Mr Coutinho.
Looking on the list, I was quite surprised to see such a difference in opinion on some players, especially as we saw earlier that the overall rating was almost identical. So who caused the most conflict between the two voting groups?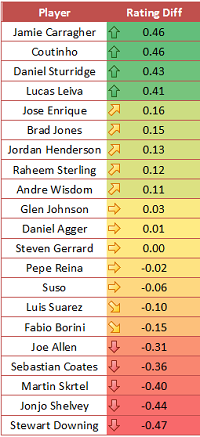 I hope the table is pretty self explanatory and shows that the TTT community were harsher on Downing and full of praise for Carra when compared to the Symposium panel. We all agreed on the captain though!
Finally, without wishing to waffle on any further than I already have, who was the overall winner? I've combined both the Brains Trust and TTT votes to come up with the overall winner.
Drum roll please…
First up, the dreaded Wooden Spoon goes to Coates with a meagre 4.32.
In Third place with a score of 7.92….
Daniel Sturridge
In Second place with 8.67…
Philippe Coutinho
And no prizes for guessing who came First with a whopping scored of 8.80…
Luis Suarez
Well done to Luis. His TTT cheque book and pen will be winging it's way to him. Let's just hope it's to an address in Liverpool and not Madrid or Munich.