This is an updated version of a piece that featured in the 'TTT Top 20 Players' series. By Andrew Beasley.
On the 8th of January 1997, Liverpool went out of the League Cup with a whimper, losing 2-1 away at Middlesbrough. Three weeks before his 19th birthday, Jamie Carragher made his Liverpool debut as a substitute that night, ensuring that a largely forgettable match has subsequently had a sheen of importance added to it in the context of the history of Liverpool Football Club.
Sixteen-and-a-half years, plus another 735 appearances against 120 different teams, and the boy from Bootle is now second in the all-time appearance list for England's most successful football club, and top of the club's European appearance list with an amazing 150 run-outs (which is the seventh most in continental competition by any player in European football history). I'm sure no-one at the Riverside Stadium on that chilly winter evening in 1997 would have predicted that. Not least because even the player himself has acknowledged his limitations as a footballer, whilst emphasizing what he does bring to the side:
"There may be more skilful players in the squad, but no one can ever say I don't give 100%."
Carragher's commitment to the cause is primarily what has endeared him to the punters on the Kop. A local lad will always be viewed favourably at Anfield, but by giving his all when some of those around him in Red were not resulted in the fans  'dreaming of a team of Carraghers'. A nice idea in theory, but every game would probably end 0-0 ("The best defender I've played with at Liverpool and the worst finisher I've ever played with!", as his great friend Steven Gerrard once remarked).
Whilst initially being used in a number of positions, Carragher first truly established a spot at left-back in Gerard Houllier's treble winning side of 2001. He played in 58 of the team's 63 matches that season, the first of nine seasons where he played at least fifty games for the Reds.
Although he had made himself a fixture in the Liverpool first team having made over 300 appearances, it wasn't until the arrival of Rafa Benitez that Carragher really stepped up his game. The Spaniard broke up Houllier's prefered centre-back duo of Hyypia and Henchoz, replacing the latter with Carragher which started his rise towards the position of being one of the best defenders in Europe. The ice-cool Finn complemented the Scouse fire of Carragher superbly, and they made a formidable duo.
Like virtually every man in red on that balmy, barmy night in May 2005, the defining moment of Carragher's career came in Istanbul as Liverpool defied football logic to win the Champions League after being 3-0 down at half-time. Who can forget the image of a cramp-riddled Carragher repelling wave after wave of Milan attacks during extra time? That match was probably the archetypal Carra performance; barking out orders to all around him, and throwing himself in front of every ball he could in order to protect the Liverpool goal.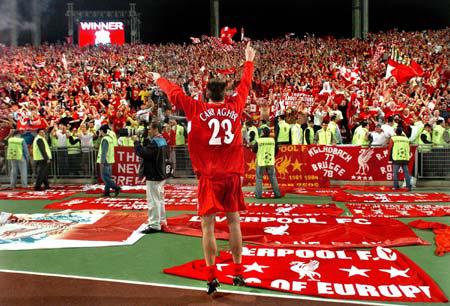 The following season, Carragher captained the Reds in Gerrard's absence to the European Super Cup, and added another FA Cup to his trophy haul (despite an own goal in the final; Carragher has actually scored more goals against the Reds in his career than he has bagged for them!).
Another Champions League final followed the year after, and the club's finest Premier League campaign to date occurred two years later in 2008/09. Carra was integral to all of this success, and was undoubtedly one of the first names on Benitez's team sheet during this whole period. Rafa was fulsome with his praise of Carragher in an interview he gave in 2007:
"For me Jamie is one of the best defenders in Europe. He is always focused on the game, always trying to learn. That is the key for me because each season he improves a little bit. He is always listening and that is one of the reasons he can keep improving. He reminds me of a hunting dog, when I want something specific done in defence he is very willing to learn.

He has a strong character. He is always shouting and talking to the others, such a key player for us. He is good for the young players, showing them what to do and how to play. Carra lets them know what is expected. Jamie is playing really well, for the last two seasons he has been a really key player for us."
Of course, age and injuries catch up with all footballers eventually, and Carragher has been no exception. In the past two seasons he missed 27 league matches, after having only missed 28 in total in the eight years prior to that. The number of defensive and positioning errors he made increased along similar lines in recent years too, and some of his off-pitch exploits (such as trying to injure a team mate in training, or negotiating a long-term deal as the Hicks and Gillett era disintegrated) have taken some of the shine off some fans' opinion of him.
Having only made one league start in the first half of 2012/13, and been left to babysit the youth team in the cup competitions, it was probably not that surprising when Carragher announced his retirement in February. But with typical Carra-esque defiance, Jamie has played fourteen of Liverpool's last fifteen league matches, and performed better than he has for three or four years in the process. The fact that the Reds have lost just one of those fourteen games, and kept seven clean sheets, is testament to Carragher's ability to hold a defence together and lead by example.
Despite his reputation as something of a hoofer, Carragher is currently ranked ninth out of nearly 1,400 players in Europe's top five leagues for passing accuracy (with a whopping 92.1% of his passes finding a colleague), and in the Premier League, he has lost possession the third least frequently of any player this season. In a lot of ways, he's the archetypal defender for a Brendan Rodgers team.
But it is for his previous achievements that Carragher has undoubtedly earned his legendary status at Anfield. Where would you rank him in the pantheon of Liverpool defenders?
A lot of people would consider Alan Hansen to be the club's greatest ever centre-back, yet after Liverpool knocked Chelsea out of the Champions League at the semi-final stage in 2005, Hansen said:
"Carragher is ten times a better defender than I could ever be. He is a great defender whereas I was not. The way he held Chelsea at bay was unbelievable. I'm sitting there in awe of how many times he intercepted, blocked and covered. I think if we look at Liverpool greats over the years – and there have been a lot of them – Carragher is up there with the best of them."
High praise indeed. The name of Jamie Carragher will undoubtedly rank highly in the history of the club for the rest of its existence, and as his career draws to a close against Queens Park Rangers at Anfield on Sunday, he will lead out his beloved Reds one final time to thunderous acclaim as his name echoes around the famous old stadium. For a boyhood Blue, that's quite an achievement!