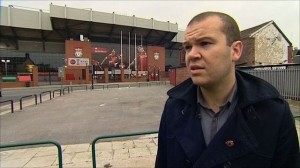 By Si Steers.
Following on from the recent piece on TTT 'A Club Caught Between Ideals', I asked Jay McKenna, one of the founding members and the current Chairman of the Spirit of Shankly (SOS) Liverpool Supporters Union, to take part in a Q&A to expand on some of the issues raised. Jay kindly agreed to take part and talks about the aims and objectives of SOS and the relationship they are looking to forge with the club over the long term.
Jay will also be giving his opinion on the current state of affairs at the club and progress under Brendan Rodgers.
The current football landscape has changed beyond recognition since the days of Bill Shankly. With the influx of money into the game, the sacred relationship between club and supporter is becoming more distant. What are Spirit of Shankly doing (along with other supporter groups) to try and reclaim a voice for supporters at the heart of the game?
The formation of Spirit Of Shankly is one that some associate with the previous ownership of the club, as a group of supporters who were there to just campaign against Hicks and Gillett. That would be untrue. At the very first meeting, in the back of The Sandon, supporters spoke not just of Hicks and Gillett but of how we had been left without a voice, of how we had no group acting on behalf of supporters to make sure their views were heard and listened to. Talk that night wasn't just of leveraged buyouts and unbuilt stadiums, but of how we needed to stand up for each other on travel, ticketing, and support others who needed it – like Michael Shields who at that point in time was still wrongly incarcerated.

We have tried to set out to make sure that voice is heard, one that accurately represents what our members think (we are a democratically, fully constituted member-led organisation) as well as by extension the wider supporter base, all for the betterment of the club. Given the recent history of Liverpool Football Club and the way supporters now are being treated in general, never has a voice for supporters been so important.

It would be easy to say we are giving people a voice, but many might not be aware of what we have done. There is the most obvious campaign – Tom Hicks and George Gillett. Now there is the ticketing campaign.

We are working with supporter organisations from other clubs around the country, as well as the nationally recognised supporter organisations of the Football Supporters Federation (FSF), who we are affiliated to and Supporters' Direct (SD) who recognise us as the official supporters trust for LFC. Both these organisations represent supporters nationally with the FA and Premier League. More recently, we were one of the supporters trusts behind a letter sent by SD to the Premier League, setting out our view on ticketing and how they should look to tackle it, and we are active within the FSF, meeting with them and other affiliates to discuss the Twenty's Plenty campaign, calling for a cap on ticket prices for away fans of £20. We have pushed for action and we called meetings of supporter organisations and individual supporters in the coming weeks to discuss the next stages of action, including protesting at the Premier League on the fixture release day of 19th June. More and more money is coming into the game – it's a global brand, with a global audience. But the money goes only to ever increasing wages and transfer fees; none of it ever makes its way to the pockets of loyal supporters through reduced ticket prices. They just keep on rising and it's unfair.

So our campaigning is giving supporters a voice on the issues that they have raised, on a national scale. Locally, we have tried to give supporters a voice within the club. We have met with LFC more recently on ticketing but we have over the years met with anyone and everyone to express our views and opinions, find out information and seek to influence how they do things.

All that is without going into the day to day detail of the work we do on them – as unpaid volunteers I should remind people – alongside the unmentioned and unchampioned work we do – such as the cheapest travel for away supporters, the credit union and season ticket loans, the tickets for kids initiatives, our work on the regeneration of Anfield and the Football Quarter, representing supporters on issues with the club, dealing with policing and stewarding of supporters and working to get supporters compensation for their unfair detention when returning from Sunderland.
At Liverpool, the club has a unique culture and heritage. In many ways, the values of the club are the polar opposite of 'modern' football. What do you think the club has to do to retain its identity whilst adapting to the external environment?
For those who talk about the club's values, I would answer the question with another question – what are the clubs values? I'm not sure they have ever been clearly defined. The often cited 'Liverpool Way', if you asked 100 supporters, would give you a variance of answers that would be built largely on perception as opposed to clearly defined statements from the club. For example the 'we don't air our dirty linen in public' line that people use – where does that come from? Is it really true? I'm not so sure – it was more likely that we held that line in an age where most people tended to get their news from the next day's papers or the back of the Liverpool Echo, whereas now we live in an age of instant information, with a multitude of platforms that people use to express their views and opinions. If we lived by the 'Liverpool Way' and never aired our dirty linen in public, would we have never spoken out as supporters against Hicks and Gillett? Or would the crowd have not made their feelings known on Roy Hodgson?

That said, the club needs to retain its identity and better define what they see it as being. Many repeat the sayings of Bill Shankly, a man who many see as defining us as the club we are today. But the current ownership don't feel all the sayings we as supporters stand by are suitable. We wrote to FSG and used the Shankly holy trinity quote, but they wrote back and told us that it was now a square, with directors squaring that triangle of supporters, players and manager. So who is going to define what we are about? The owners, who come and go? The supporters who stay forever? Or do we have to have a mix, or accept that it will change as owners come and go? It's not easy and I know the club have employed consultants to try and help them on this as I was asked to participate. I spent an hour talking about how I see the club, what it means to me, the people I know. Just as likely though is that someone else went in after me and thinks completely different and that someone else in the club thinks differently to them. It's a searching question we probably all need to ask ourselves – what do we want Liverpool FC to be about and look like, though it's not an easy answer nor an easy way to get everyone to agree.

Personally, I think the club should try – establish our own 'Liverpool Way' with as much input as possible. But that's maybe a utopia.
Do you think that perception of the Spirit of Shankly is sometimes a barrier to your true message? In the campaign against the previous ownership, SOS was perhaps seen as the 'militant' voice. Do you think that is something that has carried over? And if so, do you think that gives a fair reflection?
The 'militant' tag that is a lazy stereotype that has been thrown our way for years and used to label us. I suspect it's because it makes the people who disagree with us but can't say why, or know that the reasons they have for disagreeing with us won't be well backed up by themselves or others, feel better to just label us and dismiss us. I've been asked about being militant before and I talked about it in the speech I gave at the Independence Day Rally. This is what I said and it best sums up my feelings on that "Christian Purslow has called us "Sons of Strikers" who are just going round being militant, angry. What you have heard and seen today shows that we aren't. What we have achieved so far shows how far we can go. A scouse accent doesn't make me or you militant, being a football fan doesn't make me or you angry. Caring about our club is nothing to be ashamed of, and if that means I am militant and I am angry, then so be it."

There is a perception of us, again one I think is borne from some lazy stereotyping of the work we do. It's also maybe something we should do more to challenge, that we just want to protest, kick off at the club, moan that it is isn't this or it isn't that. That is categorically untrue. We faced an ownership that was driving us to the brink of bankruptcy – to have been ignorant of that or to sit idly by and say or do nothing would have been to be complicit in my mind. Whether people think we influenced the sale or not, we felt the need to get up and do something was greater that saying 'there's nothing we can do about it'. As it was, we did do something about it. John Henry himself said "If it wasn't for yourselves and supporters doing what you have, we wouldn't be here now." That's good enough for us.

It's not a true reflection that we just want to protest or be 'militant' though. Yes we want to change things, improve things for supporters, and get them a better deal from the club and authorities. But we aren't some third party in this, with no vested interest. We are all supporters ourselves, all match goers. All people that are affected by ownership, ticket prices, travel and policing. So when we ask questions of the club, in public and in private, look past the supposed militant tone, read the letters, the substance and ask if there is anything wrong in what we have said.

Take the Tickets for Kids initiative. We worked with a group of German Reds to provide tickets for youngsters who couldn't afford them. The German Reds bought and paid for 8 tickets, four for West Ham and four for Chelsea, which we were able to distribute and make the match accessible. Supporters travelling back from Sunderland in March 2011 were put in a police convoy and not allowed to stop. We worked with the FSF and solicitors on this, challenging the police's decision. It has since been found they had no lawful reason to do this and in excess or around 300 supporters have now submitted claims for compensation against the police force involved that will see them awarded up to £2,000 each. Even the more high profile campaigns – the Free Michael Shields campaign, or the ticketing campaign, are these really us being 'militant' or just doing something that is right? Is all that 'militant'? If so, I will gladly wear the label.

Yes, people don't want a repeat of Hicks and Gillett and having to protest against the owners – but our dealings with FSG or Ian Ayre aren't us itching for a fight. It's us asking legitimate questions on issues which they themselves know are important to supporters, like the stadium or how the club is financed. People have said we shouldn't ask them kinds of questions because they aren't the old owners. I'd be more concerned that we can't ask simple questions without people thinking 'here we go again'. Some might disagree with our tactics and that's fine, we are happy to have that discussion. Yet the idea that we shouldn't ask the questions is one that leaves us in a dangerous area. It's not militant to carry out the basic aim of making sure the club is being run well, given our past experience.
There is an increasing noise from the local support (if you regularly check Twitter) that suggests a frustration that the club is losing its Scouse identity. Do you think that SOS can play a role in working with the club to keep the culture and values 'Scouse' whilst growing the club globally?
One of the best ways to sum this up is how Graham Smith of SOS described it – "A Global Club with A Scouse Heart". It is Liverpool Football Club, founded in the city, exists because of the city. The club should be making sure that remains. It is something that is talked about for the team itself, now that Carragher is retiring and Gerrard won't be far behind. So if it is important enough for the playing staff, why not the supporters?

There is again the question of values and how we really identify ourselves as a club (the football team, the club itself and the supporters) but we do need to try and retain it, if we have it, or establish it if we don't. We don't want to just be a franchise, a business, a football club that could ply its trade anywhere. We want to be Liverpool Football Club, something that is a sporting version of how the city and the support identify themselves.

We can help the club with that – it's something we believe in. We aren't saying we know nor have all the answers. We do know how to get them though – to involve supporters, involve people who have been part of our past and make up our history and heritage, to help define who we are and why it matters. There are supporters there who have forgotten more about the club than probably most working within the club. Supporters are the true friends of the club, they have made it what it is. Yet it seems they are kept at arm's length all the time. It's a waste of the best resource the club has.

Here's a very simple thing for the club to take up – adopt a small scale local bias. Make it a bit easier for supporters who live in and around Anfield. Why can't we have tickets available, at the window for supporters to buy? Why can't we have a percentage of tickets to L4 or even L postcode residents? Yes details might need ironing out, but sit down with supporters and figure them out. Before anyone tells us they can't have this local bias, Arsenal had to do it as part of their new stadium being given planning permission. But that shouldn't be the influencing factor. We should be defining how we are, not who we follow.
Spirit of Shankly is an inclusive and diverse supporters group; how do you think Liverpool should approach integrating its global support with the grassroots so a 'them' and 'us' divide doesn't become a major factor in the clubs future?
It's the same answer as before – work with supporters, be open and transparent. There's a feeling amongst some, whether the club agree with it or not, that the club are more interested in pursuing new supporters as opposed to valuing the ones they have. Supporters that some will say the club want because they will come and buy merchandise from the club shop, whereas a local supporter wouldn't do this. I'm not sure this is 100% true, yet it's repeated because nothing is challenged by the club. If it's not true come out and say why. What is true though is the club don't try and assist local supporters. No one is saying let's just go for local supporters over out of towners. It's the same as the previous answer. A small, local bias in some circumstances. Would that be wrong?

The club talk about pursuing 'new markets' and have talked about letting people in these 'markets' taste the product. It's not a food market, where people can have a bite and see if they like it. We aren't a commodity that people can buy into it.

I'm sure the club have a strategy and believe in what they are doing – yet any criticism or questioning of it seems to get blown out of proportion. They should be questioned and they should welcome it – it gives them an opportunity to explain themselves, allay any fears or concerns and make sure that the true facts of what they are doing are known and why. The club should accept that we might not agree and just like they expect us to understand when they disagree with us.

The club also needs to make sure that it doesn't take an either or approach – forgetting the well established, loyal support they have now, in favour of others. Look at the tours the club have been on – the supporters in these countries try and replicate what supporters at the match do. So it's obviously as important to them that this 'identity' developed by those who support the club week in, week out, attending matches, is protected.

Openness, transparency, two way dialogue – all ways the club can tackle this.
The recent dialogue between Liverpool FC and SOS on ticket prices is a positive step forward in building a constructive relationship. What kind of relationship would you like to see SOS have with the club?
We've always had constructive dialogue with the club over the years – despite the briefings against us and the subsequent blacklisting of individuals by former members of staff. We've never sought to go in and have a fight or argument with the club – we have always wanted to get answers, find out information and state our case. People have often misconstrued our position – the campaign against Hicks and Gillett was lazily labelled as being anti-club. I'm still yet to figure out how that would be. It was anti-owners, anti-destruction of the club.

Fran Stanton of Spirit Of Shankly summed it up when we were having a pre-meeting prior to meeting John Henry and Tom Werner when they arrived – we are a critical friend. That's the relationship we can have. We'll criticise and not always agree, but we'll tell them what we think and why. We will offer solutions, ideas, and ways to make things better. We won't always get what we want. Neither should the club. A relationship between the club and supporters should see some compromise from both sides. Instead, currently it's all one way and we are expected to just put up with it- the higher ticket prices, the change in payment deadlines for season tickets. I don't think it's right or fair.
Do you agree that the supporters committee at Liverpool is conceptually a good idea? And do you think it is working and reflective of the demographic of the fan base?
Spirit Of Shankly, as an organisation, supported the establishment of the club's Supporters' Committee. Our members supported a vote that it should be supported and that SOS members should look to get appointed to it. This subsequently happened, with Sam Armstrong and the late Paul Rice, both well establish SOS Committee Members, were appointed. Others who were appointed are also SOS members. So as a concept, we back it.

The problem for the Supporters' Committee, and one they are looking to try and tackle, is how they operate. The idea of a committee like this sounds great. In theory, it should aid engagement between supporters and the club. It could work as a continuous two way dialogue between those making decisions at LFC and those whom the decisions impact upon. It hasn't quite worked like that on one of the bigger issues, ticketing.

The club have said they consulted with the Supporters' Committee on the new pricing structures. But the reality was they were only speaking to one person, who then had to abide by the club's version of consulting – we can tell you what we plan, you tell us your thoughts and we are going to do it anyway, just don't tell anyone about it. We've spoken to the Supporters' Committee about this – we know they are very good people trying to do a very difficult job. It's just that the club, being ultimately in control of when they 'officially' meet and in charge of its staffing, structure and recognition mean that changes will be slow, if at all.

The committee also, in some eyes, suffers due to its undemocratic nature. The club would like to use the Supporters' Committee as the way for supporters to communicate issues with the club. Yet the same supporters don't get a say on who represents them. Representatives had to apply and were appointed. It now looks like the initial two year term will be extended a further year and only a handful will step down each year after that. So if we want it to be reflective of the supporter base, it has to have an opportunity to truly do that. Elections would be one democratic way.

None of this is a criticism of the people on the committee, nor a 'we want you to listen to us'. As I say, there are SOS members and an SOS committee member as part of it, and Karen Gill who was the first chair of it is the Patron of SOS. We've worked with and spoken to the representatives a number of times; we know they want to improve things for supporters. SOS has still met with the club while the committee has been in existence. I just think that some of the work the Supporters' Committee try to do is held back by the club's involvement and control, which slows things down and prevents some things from happening.
The long term aim of Spirit of Shankly is fan ownership. Do you see that as ever being a realistic ambition?
Definitely. It won't happen overnight. I may not even see it in my lifetime. But I do expect to see it happen. I remember walking round the museum at the Camp Nou. Down the middle is a timeline charting Barcelona's history. I said to the others I was with, one day the museum at Anfield will have this. But unlike the ignorance of the 2007 – 2010 period by the club, seemingly wanting to erase the ownership saga from the club's history, the museum at Anfield would reflect it, as a moment that came to define the club and the supporters. One that will ultimately tell the story of how the supporters took charge of the club.

For those who tell us it can't happen, I always ask why, if it works in Germany and elsewhere? They always say 'Ah, but that's different', 'There are different rules' or it's 'different circumstances'. So if that's the case, why can't we change the rules and the circumstances? It's happening in lower leagues. It now exists in the Premier League with Swansea supporters owning nearly 20% of their club and having a say in decisions.

The loudest two groups of people who tell us it can't be done are the supporters and the football clubs and authorities in this country. We as supporters need to trust in ourselves a bit more. Football clubs and authorities have a vested interest. They have all this power and wealth and they don't want to give it away. So we have to take it. They protect it because they know we will do the things they don't – change the rules to make it better, cheaper, easier for supporters. Most likely, we'll instigate the things the FA and Premier League ignore, like proper reforms of how they work. So they are looking out for themselves, we need to look out for ourselves. I'm yet to hear a supporter say "We had supporter ownership. It was rubbish. Never again."
Some of the recent decisions by the ownership group have been divisive: sacking a club legend in Kenny Dalglish and replacing him with a young manager with great ideas but little pedigree. How do you see the 'blueprint' the club is looking to follow? And if you had to point to one club in world football that Liverpool should realistically aspire to follow, who would it be?
Is there a defined blueprint? I'm not so sure. It would seem the club have an idea of what they would like – a younger manager with ideas, to grow into the role and to implement his ideas, build something, something sustainable. What didn't help the owners was the lack of information and seemingly contradictory decisions and statements they made prior to this. These are still things they need to address. Look at when they first arrived. Roy Hodgson is in charge and they seemed resistant to change, wanting to see if they could wait it out despite it being clear to everyone that Hodgson was reaching a dead end. They appoint Dalglish as a stop gap. He performs. The contract is extended. We don't have a great league season, but we win a trophy and reach the final of another. The owners seem to enjoy us winning trophies and the club comments publicly on the cup finals. Then Dalglish is removed and Rodgers appointed. We are told it's all about top four. Yet we are miles off.

I'm not saying let's replace Rodgers because he hasn't got top four. Personally, I think it is a ridiculous ask to expect us to achieve that. Yet a manager needs the club to be pulling in the same direction as a whole to have the best chance of success, yet the admitted mistakes of FSG have hampered this – Rodgers has been pressured with unrealistic targets and expectations due to comments from the club.

It allows speculation – are we about just top four, or winning trophies? If as a club we all set out what we want and expect, have that clearly defined it's a bit easier.

Whether we can have a blueprint is a question of how long we expect the current owners to stick around. Any new owners are likely to have their own ideas. Places where this is implemented tend to be the ones who have a sustainable and continuous ownership – Barcelona for example. Even FC United of Manchester have their own blueprint for how they want their club to be. There's a theme here, supporters….
How do you see the current ownership model at Liverpool? Do you think that given time FSG can be good custodians?
It's difficult to comment on FSG. When we have done it in the past, people have jumped on us, asking who we think we are to question them, give them a chance and so on. As an organisation with a stated aim to hold whoever owns LFC to account, we were always going to ask questions. In fact FSG are well aware of that because we talked about it when we meet them a few days after the takeover. They seemed willing and happy to discuss our concerns and issues, to answer questions. After that, it's gone cold. Communication was ignored for long period of times and questions remain unanswered. The only answer was a four page letter that amounted to little more than a 'we won't be answering your questions'. It's why I suspect they set up the Supporters' Committee, to establish an alternate forum in which to communicate with supporters in an 'established' group.

All we seek to do, and have sought to do, is ask questions, get information and make sure the past doesn't repeat itself. We aren't saying 'these are just the same as the last lot' or 'don't trust them'. We just want to make sure it can't happen again. As it is, what do we know? Very little. The accounts due to changes in accounting years haven't told us a lot. Players have been bought. A stadium solution still seems some way off. There has been a lot off high profile staffing changes. It's an unclear picture yet. Whilst that remains the case, FSG should expect and understand supporters' concerns and questions.
A lot of supporters are resistant to a model of self-sustainability; do you think that is the right path for Liverpool FC and why?
Financial Fair Play is setting the course for all clubs to be self-sustainable. We've met and spoken to Sefton Perry from UEFA at a football supporters' event and listened to UEFA's plans for how it will work. In theory, it will. Whether it will in practice is another matter. I'm sceptical. I'd like to see it happen but for all the plans to  clamp down on oligarchs and sheiks using their wealth to distort the league and proclamations that the rules won't be circumnavigated, I fail to see how the richest clubs won't employ the best legal teams and experts to show them how to get around the rules. So if it works in practice, all clubs will have to be self-sustainable. Whether that happens in practice is another matter.

However, as a football club and given our recent history, we should be very fearful of not living within our means. Too many clubs have gone into administration – high profile clubs like Portsmouth and Leeds. I remember us going to Leeds United in the League Cup during the Hicks and Gillett saga. We had a banner saying "LFC – THE NEXT LEEDS?" People laughed, told us not to be stupid. Our away end sang to Leeds fans "One Peter Ridsdale". They failed to see the irony, or didn't think it was the same. I wonder what they thought when we were just hours away from the same destiny ourselves?

So for us, it's clear. Self-sustainability. I don't think the club and supporters could even deal with going through that again.
I am not sure a lot of Liverpool fans to this day realise what a mess the club was in both financially and mentally following the departure of Hicks & Gillett. As somebody that was close to that process, can you summarise the state the club was in?
You're right; I don't think many supporters do. Just look at the answer to the previous question. Tony Barrett of The Times, who was a great help to SOS and to me personally in our campaign against Hicks and Gillett describes it as a nuclear bomb going off in the heart of the club. It's right. The damage is still evident and in some cases yet unknown. We went from a football club regularly competing in European Cup semi finals and finals before the wheels began to come off and we began a slide downwards. We've slowed that slide, maybe stopped it, but climbing back up will be long and arduous. Look at the stadium situation – millions spent by the previous owners on supposed drawings and plans, with nothing to show. It's incredible really.

As someone who was part of it, day it and day out, it was horrendous. Brian Reade's book 'An Epic Swindle' gives a great overview and many supporters read it saying "I didn't realise how bad it was", even supporters of our own club never mind the Evertonians and others who I know who have read it. Yet the reality is it doesn't tell the full story of everything that happened. It would be like the Britannica Encyclopaedias if it was ever written down – about 20 books long, with hundreds of pages in each one.

If you speak to many of the people involved, they say it's changed how they view football. Personally, I liken it to looking behind the curtain at a magic show. From the front it looks great, awe inspiring. Peek behind the curtain, and you see how the 'trick' works and it ruins it for you forever. You don't watch it or enjoy it quite like before, it's changed in some way, a way you can't quite describe. It's similar now for me with football. I love going to the match. It's just different now. I've seen what football is really like.
If there was one message that Spirit of Shankly wanted Liverpool supporters to unite behind: what would it be?
We are the many, they are the few. Seriously, supporters are the most important aspect of the game. We helped build our club. We will be there, through thick and thin. So why do so many just shrug their shoulders and say "What can you do?" when it comes to making our views and opinions heard? We need to stick together and show the club and the authorities that they need us – only then will we get treated the way we really expect to.

This isn't anti club. We want the best for the club. It shouldn't though come at the expense of the supporters or the future of the club.
Finally, how do you see our progress under Brendan Rodgers, and what are your expectations for next season?
I like Rodgers. He needs backing by the club including supporters, not just financially. I think we just want to see that we are progressing, moving forward next season.
My Conclusion
I think that it is clear that the primary aim of the Spirit of Shankly is to put the voice of supporters firmly back at the heart of the game, and that is an aspiration to be admired. But there is also a great deal of common ground with the club. The 'them' and 'us' relationship that was the fallout from the previous regime will take time to heal completely, as Jay points out when he talks about the fallout from that turbulent period.
There will always be differing agendas between supporters and owners but there is one common theme that both can unite behind; and that is finding a formula for success. I was pleased to see that SOS are behind a model of self-sustainability as that is the foundation the club can build upon for future success; and in fairness to our current owners, that is a foundation they are building.
I also fully agree with Jay that the club needs to define better what the new 'Liverpool Way' is and what its 'Values' look like. Those values can be developed with supporters so that the culture of the club will continue to be defined by the people who 'own' it.
Ultimately it is in the best interests of the club and its supporters to find common ground. Whilst SOS are not representative of the entire fan base, they are an influencial voice in the grass roots support. There will always be disagreements between club and supporters, but I think there is plenty of scope for constructive conversation that will help to drive the club forward as one in the future.
A huge thanks to Jay (@jaymckenna87) for taking the time to answer our questions. For more information on the Spirit of Shankly see www.spiritofshankly.com.