By Mihail Vladimirov.
Rodgers reverted back to the usual 4-2-3-1 formation, leading to few subsequent changes. Skrtel (fit again after his illness) and Enrique replaced Coates and Wisdom in the back four. Elsewhere, Shelvey was replaced by Ibe, who was making his first team debut.
For the visitors, Taarabt and Samba were unavailable. Surprisingly, Redknapp approached the game in a 4-1-2-3 shape, with Derry (replacing Jenas) as the deepest midfielder with Park (coming in for Hoilett) and Mbia ahead of him. Remy was placed on the right flank, with Townsend reverting to the left.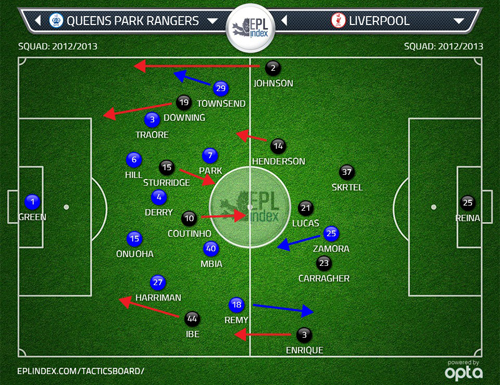 As expected, the game proceeded with Liverpool utterly dominating right from the start, but there wasn't enough end product to that dominance, especially in the first half. The second half provided some improvement and more of tactical interest, based on some changes from both sides.
QPR
Usually the away team approach the game with a 4-4-2 formation and try to compete as best as possible. However, it was obvious that Redknapp spent the week preparing some patterns of play within a different formation. The Londoners didn't make some tactical blunder, nor was their performance better than usual. But crucially, they weren't as poor as expected and for large parts of the game managed to at least partly nullify Liverpool's strengths (although this was partly due to Liverpool's failings as well), and from time to time pose enough danger to be labelled 'competitive'.
The fact Redknapp chose a three-man midfield, with all of them behaving as hard-working retrievers rather than cultured passers, suggested he is not only aware of Liverpool's passing style but was planning to try to limit its influence. But there was more to the plan, tightly connected to Derry's specific positioning.
It was obvious that QPR's defensive line was relatively higher, with the wide players dropping relatively deep. This packed QPR's team predominantly in the space between their penalty area and the centre of the pitch. Seemingly, Redknapp's aim was twofold: first, try to squeeze the space between the lines for Liverpool to pass around; and second, lure the home team higher up the pitch, to try and then target the space in behind on the break. This is now becoming the default way of playing against possession-based teams such as Liverpool. Recently, two teams at Anfield have adopted this strategy (Chelsea, Everton and now QPR) and in the past few weeks ago, the same thing was tried by Southampton at White Hart Lane and Man Utd at the Emirates.
This article is for Subscribers only.
[ttt-subscribe-article]