By Chris Rowland and Jamie Mclaughlin.
There's been a bit of debate lately about the greatest football manager ever.
No, let me re-phrase that. There hasn't been any debate at all.
The media has gone into some sort of interstellar overdrive about Sir Alex – 'The greatest manager ever", "the most successful manager ever, anywhere". Without question.
Well the first can only ever be an opinion. The second? All depends how you measure it.
OK, now is the time to make one thing clear – this is not an attempt to decry Ferguson's achievements – you can't. His record of success is remarkable, for its longevity as well as its sheer scale.
But this is meant as a tribute to our own finest at a time when the rest of the world is being led by nose-ring away from his direction. It is an appreciation of probably the only serious rival to Ferguson's position at the pinnacle of post-war managerial achievement with an English football club.
Because in this post-war era, although Busby Shankly, Revie, Stein,Nicholson, Clough, Dalglish Wenger and Mourinho will all have their advocates, and not without good reason in each case, surely the grand final of any consideration of managerial prowess in the English game comes down to a straight shoot-out between Sir Alex and what clearly should have been Sir Bob – if only the powers that award knighthoods hadn't been so anti-football at the time Paisley's career ended in 1983. Just one more reason for Liverpool supporters' standpoint to be diametrically opposed to the then Prime Minister's.
In a masterful exhibition of understatement, I'll say Sir Alex's achievements have been amply covered by the media. Paisley's, by contrast, are almost criminally overlooked by all but Liverpool fans.
We live in a more media-driven age. There was not even a worldwide web when Paisley was in his pomp. Besides, he was a modest, self-effacing man who shunned publicity rather than courting it. Perhaps this is another reason why his remarkable record seems to attract less recognition than it should – and not just with compilers of civil lists.
So let's put that record straight, by comparing records.
It's my belief that only three tournaments count domestically – the League title, the FA Cup and the League Cup, by whatever name it goes or went at the time. It's the same in Europe – just the three: the European Cup/Champions League, the UEFA Cup/Europa League, and the old European Cup Winners' Cup.
I'm discounting all the things you win by playing one match by virtue of having won something else the Charity/Community Shield, the European Super Cup, the World Club Championship etc. And I do so in the full knowledge that I rob my own club, Liverpool, of any number of those other 'trophies'.
Using that premise – and it doesn't seem unreasonable – this is how the figures come out:
Paisley – 13 in 9 seasons (League 6 European Cup 3 League Cup 3 UEFA Cup 1)
Average – 1.44  trophies per season. It really is a remarkable record for a man who never really wanted to become manager.
Ferguson with United – 25 in 26 seasons (League 13 FA Cup 5 League Cup 4 Champions League 2 European Cup Winners' Cup 1)
Average – 0.96  trophies per season
I'm not seeking to deny Ferguson's achievements at Aberdeen by the way, breaking the Old Firm grip on the title and winning a European Cup Winners' Cup. Just that we're comparing the two managers' records whilst at Liverpool and United.
If you take only the Big 2 – the League and the European Cup/Champions League:
Paisley 9 in 9 seasons – 1 per season
Ferguson 15 in 26 seasons – 0.58 per season
If you measure just by totals, Ferguson obviously wins, by a distance. If you measure by what they achieved over their career span, Paisley wins. If one batsman plays 50 test matches more than another, his run aggregate will almost certainly be higher. The other may have a higher batting average. Some may regard the latter as the better player. Some may not. As I said, it depends how you measure it.
Ah, you might say, the Champions League is harder to win these days because you have to play many more matches. The counter is that back in the day you only ever played other champions – win your league or win last season's European Cup, they were the only two means of entry.  And that in turn made the UEFA Cup infinitely harder to win in those days, when all the teams that finished second, third and fourth were in it – like today's Champions League minus the champions, in other words. The argument turns around and around, ad infinitum.
The truth surely is, it can't actually be proven who was better, any more than you can prove apples are better than oranges. It's unproveable. It's just a matter of choice.
One point is unarguable though – Paisley is the only manager, not only from the UK but anywhere – to have won the European Cup three times.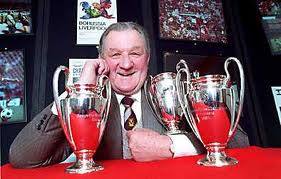 Bob Paisley was born in Hetton-le-Hole, County Durham, on January 23rd 1919. He was to become the most successful manager in Liverpool Football Club's history – and arguably …. oh you know the rest.
Paisley started his long road to success at non-league Bishop Auckland before signing for Liverpool in May 1939. World War 2 delayed Paisley's debut until January 5th 1946, in Liverpool's first post-war competitive match. He became a regular in the Liverpool team at left-half and helped them win their first league title for 24 years in his first full season. He had to wait until 1948 to net his first goal at Liverpool, on May 1st at Anfield in a 2-1 win over Wolves.
Paisley also scored the opening goal in a 2-0 FA Cup semi-final win over Everton in 1950, only to suffer heartache when he was dropped for the final against Arsenal in the club's first ever trip to Wembley, which they lost. Paisley was later to state that this experience then helped him deal with players during his time in management when he had to tell a player he was being left out of a big game.
Paisley became the club captain the following year. He retired from playing as a one club man in 1954 and continued to work for Liverpool as a self-taught physiotherapist. He later became coach of the reserves before becoming a member of Bill Shankly's famous "Boot Room". In 1971 he became Shankly's assistant manager. Then, after Shankly's shock resignation in 1974 (echoes of this week), Paisley reluctantly succeeded Shanks as manager.
Shankly had guided Liverpool from 2nd Division obscurity to become one of the top clubs in the country. They won the title in 193/4, the FA Cup for the first time in the club's history in 1965, the title again the following year, a League/UEFA Cup double in 1972/3 and the FA cup again in 1974. It was a tough act to follow.  Shanks didn't just create trophy-winning success, he created an aura, embedded his DNA into the club, established 'The Liverpool Way', an ethos, a guiding philosophy. Paisley's task seemed a formidable one to continue in Shankly's footsteps. But the unassuming North Easterner took to management like a duck to water, although his first season ended without a trophy – as did Ferguson's first four at Old Trafford – imagine anyone ever getting that long again at a top club.
Bob Paisley went on to manage Liverpool for nine years. He won five Charity Shields and one UEFA Super Cup as well as those listed above. The only cup that eluded him was the FA Cup which he lost in a final in 1977 – to Tommy Docherty's Man Utd, depriving Liverpool of the same treble won in 1999 by United. The fortunes of the two clubs really are linked to a sometimes remarkable degree – they've even both suffered their own tragedies.
Paisley inherited a great team from Shankly but through time he had to shape the team into his own. He lost great players like Kevin Keegan but replaced him with an even better one in Kenny Dalglish. He could change the role of an established player like Ray Kennedy, a superb striker for Arsenal in their 1970/1 double season, but Paisley could see that he would be a better player in midfield.
Paisley retired from management in 1983 after serving Liverpool Football Club in so many different roles in 44 years unbroken service. He did return to help Liverpool in 1985 as a consultant and advisor to new player-manager Kenny Dalglish for two years before being appointed a director of the club until 1992, having to retire due to ill health after being diagnosed with Alzheimer's Disease. Bob Paisley died on the February 14th 1996. Liverpool Football Club honoured his fantastic service and achievements by erecting the "Paisley Gates".
Bob Paisley is the only manager in history to win the European Cup three times.
The quiet, mild-mannered North easterner may have been the opposite of Shankly in terms of personality, but he did deliver some memorable quotes –
"Kevin was quicker off the mark, but Kenny runs the first five yards in his head."

"Mind you, I've been here through the bad times too – one year we came second"

"It's not about the long ball or the short ball, it's about the right ball"

"Other people have earned more money than me in football but no-one has enjoyed it as much as me"
Paisley or Ferguson? There doesn't have to be a winner. In fact, there can never be. Let's just appreciate them both for what they achieved.