By Mihail Vladimirov.
Unsurprisingly, Martinez opted for exactly the same XI and 3-4-3 formation as in the last game against Reading, which they won 3-0. Sturridge's injury forced Rodgers to make some changes, with Allen coming in to play as a third midfielder and Suarez reverting to the centre-forward position. Interestingly, with the same midfielders as against Zenit, Rodgers continued with the same 1-2 midfield shape (making the formation 4-1-2-3 and not the usual 4-2-3-1 that's been used for the last few months).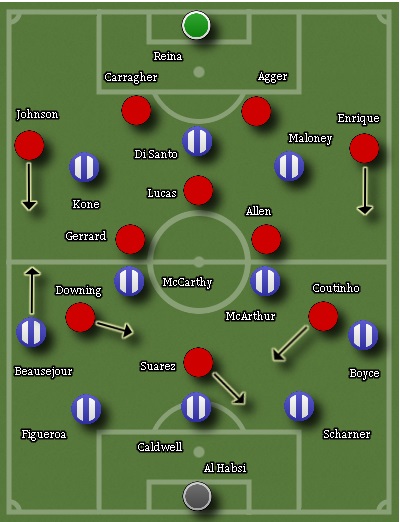 Coutinho's input
Following the logic that to win a game you need to score goals, and with Suarez scoring three of Liverpool's four, it could be said he is the prime reason for Liverpool winning this game. But given the actual context and how the game panned out in, there is another player who arguably had a more influential impact.
The opening two goals came because of Coutinho's all round intelligence. His appreciation for space off the ball and the perfect timing of his on ball actions were simply sublime. For the first goal he was initially in a narrow central position. Then, as soon as Reina hit his long pass, the Brazilian made the inside to outside run, picking up the ball in the space between Boyce and Scharner. He then simply used his mobility and trickery to go on the outside before delivering a perfectly weighted cross for Downing's tap-in header. For the second goal, Coutinho made the reverse movement off the ball. He started from a wider position, came infield to exchange passes with Gerrard, then received the ball in the space between Wigan's lines. He then, once again, used his mobility and trickery to carry the ball forward before timing a brilliantly weighted through ball, putting Suarez clean through, with only their 'keeper to beat.
This article is for Subscribers only.
[ttt-subscribe-article]