By Mihail Vladimirov.
Ferguson made some interesting pre-match decisions. Not only did he line-up with a 4-4-2ish formation, but some of the players' positioning was really surprising. Young went to the right flank, Kagawa was started on the left with Welbeck playing as the second forward alongside van Persie.
For Liverpool, Rodgers' selection was largely as expected in terms of shape and personnel. The only real notable change – but hardly a surprising or unexpected one – was that Rodgers opted for the 4-1-2-3 instead of the 4-2-3-1 formation. Still, there were some initial failings that, in an ideal world, should've been prevented by the manager. More on this later.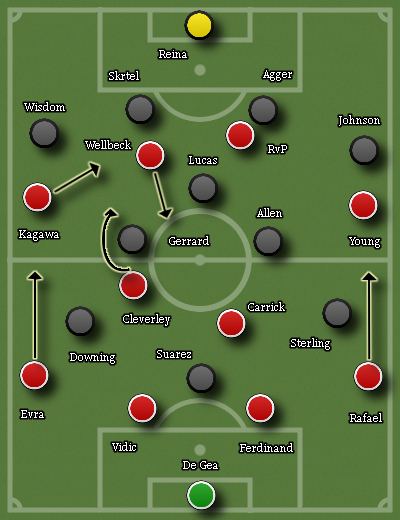 The game followed a simple pattern. United started dominating all over the place tactically (which inevitably led to them being in total control of the match and the score line), then two examples of poor defending in quick succession (both second half goals), completely changed the mentality of the teams and logically the nature of the tactical battle in the last thirty minutes.
This article is for subscribers only.
[ttt-subscribe-article]