No surprises from either manager in terms of selection. As hinted in the build-up for this match, Rodgers had some of the key first team players on the pitch (Reina, Johnson, Allen) with others on the bench (Sahin, Gerrard, Sterling, Suarez). The rest of the team was as expected.
Guidolin not only rotated his team, making four changes from previous game with Anzhi, but also made a surprising selection – both Armero and Pasquale were on the pitch.
Formations
Liverpool were as expected – 4-2-3-1, Shelvey in the hole and the wide players were inverted. It was Udinese that looked more surprising. Although their formation was more of a 3-4-2-1, the positioning and the movement of Armero and Pereyra (their central-cum-wide attacking players) made it look closer to a traditional 3-4-3. The movement was the key, in terms of the first half's tactical context and for Liverpool to be a dominant force. Then with Guidolin making changes at half-time, the two players' positioning and movement when supporting Di Natale, was crucial for Udinese's tactical comeback that won them the game.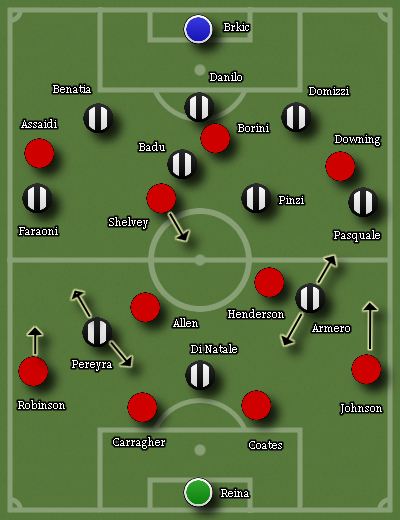 This article is for Subscribers only.
[ttt-subscribe-article]