By Mihail Vladimirov.
For his first league match as Liverpool boss, Rodgers didn't spring any major surprises, although a late injury to Jose Enrique forced him to shift Johnson to  left back and start with Kelly on the right. As widely anticipated, Allen started ahead of Shelvey in midfield.
For Albion, new boss Steve Clarke lined-up with the expected XI. Ridgewell and Morrison had been fitness doubts but they were cleared to play.
Formations
It could be said that both teams started with similar basic formations – four defenders, three midfielders and three forwards. The difference came from the type of players that played in each line, mainly in midfield, which inevitably varied the nuances of both teams' overall shapes.
For the home side, both Yacub and Mulumbu are archetypal deep-lying midfielders, divided in their responsibilities – the former tasked to dictate the tempo, the latter to break-up the opposition's attacks. Liverpool's duo (Allen and Lucas) was much freer positionally, playing much higher up the pitch. But the biggest difference was in terms of both teams' advanced midfielders. Ahead of WBA's deep double pivot was Morrison, but he also played relatively deeper, aiming to help out with instigating his team's attacks, acting as a third proper midfielder. But Gerrard, the player ahead of Liverpool's midfield duo, was higher up the pitch, hence he was rather a second forward due to his tendencies to directly attack the last third via constant roaming and vertical movement. This subtle difference was one of the major catalysts for the general tactical battle that followed.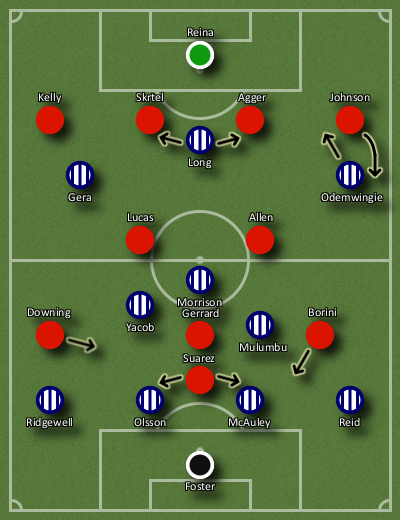 This post is for Subscribers only.
[ttt-subscribe-article]