By Paul Tomkins.
Twitter, I have no doubt, is an accelerator of anxiety; something I've been able to realise by no longer being part of – and contributing to – the impatience and paranoia. As brilliant as it can be, the medium breeds unrest.
Beyond the debate on this site, I haven't been paying too much attention to the transfer rumours, and how people are reacting to them. But from what I hear, it seems that there is quite a lot of unrest amongst Liverpool supporters right now.
The Reds have only made one signing, and now there are rumours of Liverpool asking Manchester City to up their bid to over £20m for Daniel Agger; suggesting that another talented player could be on the way out.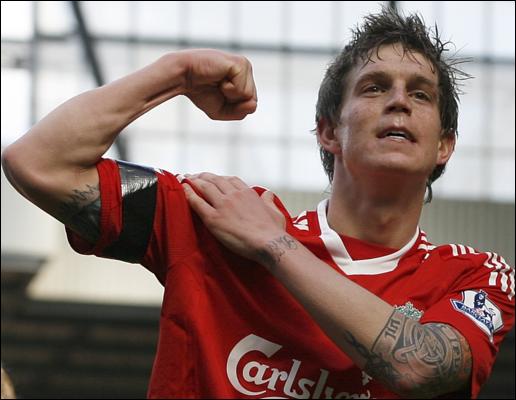 Craig Bellamy – with Agger, one of the Reds' best performers last season – is apparently nearing a move back to Cardiff.  If the Welsh striker were to leave, that would mean Kuyt, Maxi and Bellamy would all have made their exits, along with the talented (but frequently questioned) Aquilani. To all intents and purposes the gifted ghost Fabio Aurelio was an injured passenger last season, and he too has finally said goodbye (not that anyone noticed).
Four of this quintet are in their 30s, and three were/are injury prone. One (Maxi), although maybe two (Aquilani), were possibly homesick. All were on good-to-very-good wages, and while I'm sad to see most of them go, based on past performances, none represented the future of Liverpool Football Club. If this is to be a well-run club, sentiment has to be sent out the window. That's a hard thing to learn as a fan, as our whole raison d'être is to be emotionally invested.
With Agger, however, I find it hard to think in a dispassionate way. He's probably my favourite player right now, in that he combines unusually high technical ability for his playing position with a steeliness and determination to succeed: the quintessential iron fist in a velvet glove. In theory, he is the perfect Brendan Rodgers' player, who can shape games from the back.
However, if I were to look at it dispassionately, then I'd say a accepting an offer of £22m, if one were to be made by City, for a brilliant player who is now 27 (two years before his value plummets), and who only usually plays half the games, would make plenty of sense. Especially if the medical staff aren't too confident that he can manage close to 38 league games.
(This, of course, is predicated on the assumption that the club now has a solid scouting and purchasing policy. If the club doesn't believe that it can go out and find the next young Agger, in the way that Benítez picked him up for just £5.8m in 2006, then it has to hold onto him. The statistical argument for keeping him will follow tomorrow on TTT in an article by Andrew Beasley.)
Liverpool are clearing the decks before confirming more of their own signings, with only Fabio Borini having joined so far this summer. While I haven't been party to the Twitter impatience, I did find last week's game a little disappointing, in that it was merely a continuation of many of last season's shortcomings, with little sign of the Rodgers' imprint.
It's early days, with fitness not yet primed, so there's nothing to necessarily worry about; but the only new player was isolated up front, and those who looked unremarkable last season continued to do so. It was a bit of a damp squib, even though, on this occasion, it was the opposition missed all the efforts at goal and hit the woodwork, leaving the Reds to nick a victory against the run of play (when facing admittedly fitter opposition).
The excellent news today is that Luis Suarez has signed a new contract. He's Liverpool's most penetrating attacker, and also an incredibly hard worker. In theory he should dovetail nicely with Borini, who shares that feverish work-rate – essential for a high-pressing game – but of course, Andy Carroll has become another player who may be surplus to requirements. How many players can the Reds afford to lose this summer without leaving too big a hole? Too much upheaval can lead to unfamiliarity when the season kicks off.
I wouldn't say I'm totally convinced by Carroll, but I do believe that there's an excellent centre-forward in there somewhere; albeit one who might require a certain system to bring it out. Last November I wrote an article looking at how the 'target-man' striker tends to be a late bloomer, but if he doesn't fit Rodgers' system and/or he's unhappy at the club, then recouping around £20m wouldn't be a bad move.
(Equally, if the manager wants to keep Carroll, I look forward to seeing what he can make of him. I believe that the no.9 has underrated technique, and, when injury-free, is not as immobile as some suggest, but he doesn't have the change of gear that makes players like Drogba and Adebayor so effective. He's an excellent Plan B at the very worst, but if someone else were to offer £20m, could the Reds use it more wisely? I'd like to think so.)
It seems that Joe Allen can be Liverpool's if they meet the £15m buyout clause. He's one of those players who could add value simply by knowing the manager's style inside-out and allowing a swifter midfield integration. But as with any player moving to Liverpool, he would have to prove he can cope with the pressure (Rodgers will obviously know his mentality well). And of course, Liverpool have just had a massive bonus with the early return to fitness of Lucas Leiva; the "just like a new signing" player of the summer.
Aside from the interest in Clint Dempsey (which I assume to be true), all of the players the Reds have definitely been in for are aged around 21 or 22, and unlike some of the aforementioned players who have moved on, are capable of representing the future of the club. You can't eschew all your experienced players – the balance is important – but in the transfer market, 21/22 is the prime age.
Brendan Rodgers has to spend some time closely assessing what he's inherited, so it stands to reasons that, unlike last summer, a bit more leeway is needed. In 2004, it wasn't until late August – after the league season had started – that Xabi Alonso and Luis Garcia were signed by the new manager, Benítez. Luckily his first two major purchases eased seamlessly into the team. Last summer everyone said that Arsenal left their business too late, but in the end they didn't do too badly for what they paid. This year they're moving more quickly, but for what seems like the fifth or sixth season running, they stand to lose their best player. Despite this eternal problem, they've remained in the top four all that time. Indeed, last season they finished 3rd, which was totally unexpected after their poor start. Without an owner to put in hundreds of millions of pounds, what more can they realistically aim for?
It's easier for us, as Liverpool fans, to relax if the deals are concluded quickly, but equally, we don't want to see panic buying, nor the overpaying that dogged the club in 2011. (Liverpool did their business early and forcefully last summer, with Downing, Henderson, Doni and Adam all tied down in July, but I'm not sure that it helped in terms of the players chosen and the prices paid.)
Ultimately, though, we shouldn't judge a transfer window until it closes. Plenty tends to happen as the deadline approaches, when all the brinkmanship gives way to actual movement. Just one transfer can change the whole complexion.
I still believe that FSG, in trying to follow the supposed 'Lyon model', are taking an intelligent approach, albeit one that others are following (Newcastle spring to mind). Without the megabucks of oligarch owners, and without the Champions League as bait – but with an incredibly strong name and some world-famous players – attracting good players with the potential to become great ones shouldn't be impossible. And if it means selling some good players for excessive fees in the process, then that's the way it works.