By TTT Subscriber Phil Dodds.
The grand opening of Manchester City's player data archives last week was, they pronounced, "for the benefit of analytics in football," aimed at creating a "data culture in the UK." There was something giddily optimistic, even futuristic, about what is (to some people at least) a relatively worthy, earnest ambition.
I hope I'm not the only one who envisioned a descendent of Brendan Rodgers standing on the touchline in the year 2400, receiving whispered instructions via his stainless-steel earpiece: "Player 9 is performing at 73.49%, with a projected drop of 2.79% in the next 400 seconds. Substituting him for Player 7 in formation 62 would improve our chances of victory by 11.06%."
Rodgers (in the 25th century) processes the data and the fourth official's board goes up. "If Player 9 is to achieve optimum motivation for the next game," the voice whispers into Rodgers' ear as his dejected substitute jogs to the touchline, "he will require 64% warm encouragement, 29% stern disapproval and… calculating… 7% love."
"But… but…" Rodgers stutters, realising that this is a futuristic dystopia, "I've forgotten how to love."
The robotic earpiece pauses for a second, processing. "A moderately firm slap on the backside should achieve the required result."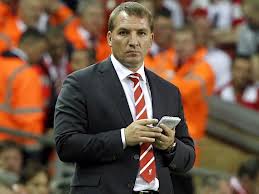 I wonder what motivational cocktail Roberto Mancini served to City's new £12m signing Jack Rodwell after his debut performance against Southampton on Sunday afternoon? The ex-Evertonian had generally done well, and the stats will show a remarkable 96% pass completion rate from 93 attempted passes. But that's not what everyone will remember. He received far more attention for one misplaced pass which allowed Southampton to counter-attack and score their second goal: the Sky cameras were trained on his reaction, he was castigated on Twitter, and Match of the Day replayed us his mistake from three different angles. Despite City's eventual victory, that 96% figure would have offered little more than hollow comfort to the young midfielder.
But Liverpool fans have been seeking solace in statistics this week, as the post-mortem on their side's surprisingly comprehensive defeat at the hands of West Bromwich Albion revealed some mixed results. Alan Hansen's thinly-veiled criticism of Rodgers implored Liverpool's defenders to "play the percentages," but Andrew Beasley has noted some of the ways that the Reds performance was a statistical improvement on many of last season's performances. For example, there were more than twice as many "final-third regains" vs West Brom in comparison with the 2011/12 average, and final-third passing accuracy was significantly improved.
It is fascinating that upon hearing such statistics our response is often to suggest that Rodgers had made many of the right decisions, and that we were unlucky to lose in this situation; that, on another day, we would've been victorious. There aren't many of us who assume that improved final-third regains and passing accuracy must lead to a reduced chance of victory. In fact, we cling to such statistics as crumbs of comfort, as evidence that if the game was repeated a hundred times we'd win more often than not. Beez even concludes: "If they can manage all of that when losing 3-0, then there's certainly hope for Liverpool this season yet."
This is a fascinating idea: that the result isn't necessarily the bottom line for those who see the bigger picture. Results can fluctuate due to a combination of circumstances and luck, but the search for the most logical and effective system must persist. For example, if we know that Steven Gerrard has scored 90 out of his career 100 penalties, but he misses one, we should not immediately replace him with someone else who has a 60% record (unless we have reason to believe that the trend is changing).
So statistics can be comforting if they give us cause for optimism. But meaningless statistics shouldn't necessarily be used to deflect attention from more pertinent issues, and it has become something of a joke to cite possession or passing stats when your team has been thrashed. I tongue-in-Tweeted along those lines, and was picked up on by a number of Stoke fans who must have thought they had found a bona fide example of that most deluded and pretentious of football snobs: the one who doesn't understand that "there's only one statistic that counts."
But, of course, it's possible to accept that goals are the only direct and irrefutable determinant of points and trophies, while also appreciating that it is counterproductive to focus exclusively on that specific statistic. Problems are rarely solved by bemoaning and lamenting their effects or symptoms. Fans and indeed managers ought to focus on the causes of goals (such as the quality of finishing and, yes, the effectiveness of their passing) if they want to score more of them.
But if you believe that a passing style of football is the most effective way of scoring goals and winning games, as the likes of Pep Guardiola, Vicente del Bosque and our own Brendan Rodgers manifestly do, then focusing on passing accuracy is not absurd at all. You accept that you might lose the occasional game while maintaining that you would – all things being equal – lose fewer games with this system than with any other.
In actual fact, one of the most important statistics for determining the West Brom defeat was the "red cards" count. Daniel Agger's second-half sending off changed the tenor of the rest of the game, after West Brom had already opened the scoring with a freakishly unstoppable shot. So Liverpool fans had to search for other crumbs of comfort. I'm not embarrassed to admit that I found Joe Allen's final pass completion rate of 96% (including 24 successful final-third passes out of an attempted 25) somewhat encouraging, a tangible cause for optimism.
Goals aren't overrated, but it's reductive and ineffective to focus on them exclusively. So fans should be allowed to indulge in a spot of statistics therapy, to luxuriate in their comforting, abstract glow.
Or at least that's how I feel after this weekend.