By Paul Tomkins.
It's been a fairly fascinating transfer window all round, with surprising action across the top clubs, but for Reds it ends on a bum note: no new striker. Thankfully, it also ends with Daniel Agger still at the club, so it's not been all bad. Indeed, in terms of the players actually brought in, Liverpool appear to have spent well.
But have they sold well? And have they made a mistake in terms of selling before buying, and failing to bring in a new striker? No one wants deficit spending, but when the manager says he needs a striker and then one doesn't arrive, questions will be asked.
First of all, it's worth pointing out that with Brendan Rodgers' philosophy differing slightly from previous Liverpool managers, some players have been sold or loaned out not because they aren't good footballers, but because they're not the right type of footballer.
For instance, Andy Carroll is not the most mobile, and likes a certain kind of service; Rodgers wants a more patient approach. Carroll will almost certainly flourish under the far more direct approach of Sam Allardyce, who also spends a lot of time on set-pieces, when Rodgers' training methods revolve more about honing passing movements.
Then there's Charlie Adam, who does indeed possess a sweet left foot, is deceptively fit, deceptively good at dribbling, and also deceptively tall (6'2"). But he is prone to showing off, with silly passes, and though the stats show that he covers a lot of ground, is fairly slow, and just bundles into opposition players. (Also, how many times did he make a forward central run with the ball, with runners left and right, and just blast a shot into the opposition defenders?)
He probably needs to feel like the midfield alpha male, whereas at Liverpool he was merely gamma. His famed set-pieces only work when he's confident enough to beat the first man, and at Liverpool it's easy to lose your mojo due to expectations. Also, at Stoke, Tony Pulis will obviously spend a lot more time organising the taking of corners, given their dead-ball mindset.
Both Carroll and Adam will now be at clubs that value their strengths, and where their weaknesses will not be as obvious. In purchasing them, Liverpool had sought to utilise their strengths, but a) the players had found it harder to replicate them under the harsher spotlight, and b) the approach has since changed.
Jay Spearing has also left, on a season-long loan to Bolton. He's a decent, hard-working player, but not really Liverpool FC first-team standard; particularly as the Reds are once again tapping the market for top-rate players in central midfield. Spearing got overhyped a few years back because it was seen that the "rubbish" foreigner (Lucas) was holding him back. Thankfully common sense soon prevailed.
In many ways, FSG have fallen into many of the traps they consciously set out to avoid. They knew at the outset that sacking managers was a costly business, and that's why the wanted to hold on to Roy Hodgson until the summer of 2011, and replace him at a more convenient time. (Alas, results, and attendances, started getting catastrophic.)
Dalglish, seen only as a temporary measure 18 months ago, initially did so well with the players he inherited (plus Luis Suarez) that it would have been impossible to not give him the full-time job; and yet, with a couple of minor exceptions, the players he and Comolli bought last summer proved to be poor value for money, and the league form slipped back to just a fraction better than it was under Hodgson (pro rata 48 points; last season 52 points).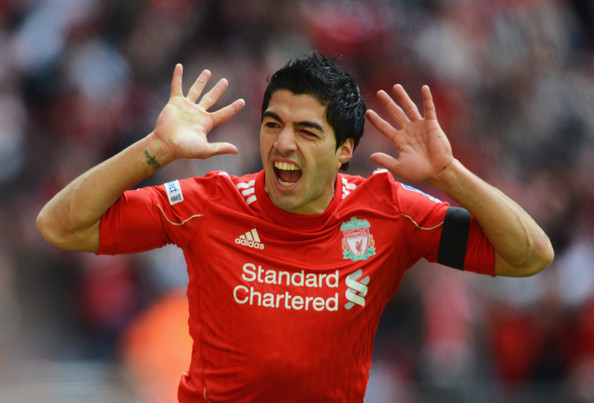 This is the clean slate FSG dreamed of, but it's come by falling foul to the "new managers waste money" section of Soccernomics. Every time you change the boss, new ideas mean new players. No manager sets out to waste money, but it's a byproduct of the process.
This is Liverpool's fourth new direction in four years (one of which, under Hodgson, was hard reverse), although the shape and tactics – central midfield three, attacking full-backs, high pressing – are now closer to where we were when Benítez was in charge. It's been four years getting back to where the team was, albeit a lot still needs to be proven in terms quality and returning to the top four.
On the surface, Rodgers hasn't wasted any money as yet; the players bought, and the fees paid this summer, seem pretty sensible. But a side effect is that his ideas have arguably wiped value off players who do not fit his system. His style of play is so well known, and so inflexible (not in and of itself, but in his adherence to it), that people were talking about a "Rodgers type of player" and, of course, those who weren't.
The one big benefit from loaning Andy Carroll is that he's in the shop window, playing regular football in a team that suits his style. Instead of his value diminishing on the Liverpool bench, he has the chance to score 20 goals and be valued at £20m in 2013. If that happens, that's money to reinvest. In the meantime, it saves about £4m in wages and brings in a £1m loan fee.
However, in other ways, letting Andy Carroll go out on loan is an incredibly strange one, especially without a replacement. It leaves a bloody big hole in the striking roster. Loaning out an expensive international striker without first having secured – even if only in principle – a replacement seems somewhat reckless from the outside; especially as goalscoring proficiency was the major flaw last season. Liverpool have also lost a plan B in the process.
While Carroll is flawed, and clearly not everyone's cup of tea, he is, at least, a Premier League-class forward. He can do some type of job. Beyond that, there's Adam Morgan and Samed Yesil – two 18-year-olds who, to date, have proved nothing beyond getting one start in professional football.
Kuyt's default role was as a striker, and so too was Bellamy's. Both have left. Now Carroll has, too. That's three international strikers offloaded in a short space of time. Kuyt, at 32, and Bellamy, at 33, would only have represented short-term cover, but with Kuyt free to leave for £1m (and unlikely to get the kind of three-year contract at Liverpool that he received from Fenerbahce), and Bellamy desperate to be at home with his family, it wasn't as if the Reds had complete control of these situations. But could more have been done to replace them?
Losing Maxi under similar circumstances meant three players capable of 10+ goals a season were lost. While it's almost certain that not all three would have been retained, one or two might have been kept on. Liverpool will now be without the scorers of more than half of their goals over the past two seasons.
The signing of young striker Samed Yesil is a promising one, making him the second Turkish-descended German to sign this summer, after Nuri Sahin. (In a minor coup, Yesil's deal was highlighted on TTT the day before it broke in the media.) He has an excellent youth pedigree; the 18-year-old, who played for the Bayer Leverkusen first team aged 17, is a wiry, mobile front-man with an eye for goal. But it could be a good 12 months before he's pushing for a place in the side.
By contrast, Sahin is a shoo-in. TTT's Andrew Beasley makes several good points on the young midfielder:
We've already seen that Joe Allen is in the Maschareno mould of the busy, diminutive, harrying midfielder – with perhaps a bit less bite, but a better passing accuracy. Under Benítez it was the strongest area of the team (and squad), and now it's fair to say that with Allen, Lucas, Gerrard and Sahin, Liverpool have four top-class performers, plus Jordan Henderson in reserve. But the weakest area under Rafa was often strength in depth up front, and that looks the case now.
Raheem Sterling's rapid ascent means that that's one less attacking position to worry about, but as a youngster he'll most likely blow hot and cold; right now, despite his great talent, he's running on adrenaline. He has a good goalscoring record for a winger at youth level, but it often takes players a good couple of years to replicate their youth form, given the big step-up involved.
The pursuit of Clint Dempsey made sense, providing the fee was in keeping with his age. (Our TPI rule of thumb is that the transfer value of a player aged 29 is roughly half of someone aged 27 or 28. Value diminishes sharply at that point.) Having said that, once Liverpool had arguably offloaded too many strikers, then the individual fee for a single player is not the issue; it becomes the cost of what he might otherwise have brought. The day seemed set up to be all about Dempsey, but in the end it was a damp squib.
The excellent Fulham writer Richard Allen discusses the rise of the American here. The attacking midfielder-cum-striker has scored 50 goals for Fulham: "10 with his left; 25 with his right, 12 with his head and, entirely summing the man up, three with 'other'."
According to some, Dempsey is a bit arrogant, but depending on how that's channelled (is it simply supreme confidence or an ego out of control?), it can be good at a big club, where being shy and retiring can suggest an ability to be overwhelmed. Self belief is needed, but within reason.
The most interesting thing is how his Premier League goals' tally has moved from 7 to 12 to 17 in the space of three seasons (and from 9 to 12 to 23 in all competitions), each time having played between 42 and 46 games. That suggests a player on the rise, and also, one who has barely missed a game since arriving in 2007. His international scoring record has also improved, with nine goals in his last 18 games, having taken 35 games to net his first nine, and with the 32 games in the middle resulting in 10 goals.
According to Allen on The Craven Cottage Newsround, Dempsey has simply become more efficient, wasting fewer shots in the hunt for goals. (Maybe there's hope for Suarez yet? – mind you, he'd get 60 a season if he could shoot straight.) Dempsey has also stopped shooting from miles outside the box, although, as Allen notes, 58% of his long shots were on target.
All this, and definite interest from Liverpool, but not enough to push them over the edge to pay a fee that it seems Aston Villa and Spurs were prepared to meet. Liverpool were burned 18 months ago by paying too much on deadline day, but this time they arguably paid too little. Having lost out to Spurs with a goalscoring midfield in Gylfi Sigurðsson, this time Liverpool appear to have handed them Dempsey on a plate over an apparent quibble of £1m, and been left empty handed in terms of striking reinforcements. (Quite whose fault this is, I have no idea. FSG? Ian Ayre? Brendan Rodgers?).
Goals
So, with the failure to land Dempsey, have Liverpool got enough goals in them? It's possible, but it looks far from certain. The good news is that I'd be shocked if Suarez doesn't get 20 goals this season; for all his missed chances, he's scored in each of his last two games, and he creates so much for himself that the law of averages suggests a better return.
Fabio Borini should be capable of reaching 15, given his movement and the positions he takes up, and also the ruthlessness of his finishing at Swansea and Roma. But right now, despite timing his runs really well, he can hover a bit too far from the box at times, and is grappling with the kind of uncertainty new strikers can suffer in front of goal. He didn't score for Roma until October, then had to wait until January, from which point he scored eight goals in ten games.
A great unknown is just how many goals Steven Gerrard has left in him. At his peak, between 2007 and 2009, he was scoring a goal virtually every two games, and was around the same ratio in 2005/06. However, in his last three seasons, plus adding the start of this, it's down to a goal every 3.8 games. He'll probably take the penalties, and that will guarantee at least five or six goals, but will he add 15 more from open play, in the way he used to? It seems highly unlikely. At this stage, 10-15 in a whole season, including penalties, seems realistic.
If he plays enough minutes, Sterling should be able to add five as he feels he way around first team football (although he seems to have the potential of someone who'll average 15-20 in a few years' time). Sahin averaged around five a season in his last two years at Dortmund, which is decent enough for a deep-lying playmaker.
Given that he has even more licence to get forward, Glen Johnson should also be capable of five. Wherever he plays, Stewart Downing should be registering three-to-five; at least he already has one. Between them Skrtel and Agger (with maybe a nod from Coates) should be able to notch six in all competitions. (With it being around 200 games since Jamie Carragher's last goal, it's fair to say that he won't be relied upon.)
Like Lucas, Joe Allen might be on for one or two if the wind is right. Elsewhere in the squad, Joe Cole (if he's ever fit), Jordan Henderson and Jonjo Shelvey are capable of weighing in with at least five or six between them, with the two youngsters likely to translate their lower-level scoring feats to a higher level as they mature.
(Henderson scored four in 21 England U21 games; Shelvey managed nine goals in 26 Championship games spread across Charlton and Blackpool as a teenager, and notched eight in 17 games for England youth teams. They can score goals, but as yet, not enough to bank on. And of course, they may barely play.)
All in all I make it, at best, around 70-80 goals from the first XI in all competitions, and possibly only 50 in the league. That's not a massive amount, and is perhaps being very generous (although players can always surprise us, and improve upon previous tallies). But beyond that XI, there's probably not a lot to rely on. The rest might add 10-15 goals, but in all likelihood, one of the first XI will under-deliver in the box.
Oussama Assaidi could be key; he is the unknown quantity in terms of scoring goals in England. He might be a revelation; but frankly, unless others start hitting their targets, he may need to be.
While there doesn't appear to be enough goals, it needn't be too big a problem if the team keeps clean sheets and the Reds score just enough to win games. Right now, however, the playing style is leading to numerous errors at the back, although hopefully that's merely symptomatic of teething problems, and no more.
It's important to remember that this is a long-term project. Brendan Rodgers does not look the type to panic, and he will try to bring in hungry players. He knows how to get the best out of young players, although the pressure at Liverpool may make it harder than it was at Swansea, especially if results don't go his way.
But if the Reds fail to score enough goals, questions will rightly be asked (even if we've no way of knowing whether or not the players who weren't brought in would have done better). Transitions can be made all the harder if certain components of the team aren't functioning correctly, and if the team remains too distant from the top four, then attracting players down the line can become harder. It becomes catch-22.
However, if all goes well – with Liverpool controlling games with style from the centre of the park and turning possession into points – then everyone at the club will believe that they got most decisions right this summer. As ever, no-one knows in advance exactly how it will play out….