By Gary Fulcher.
The date was October 5th 1993. It was the day an 18-year old by the name of Robert Bernard Fowler scored all five of Liverpool's goals against Fulham in the Coca Cola Cup second round second leg tie at Anfield. It was also the day that many people – myself included – sat up and took notice of a player who would soon be regarded as one of the most gifted goal scorers that this country has ever seen, and who in time would be better known as God by many of the Liverpool faithful.
Robbie Fowler is my favourite Liverpool player by a considerable margin. He burst on to the scene just as my passion for LFC was starting to secure me in a grip the Hulk would be proud of. Although I watched Liverpool during the late 80s, witnessing some breathtaking football and footballers in the process, I was too young to fully appreciate what I was seeing. It wasn't until 1992/93 that I became completely obsessed with LFC and began to understand what the club was all about.  Unfortunately it was a period that also saw LFC's long-held domination of English football well and truly come to an end.
1992/93 and 1993/94 were forgettable seasons for many reasons, not least because of the dire football we played under Graeme Souness, who ultimately tried to change too much too soon. In the process Souness made some terrible decisions that eventually cost him his job by the end of January 1993, following our FA Cup 3rd Round replay exit to Bristol City at Anfield. We ended the 1993/94 season in 8th place under Souness' replacement, Roy Evans.
It's with this backdrop in mind that Fowler emerged in explosive fashion to lighten some of the doom and gloom that was beginning to suffocate the club and to give me something to be excited about.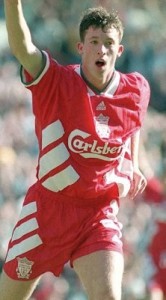 Fowler's appearance against the Cottagers in 1993 was only his fourth competitive start in a senior Liverpool shirt, but those five goals immediately earned him a place in the club's record books: only four other players have scored five goals in a single match for Liverpool: John Miller in 1892, Andy McGuigan in 1902, John Evans in 1954 and Ian Rush in 1983. Even early on there was clearly something special about young Robbie Fowler.
What's even more remarkable about Fowler's achievement during the early part of the 1993/94 campaign is that he came into a Liverpool side who were clearly struggling, suffering a crisis of confidence and form under the management of Graeme Souness. The Reds had won their first three league games but then proceeded to lose four of their next five – including a demoralising Merseyside derby defeat against Everton at Goodison – before Fowler was handed his debut against Fulham in the Coca Cola Cup second round first leg tie at Craven Cottage. The Toxteth Terror scored one and played a part in the other two goals as Liverpool ran out 3-1 winners.
Considering that Fowler only signed professional forms with Liverpool in April 1992, his record of 33 appearances (32 starts) in all competitions for the Reds during 1993/94 – scoring 18 times in the process – was quite remarkable. He scored his first league hat-trick during a 4-2 win against Southampton in only his fifth league start of the campaign and by mid December he had notched 14 goals in 17 appearances for Liverpool.
Fowler's progress was temporarily halted after he broke his ankle during the FA Cup 3rd round tie against Bristol City (putting him out of action for seven weeks), making his stats even more impressive. Despite the setback, Fowler finished that season as our second highest scorer behind Ian Rush who ended the season with 19 goals.
The rest of this post is for subscribers only.
[ttt-subscribe-article]