By Andrew Beasley (Beez).
Having just scraped into the Top 20, Michael Owen may be in a unique place being the only player on the list who is not thought of fondly these days by the Kop faithful. Not just for his recent association with Manchester United, but because of the way he left the club for Real Madrid, for his perceived elevation of England above his club when he still played for us, and his perceived lack of warmth towards the club.
Yes, our goal machine of the late 1990's and early 2000's is now abused and reviled by Reds fans who used to adore him.
Or did they?
Whilst he supported Everton as a boy, so did many of the club's recent top players; Rush, Fowler, McManaman and Carragher to name but four, so that shouldn't have been an issue. Personally, I think the fact that he wasn't Robbie Fowler counted against him a lot during his time at Anfield; it's impossible to imagine Owen raising his shirt to display a pro-dockers message after scoring a goal for instance, and when Owen came in to the team, he was often replacing an injured God (or Robbie Fowler to non-Kopites), which won't have endeared him to many fans.
Yet to my mind, it really shouldn't be this way; Owen is the club's seventh highest scorer in history, and one of only sixteen men to bag a hundred goals for Liverpool. Of those players, whilst acknowledging that they're not all strikers, Owen does have the fifth best games-to-goals ratio. Whatever you think of Owen, there are some impressive strikers below him in this table: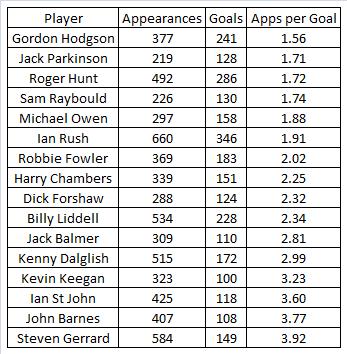 This post is for Subscribers only.
[ttt-subscribe-article]