By TTT subscriber Bob Pearce(Manuregardens).
When my first Liverpool season began in the bright sunshine of August 1971, Kevin Keegan made his debut and scored in the opening game against Nottingham Forest, in front of the Kop, in just 12 minutes. It was a story book start, and not surprisingly he became my instant teenage hero. I began collecting every picture and piece of information about Keegan that I could find, both on and off the field, and added it to my scrapbook.
When I started at secondary school that September I found I was the only Liverpool fan in the school (apart from our Liver Bird geography teacher, who always had a quiet word about the result each week). Being a Liverpool fan in London meant I could go (on my own) to see them play several times each season at Arsenal, Chelsea, QPR, Tottenham, West Ham, and even Luton. All other games, including those wonderful European adventures, were followed by listening to the voice of Brian Butler's commentary on BBC Radio, watching Match of the Day on Saturday night, or staying up late to watch Sportsnight during the week.
1976 was exams year, and for the CSE English oral exam we were required to either give a talk or record an interview. I didn't hesitate. I would record an interview with my specialist subject – Kevin Keegan. I have no memory of what I put in my letter to him, but I do remember that, as the weeks passed, the teacher advised me to start to think of another person to interview, 'Like maybe the local vicar?' (who speaks to a vicar when they want to speak to a god directly?).
I had just turned 16 when the headmaster appeared in the class one afternoon with an envelope addressed to me. Inside was a hand written card from Kevin Keegan, inviting me to meet him for 15 minutes when Liverpool played at Arsenal a few weeks later. In my teenage naivety I hadn't doubted for even a moment that it would happen.  I was going to be meeting my hero!
I worked on the questions I wanted to ask him over and over and over, until I almost didn't need them written down.
On 24th February Liverpool lost 1-0 to Arsenal, and I waited on the Clock End until it had emptied, before going around to the grand marble entrance hall of the main stand at Highbury. With crowds of chanting fans still waiting in the street outside, we found a quiet corner, I pushed the record button on the cassette recorder and kicked off with my first question.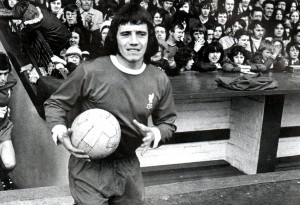 The rest of this post is for subscribers only
[ttt-subscribe-article]