Dirk Kuyt is an unusual modern player: humble, generous, hard-working and more interested in his charity than gold watches. After almost 300 games for Liverpool, he has sealed a cut-price move to Fenerbahçe, and I wish him all the very best.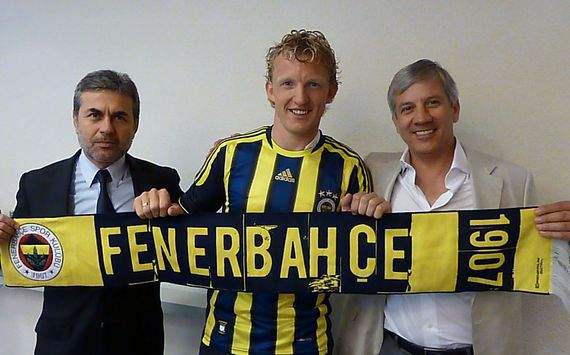 While his first-touch could range from very neat and tidy to a 40-yard scuff into Row Z, he remains a hugely intelligent footballer, making up for any lack of technique with brain power and hard work (to quote Meatloaf, two out of three ain't bad). His incredible fitness was legendary (Kuyt's, not Meatloaf's), and to me at least, he was like Sami Hyypia in terms of being one of the few footballers I'd hold up to my son as a bona fide role model.
A lot of fans were saying that, with the appointment of Brendan Rodgers, it finally felt like the end of the Rafa Benítez era; Hodgson, we dearly hoped, would only be temporary (and, thank god, was), and Dalglish was only ever intended to be temporary. Slowly but surely the Spaniard's key players have moved on, and now, with the departure of Dirk, another vital one has said farewell. Several still remain – Reina, Lucas, Agger, Skrtel and Johnson – but it's now further diluted.
To me, it's another sad day, after a string of many such days in recent times; but change is not to be feared.
I'd actually half expected to see the Dutchman to stay, given that his hard-pressing style and appreciation of space seemed right up Rodgers' street, but of course, there are better passers to be found. And Kuyt apparently had a clause that allowed him to leave for just £1m. He certainly wouldn't have got three-year contract at Liverpool under FSG, and that's the way it should be for players aged 32 and above. At that stage, players can 'lose their legs' as Bob Paisley put it, and a year at a time makes sense.
A one-year rolling contract was good enough for Dennis Bergkamp at Arsenal, after all; and while Dirk doesn't have Dennis' skill, he has already played more games for the Dutch national team, which tells a story about his unique quality and endurance. The issue for Kuyt at Liverpool seems to have been more about playing regularly, and all players reach a stage where, with the light dying on their careers, they want one last hurrah.
The rest of this post is for Subscribers only.
[ttt-subscribe-article]