Pre-match stats
Swansea have failed to score in their last five games in all competitions against Liverpool.
Swansea have won just one of their last eight Premier League games.
Liverpool have failed to score on the final day in the past two seasons.
But the Reds have lost on the final day only once in the past eight seasons.
Against Chelsea on Tuesday night, Liverpool missed their fifth penalty of this league season, becoming the first team since 1998/99 (when collection began) to miss five in one PL campaign.
The Reds have now scored four or more goals in a game in every season since they returned to the top-flight in 1962.
Swansea have mustered just three attempts from fast breaks this term, a league joint-low.
The Welsh side have made an average of 62 passes per shot attempted in the Premier League this season, 17 more than any other team (Fulham – 45).
Stewart Downing has failed to hit the target with each of his last three penalties, and hasn't converted any of his 72 shots this term.
Liverpool are the only PL team to have lost every away game they have fallen behind in this season (nine in total).
Starting XIs and overall shapes
Rodgers made only one change in his personnel following the loss at Old Trafford, Britton replacing Gower at the base of the midfield trio. Unsurprisingly the team kept its 4-3-3 formation.
Dalglish kept his front six players following the inspiring performance against Chelsea last week, making changes to his back five only. Reina was replaced by Doni, while Skrtel missed the game due to a scheduled nose operation. His place was taken by Kelly, which forced some readjustment to the back four positions – Agger came alongside Carragher, Kelly on the right and Johnson at left back. For a second match in a row Liverpool started with a sort of 4-2-2-2 formation.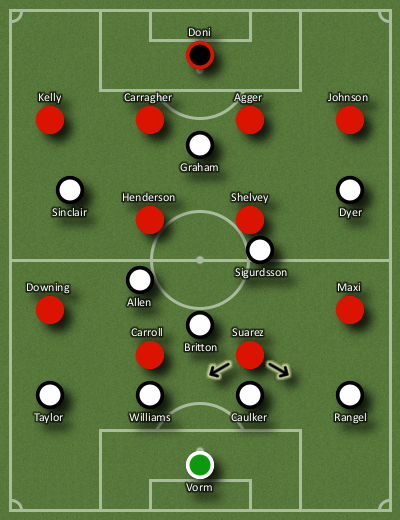 The match
As expected, the clash offered some really interesting tactical battles, with the teams using different formations and different types of overall strategy. Throughout the whole match the teams battled with each other to try to impose their own strengths, but in the meantime being cautious in terms of not giving an opportunity for the opposition to take advantage of their weaknesses.
With such different tactical plans the match went through different phases and periods of each team neutralising the opposition and in turn dominating. Hence my main focus will be on these different periods and how the overall tactical battle panned out.
Subscribe now to read Mihail's tactical anaysis of the game
[ttt-subscribe-article]