It was strange travelling up to Liverpool with the same two mates who accompanied me to many a game at Anfield (starting in our dim, distant pasts, when we were all childless and carefree and almost full of hair), only this time without a fixture taking place. (The last time we made the same journey without a game taking place was when we got to Liverpool, only to find the streets strangely deserted when walking up to Walton Breck Road; having not heard that the match had been cancelled due to Princess Diana being killed the night before).
My original aim was to spend this weekend on Merseyside, and take in the United game, followed by Rafa's talk at the Empire on the Sunday evening. But my dad's declining health meant that I didn't want to be away from the hospice for more than 24 hours. Having already bought my own ticket when the 'evening with Rafa' was announced, the man himself later sent me two VIP passes, and it was hard to miss out on a unique night.
As I was obviously a big supporter of Rafa, many like-minded people gravitated to my work, and he still remains very popular on this site. (Just because we've moved on in terms of being fully behind Kenny, it doesn't mean we have to ignore the recent past. Most intelligent fans could see through the bullshit written about Rafa, after all. Some have tried to do something similar with Kenny, and we won't tolerate that, either. If you must criticise, stick to the facts.)
As such, quite a few of this site's subscribers (and writers) were present, so it was nice to briefly meet most of them shortly before the event commenced. Of these, a few also had VIP tickets, which involved the chance to say hello to Rafa after the show, and get a picture taken. The only problem here was that it was past midnight, and the queues were still snaking around the corner.
The event itself was informative and entertaining, with masses of love in the room for the man on the stage. A largely scouse crowd gave Rafa a five-minute ovation when he took to the stage, and applause and laughter regularly broke out as he shared myriad anecdotes with the host, Steve Hothersall.
Rafa took the crowd on a journey from his difficult early days as a very young manager in Spain, before touching upon his first success, in getting Tenerife – with a certain Luis Garcia on loan from Barcelona – promoted to the top flight.
Then came the incredible achievements between 2001 and 2009 at Valencia and Liverpool respectively (two La Liga titles; one Uefa Cup; one FA Cup; two Champions League finals, with one obviously won, and a further semi-final; plus the highest-ever points tally – 86 – for the runners-up in the English top division).
And finally, onto the period when things didn't go as planned, and his thoughts on why things didn't work out.
He spoke on a couple of occasions about how well Kenny Dalglish was doing, and how the new owners seemed to be saying and doing the right things, and also included the 'Director of Football' (Damien Comolli) in his praise. He said that the club 'felt right' again, after the madness of Hicks, Gillett and Purslow. He also thanked SoS for helping rid the club of that particular pair of Americans.
Rafa's ambition remains to return to the job at some point, but long into the future, after "Kenny has won lots of trophies and retired". In a quiet moment, a big booming scouse voice bellowed out from the stalls, "I miss you Rafa!", to much laughter and applause. If Kenny can return after 20 years, why can't he?
There were tactical chalkboards, taking the audience through the changes at half-time in Istanbul (including "Djimi, go take a shower"!), with video evidence of how these alterations proved successful. He acknowledged that the Reds were also lucky, but later spoke of his frustration of 2007, when, unlike in 2005, his side deserved to win. (Funny how none of his critics, who said that he was lucky in 2005, neglect to mention that, overall, the Reds deserved to win one of the finals, and AC Milan the other. It says a lot about football that it just happened to be the ones the clubs didn't win.)
There were charts on how successful zonal marking actually was – a case of looking at the stats, rather than taking the Andy Gray approach of overreacting to the occasional goal conceded this way, as if it was the norm, and ignoring the 100 corners which were successfully defended. (And similarly, the likes of Gray could see three man-marking goals conceded in a single game and never once say "that's the fault of man-marking"; only the players got the blame for those errors, never the system or the manager.)
In the second half, I'm proud to say that this site's Andrew Beasley got an unexpected mention, on account of his stats – which I circulated on Twitter some time back – about how Liverpool actually had a better points per game rate after the supposed 'Rafa rant' (puke) than before it. So much for that costing the Reds the title, then. Indeed, it wasn't long after the rant that the Reds went on an incredible winning run, in what was the best few months of Rafa's reign; four put past each of Arsenal, Chelsea, Real Madrid and Manchester United, and five past Aston Villa.
I also got a mention, halfway through the first half, in relation to the figures I produced for this site (and in Pay As You Play) on Rafa's spending, looking purely at the players he bought and sold.
As such, I thought I'd better take a bit of time to explain what he was referring to.
While a manager's net spend is more revealing than his gross spend – after all, if you have to sell a good player to buy another good player, you still have only one good player, despite two transactions – it's perhaps more revealing to look only at his own purchases (and their later sell-on fees). After all, net spend often includes the unfair task of selling a predecessor's duds.
My argument has always been that Rafa inherited a fairly strong spine (lacking a centre-forward, mind) from Gérard Houllier seven years ago, but that by the time Rafa took over, Hyypia and Hamann – two bedrocks – were in their 30s. Henchoz was also 30 (as were several squad players, including Smicer), and given that funds were tight under David Moores in comparison with the new, richer owners around the league, it didn't leave much chance to sell Houllier's players to raise cash in order to improve the squad.
Hyypia and Hamann were rightly kept on for a few more successful seasons, until they left on free transfers, having served with distinction. Other ageing players left quickly, often for nothing.
Then there was Harry Kewell, easily one of the club's most talented players, but never fit, and therefore not a saleable or reliable asset; and there was also Markus Babbel, whose terrible two-year illness robbed the Reds of a great right-back, as well as a sell-on fee. Two horrific compound fractures reduced Houllier's Djibril Cissé from a £14.2m club-record signing (roughly £30m in today's money) to a mediocre asset at best, even if he was hardly the composed striker the Reds were crying out for. Hardly the story of a lucky manager, inheriting that lot.
Given that Houllier's best buys tended to be older players – incredibly, in six years, the only really successful, value-for-money signing who was under 25 was Riise (and even he was very good, rather than amazing) – it meant that most were past their sell-by date (in terms of a fee to reinvest).
This meant that the younger ones who were still around in 2004, including Diouf, Diao, Traore, Cheyrou, Vignal, Biscan, Le Tallec, Sinama Pongolle, Kirkland and Baros would be sold for less than £18m combined; or just £1.8m each for those 10 players, who had cost more than twice as much just a few years earlier.
Aside from selling Steven Gerrard, who was home-grown and being courted by Chelsea, who else in the 2004 squad left to Rafa would have generated an above average fee at that time? Michael Owen, the other major asset, left on a reduced pre-Bosman fee of just £8m (£6.2m less than the Reds had committed to pay for the inferior Cissé) … but who was worth more than £8m, at a time when both Chelsea and Manchester United were paying £24m+ on several occasions?
The point Rafa was trying to make related to how much his own signings had, on average, increased in value.
Since being sacked, several more of his signings have been sold; this does not go towards Rafa's 'net spend' figure, which by conventional measures ends the moment a manager is no longer in the job – but it does show how shrewdly he invested overall.
Like any managers he had his fair share of flops, but rarely did he lose too much money on a player (just £3m was lost on the quickly-offloaded Robbie Keane, for example, who failed to gel with Torres; meaning that the one and only exception will be Aquilani, even if he is now playing on loan for the Italian champions. Aquilani may end up being the only player that Rafa loses more than £7m on. Glen Johnson is the next-likeliest, but has been successful when fit, and only recently turned 27.)
By contrast, big profits were made on Xabi Alonso and, seven months after the manager had cleared his desk, Fernando Torres. Javier Mascherano was fairly expensive to start with, but held his value and moved to the best club team in the world.
A profit was made on Yossi Benayoun, even though he was 27 when bought and 30 when sold. Pepe Reina was the subject of a £20m bid from Arsenal last summer, but thankfully he is still a Red. Lucas Leiva, Martin Skrtel and Daniel Agger have all proved quality additions, with two of the three (Agger and Lucas) in the best current XI, and still only in their mid-20s.
Of Rafa's best buys, only Kuyt is now too old to recoup a major fee, although like Hyypia and Hamann, he's been worth keeping into his 30s. Interestingly, Rafa noted that in 2006 he had the choice between Kuyt (£9m) and Daniel Alves (c.£13m), and at the time saw the need for a striker as greatest; but even though both players were relatively cheap considering their quality, Liverpool, without the riches of Chelsea and Man United, couldn't afford both. It was a case of constantly compromising, whilst being expected by unrealistic critics to win the title.
Profits were also made on Arbeloa, Ngog, Ayala, Insua, Crouch, Sissoko, Mavinga and Bellamy, as well as Leto, who failed to get a work permit. A profit was also made on the underrated (if admittedly unspectacular, and decidedly moody) Voronin, although it's fairly easy to make a couple of million on a free transfer.
Based purely on the time since Rafa left the club, and therefore excluding those already earmarked for an exit while he was still in charge, an incredible £90m+ has been raised by the sale of a handful of his purchases (for which, roughly £55m was originally spent).
Of Rafa's signings (and in total contrast to those of Roy Hodgson), quite a few still remain, even after two big overhauls seen since the summer of 2010, which has seen 15 new players arrive.
Still present are Reina, Johnson, Agger, Kuyt, Lucas, Skrtel, Maxi, Shelvey, the young Hungarian goalkeeper Gulacsi, plus teenagers like Sterling, Wisdom and Suso, who surely have very bright futures in the game.
At least five of those are still first XI players, and the total fees paid for the lot (excluding the youngsters) is more-or-less £50m; or exactly what Liverpool received for Fernando Torres in January. And if they were all sold today, they'd fetch around £70m. (More, if Agger could stay fit.)
While Hodgson had to operate on a tight budget, his seven signings still lost the club money, and in an incredibly short space of time at that. His one success – Meireles – was sold for just a fraction more than what was paid. Joe Cole is out on loan, as any transfer value dwindles due to age (even though he's doing well in France, albeit with Liverpool subsidising his wages), while fellow free transfer Fabio Aurelio's worsening injuries have shown why he wasn't offered a new contract by Rafa, despite the player's undoubted talent and the manager's clear fondness for him. Brad Jones represents £2.3m that won't be recouped. Danny Wilson is young, and has time to prove himself, but is not really progressing thus far. And the dreaded pair of Poulsen and Konchesky cost almost £10m combined, and left for about a third of that amount.
With a profit of just half a million pounds made on Meireles, the rest represent a loss of at least ten times that amount.
Looking back to 2004, Rafa had a fairly similar amount to spend, but as well as two very cheap flops who were later sold for what they cost (Josemi and Nunez), he bought Luis Garcia and Xabi Alonso. So while Hodgson's purchases added nothing new or special to the side he inherited – and therefore contributed to his own struggles – Rafa brought in two game-changers, who scored and created plenty of goals, and helped the Reds win trophies.
(This is not designed to denigrate Hodgson, merely to show the comparison between a manager who succeeded in many areas but was lambasted by the press, with one who, despite difficult circumstances, failed to get things right from the start, and was excused for those failings. Ultimately, even in Rafa's one bad season, the team won a greater percentage of games, scored a lot more goals and had a far better goal difference than we saw in those mad six months last season. And while Rafa noted that Hodgson claimed he had to put up with Gillett and Hicks for three months – fair point – Rafa had to put up with them for three years.)
So anyway, all of that might better explain the subject Rafa briefly touched upon, but the nuances of which might have been beyond someone speaking in his second language, to a crowded auditorium.
After the show I stopped by to say hello, and the first thing he did was ask how my dad was doing. When we got onto football, he tried to explain what he was getting at when discussing my figures, and therefore maybe the previous few paragraphs will help clarify his point for anyone who was there!
You may have read other reviews of the event by now, so I won't go into any more detail. Suffice it to say that the evening was a big success, judging by the reaction of the audience and the fact that the venue was absolutely heaving.
Hopefully Rafa will find a job where the club is looking to buy players rather than offload them (Liverpool under Gillett and Hicks, and Inter Milan, who became a selling club as soon as Mourinho, who'd spent heavily to bring massive success, moved on; Jose providing the boom, Rafa inheriting the bust. Still, he did add the World Club Championship and Italian Super Cup during a brief stay, and had taken them into the knockout stage of the Champions League with a creaking team averaging over 30 years old.)
For me, Rafa remains an important part of Liverpool's past, and yet for all that I celebrate (and proudly defend) that, I don't go around trying to imagine him as part of the club's future. If he returns at some stage, of course I'd welcome it (if the circumstances were right), but I'm concentrating on backing the current regime to succeed. As, indeed, he is.
That said, in some ways Rafa remains current. As mentioned, a fair few of his players remain in the side – and so every week we discuss them – and hardly a week goes by when he isn't unfairly sniped at in the papers. He'll move on to other jobs, but his wife Montse's Foundation – for whom the event was organised – will continue to raise funds for the charities of Liverpool. And that, like so many things with the Benítezes, is to be applauded.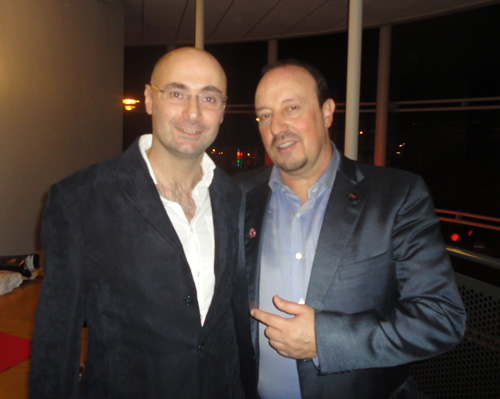 Bald, 'starry-eyed blogger' with 'fat Spanish waiter' (© people who don't like us)