Strangely, there seemed to be a fair amount of negativity from a fair few fans after Liverpool's victory over Arsenal. Perhaps the Gunners' problems had been overplayed to the point where there was a sense that the Reds were going to face some mid-table side.
Of course, even going away to mid-table sides still favours the home team. Last season, Manchester United never won away at an above-average side, but still bagged the title. Away teams win all the time, of course, but the odds still heavily favour the team in its own arena.
Let's remember that Arsenal still had their first choice keeper. They had their usual keeper, plus Sagna, Vermaelen, Koscielny (briefly), Nasri, Walcott, Ramsey, Arshavin and Van Persie; and remember, Liverpool went to the Emirates last season with an 18-year-old right-back and, before too long, a 17-year-old left-back. So it was a case of role reversal in terms of rookie defenders.
(The other week some numpty on the Sunday Supplement said that Liverpool "collapsed" at the end of last season; two defeats is now a collapse. According to TTT's Andrew Beasley, Liverpool are averaging 1.85 points per game under Dalglish since his return, with 1.79 enough to guarantee 4th place in the last 16 years.)
Liverpool had no right to go and expect to win at the Emirates, but thankfully they did. By two clear goals, and for the first time since 2000. Pepe Reina leads the Premier League for clean sheets most seasons, but this was his first against the Gunners. The Reds had more shots, more possession and scored more goals. Not many teams do that at Arsenal, no matter what team the home side puts out. So, let's appreciate that.
Liverpool also started the game without Suarez, due to his Copa America exertions (he wasn't even 'supposed' to feature in the first two games of the season), as well as Glen Johnson and Steven Gerrard. Liverpool were bedding in four new players, and half of the outfield ten were not even at the club at the turn of the year.
So, while Arsenal clearly had greater problems, Liverpool were not at full-strength either, and after the disappointing draw on the opening day, the Reds could have found themselves in the bottom three had they lost; there seemed a little bit of pressure building around the fixture. After the sinkhole that was the start of last season, we know how that needed to be avoided.
Despite all this, I still saw plenty of criticism of Andy Carroll and Jordan Henderson after the game. I was actually more frustrated with Charlie Adam in the first half, after his bright opening 45 against Sunderland, but after the break he kept things ticking over nicely and didn't misjudge all of his 'killer' passes (which, in the first half, mostly went into touch).
Last week, Henderson reminded me of Oyvind Leonhardsen: get the ball on the wing, stop, turn back, give it simple. And repeat. But it was the lad's debut, against his boyhood club, and in those circumstances he can be forgiven playing it safe. He can play out wide, but he was much better against Arsenal in a roaming central role.
Across both games he had a passing success rate of an incredibly high 89%. Even against Arsenal he didn't make many ambitious passes (Forward: 41% Backwards: 27% Left: 10% Right: 22% via @EPLIndex). But he was very good at finding space and then finding a red shirt with a first-time pass. If you can play quick, one-touch passing in the opposition half, you already have some Liverpool DNA.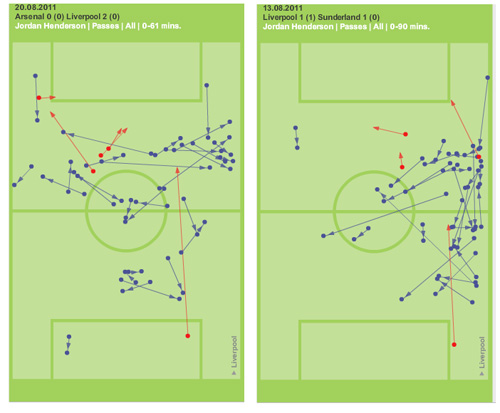 Henderson vs Arsenal (first 60 mins) / vs Sunderland (subbed 60mins)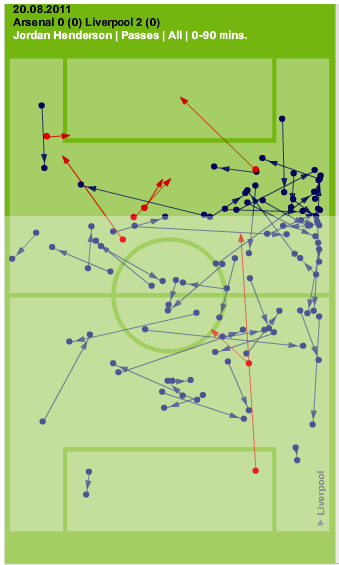 Henderson vs Arsenal, full 90 minutes (final 3rd emphasised)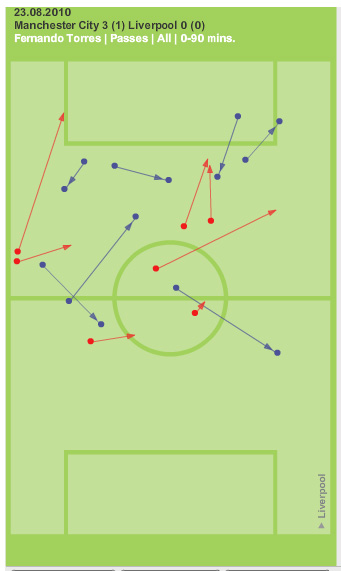 Torres vs City (subbed on 78 minutes)
I'm also not sure what people expect of Andy Carroll; rather than viewing what he does well, it seems to be a constant case of "was that worthy of a £35m player?", as if everything has to be remarkable.
He definitely has more to deliver, that's for sure, but he's done fairly well in the first two games, and for the most part Liverpool haven't resorted to hitting long to find his head. Forget his price tag, and view his contribution as part of a team effort; if Liverpool win a lot of games with him in the side, then it's working.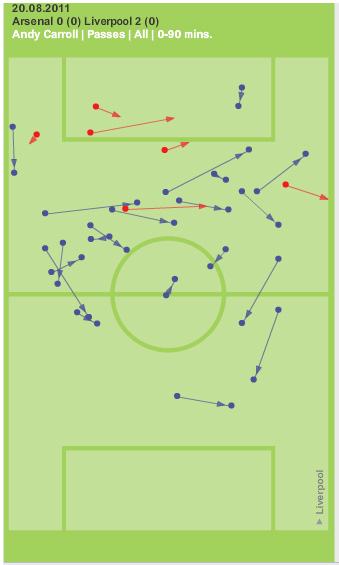 Carroll vs Arsenal
I only have to mention the name 'Aguero' on Twitter before I get a raft of messages saying that he cost the same as Carroll. In terms of the transfer fee, yes. Add wages and Aguero costs at least twice as much each week, and gets paid beyond the limit of Liverpool's pay structure. Break that, and then you have to give pay rises to all your best players, and suddenly it's costing £30m more per year in wages just to add one player. City can afford a massive wage bill; Liverpool can't.
(Finally, Liverpool can't offer the Champions League right now – and to players, that's like the World Cup: they want to be there. It satisfies their professional desires, and it raises their profile. If they are also greedy for more money, being in the Champions League usually sorts that out, too.)
Against Arsenal, Carroll forced a fine save with a header. He showed presence of mind to lay the ball to Kelly for his shot that hit the post, after Adam's clever ball had played the striker too wide. He set up Downing for a disallowed goal for a slight nudge that was penalised, as happened when he scored against Sunderland (and yet Arshavin was allowed to produce a two-arm push that sent Kelly flying! Refs, eh?)
Above all else, as the lone striker he went up against the superb Vermaelen and his various defensive partners, and gave them a good battle.
The 4-5-1 (morphing into 4-3-3) system that the Reds deployed hinged on runners playing off the spearhead striker. Carroll gives Dalglish that option.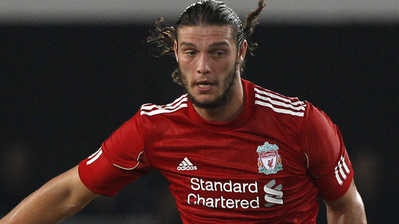 Contrast this with the game precisely a year ago: going to Manchester City (another tough away match) in the second fixture of the season with a flat-fronted 4-4-2, which, in the build up, the now disgraced Andy Gray said would "really please the Liverpool fans", as it was far more attack-minded than the teams Benítez used to select (when not getting beat there).
Liverpool had no control of the midfield, or any aspect of the game, and lost 3-0. In four wins and one draw since January against last season's top four, Dalglish has yet to field a out-and-out front two, with Suarez, when paired with Carroll, drifting all over the pitch. Home victories over Manchester United and Manchester City, and away wins against Chelsea and Arsenal, plus another draw away at Arsenal, have been achieved without the need to go for an old-fashioned 4-4-2.
Yesterday, Carroll and Henderson (whose job it was to support the no.9) made 86 passes, 73 of which were successful. Against City 12 months ago, Torres and Ngog made just 39 passes, only 26 of which were successful.
At City, Torres was forced to play slightly deeper than Ngog, which, given his paltry seven successful passes, was a waste of time and space for a player who only comes to life in the final third. Come forward a year, and Henderson had 7.6 times as many successful touches at the Emirates, but get this – in exactly the same areas. (Torres had 73% of his touches in the City half, and 34% in their final third; Henderson had 72% of his touches in the Arsenal half, and 32% in their final third; virtually identical.)
At City, Ngog, the most forward of the two 'similar' strikers, had 78% of his touches in the City half, but yesterday Carroll had 84% of his in the Gunners' half.
Obviously the game took on a different dynamic once Liverpool were behind at City in 2010, but it does highlight how 4-4-2 is often wrongly perceived to be more attacking; it's not the number of strikers on the pitch that defines a team's attacking intent and capabilities, but a whole host of factors.
The key thing about the victory over Arsenal was that Liverpool had more efforts at goal from within the area, whereas beyond the Arshavin push that led to Van Persie's shot, the home side were reduced to shooting from distance (Frimpong, Nasri).
Both of Liverpool's goals were from working their way into the six-yard box, while as well as two first-half headers (Carroll and Henderson) on target from around the penalty spot, Kelly and Downing went close from well inside the area. (Henderson's was the weaker effort, but Kuyt's clever lob into space had no pace on it, making it far harder to head at goal with power.)
'Shots on goal' remains a fairly meaningful stat – you need to shoot to score (or bounce the ball off an opposition player … ) – but working good goalscoring chances inside the area is far more encouraging for a team's long-term chances than continually shooting from distance. (Quality, not quantity, being vital.)
After all, two of the Reds' 15 efforts overall were from the halfway line, and as such were largely a waste of time. However, excluding the first goal, Liverpool had seven shots in the area (three forced good saves, one hit the post), to Arsenal's four.
Even when Carroll didn't win the ball, he did the next best thing, and made it difficult for the defenders to make perfect contact, and therefore harder for them to build their own attacks.
It can be frustrating watching Carroll try to chase a ball in behind defenders, as he's obviously no Torres at his prime. As an individual, he's a downgrade on the Spaniard at his best, but the deal allowed Liverpool to get the sublime Luis Suarez as well.
Liverpool now have more options, and between them, Carroll and Suarez can offer more than Torres on his own (especially the moody version we saw last year). In this game, Carroll wore the Arsenal defence down, and Suarez came on to take advantage of that, as well as the space an extra man gave the Reds. (It's worth noting that, perhaps due to frequent experience of it, but also due to their possession-based approach, Arsenal often do well with ten men.)
Presumably the exclusion of Aquilani, Ngog, Poulsen and Cole means that they are likely to leave before the window closes. If they are not making the squad when the bench isn't quite at full strength, then it may well be time to bid them all farewell.
Suarez and Meireles came off the bench, but Maxi and Skrtel remained unused subs, which shows that there is a lot more depth there now; even if one or two new additions would add extra weight.
For all the talk of the English (and Scottish) players being brought to the club, the two FSG/Comolli/Dalglish signings to most quickly impress have been Suarez and Enrique. Suarez is simply too good, and too determined, to stand much chance of failing, while Enrique, after a ropey start at Newcastle, has benefited from time to acclimatise to English football, and develop from a young full-back into an experienced 25-year-old who can excel at both ends of the pitch.
Of the new Brits, Downing has looked the most accomplished on the very early evidence, but it's possible to see what the others offer, even if people will quibble about the fees.
Whatever the nationality, however, the key thing is that the squad is much better than last season, with only Raul Meireles remaining in the match-day 18 from the seven signings of last summer. (The two Englishmen, Cole and Konchesky, quickly fell by the wayside.)
Challenging for the title remains remote, but four points from the first two games, including an away win at Arsenal, is a good base to build an assault on the top four. I know I'd have gladly taken that two weeks ago, and suddenly the doom and gloom surrounding preseason results seems a distant memory.