After months of positively explosive squibs, the performance against Spurs was a bit of a damp one. It disappointed because it came so quickly after the scintillating display at Craven Cottage, that was one of the Reds' best for a couple of seasons, and several convincing home wins.
It's always dangerous to read too much into one performance or result. But that doesn't stop us trying. Was Carroll disrupting the flow? Was Meireles a key absentee? Had the team already 'won' by helping secure Kenny Dalglish the job on a permanent basis, and therefore relaxed/lost focus? Was it a case of playing under little pressure for months, until the 'battle for 5th' at the weekend? And, of course, maybe the squad wasn't that good all along.
Maybe some, or all, of these are true, to varying degrees, although the Reds were under pressure when Dalglish returned, given that the side was just four points above the relegation zone. And the squad can't be that bad, to win 1.94 points a game under Dalglish, which is only a fraction under Manchester United's season total (2.o8).
It's possibly true that we've yet to see the Reds play exceptionally well, beyond the demolition of Manchester City, with Andy Carroll in the side. But while he's obviously no Lionel Messi, he does possess a steady touch and good awareness, so it's not like he'd be totally unable to participate in flowing football – but he needs to be fully fit and feeling confident.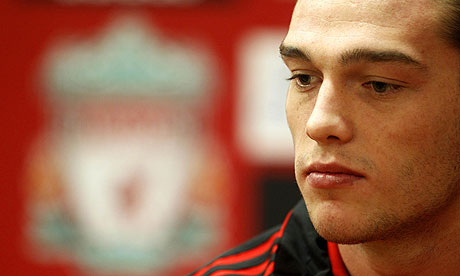 The team is not yet set up to deliver crosses into the box, so acquiring that kind of provider will help. But it's about finding the balance; not looking to him too 'long', and too early, as the Reds did with disappointing regularity against Braga, but using him as an option.
It can be a bit of a chicken and egg situation, in that the ball can be delivered too long if the team is not playing well (as a kind of panic ball when the defenders aren't feeling confident, or the midfielders are not showing for the ball), or the team can be said to be playing poorly if it opts to play those kind of balls, start conceding possession, and then looks ragged. It's not that the ball was hoofed too often against Spurs, but the incredible movement seen in recent weeks was lacking.
In some ways, even though the players are not of the same standard, we were seeing a Barcelona-type display at Craven Cottage, with mobile, clever players like Suarez, Maxi, Kuyt and Meireles constantly interchanging, but which didn't work quite as well when the big, expensive centre-forward (in Barca's case, their experiment with Ibrahimovich) entered the mix.
This post – on Carroll, attacking football and including proof of the hassles of the Europa League – is for Subscribers only.
[ttt-subscribe-article]