Like most Liverpool fans, my thoughts turned to next season some while ago. This will be the first summer of FSG, Damien Comolli and Kenny Dalglish. If the winter transfer window was anything to go by, it should prove to be both exciting and dramatic.
Comparisons, and Falling Short
This site's Dan Kennett made some points in the comments section about Liverpool in comparison with Manchester United. Dan listed the 24 United players to have played more than 15 games this season, as Ferguson continues to be the great rotator of English football.
"Fans of other teams love to snipe about players like Evans, Gibson, Brown, Owen and Obertan but you can't deny that as members 20 to 24 of the squad they're more than sufficient.

In contrast we have 22 players in the current squad who've played over 15 games and this includes Ngog, Cole, Kyriagkos, Poulsen, Jovanovic and Konchesky."

I'll put my hard hat on because, it may be harsh but I think that's six players who wouldn't get into that United squad, even ahead of the likes of Gibson, Evans and Owen."
We could of course debate this last point. In theory, Joe Cole is better than Darron Gibson; in practice, neither player has wooed the fans. Soto Kyrgiakos on a good day looks right at home at Liverpool, but alas, we also recall the big Greek on a few bad days. And while Michael Owen's pedigree far outstrips that of David Ngog – by the same age, Owen was European Footballer of the Year – it's fair to note that both are at around one goal every four games in 2010/11. (If you'd take Gibson over Cole in that he's younger, less injury-prone and with more scope to improve, then you'd have to take Ngog over the has-been Owen for the same reason.)
As I noted in a recent Subscribers-only piece, eight players seem to be of little or no use going into next season, with five of Hodgson's six signings almost certainly destined for the exit, if takers can be found. Paul Konchesky, Christian Poulsen and Joe Cole just haven't worked out, while Brad Jones has already been usurped as no.2 to Pepe Reina by the prodigious Hungarian Peter Gulacsi. Fabio Aurelio is Liverpool standard, but he's just not available often enough.
Add the headless duo of Philipp Degen and Milan Jovanovic, and possibly the likable if occasionally lumbering Kyrgiakos, and that makes eight who have either offered next-to-nothing at Liverpool, or, given their fitness records and/or age, are likely to offer next-to-nothing in the future. These eight could be shipped out without the fear of losing too much at all.
The youngest is 28, and the average age is 30.1. These aren't just surplus to requirements, they're old, too.
A ninth likely for the exit is Nabir El Zhar, a fairly ordinary player (although his pace did make for the occasional impact from the bench in 2008/09). But at 24, he may still improve, which is not the case for players like Poulsen, Jovanovic and Konchesky.
That's nine players from the senior squad, although it's a rag, tag and bobtail collection of inexpensive signings, four of whom were free (although that doesn't mean signing on fees didn't apply.) Indeed, Aurelio was a free transfer twice.
Although this is roughly a third of the 'established' squad (excluding the newly emerging youngsters), the average fee for the nine is little over a million each, and only Poulsen and Konchesky cost more than £2m. Indeed, that pair account for about 75% of the total amount paid.
While minimal fees can still be recouped in some cases, the key saving is getting them off the wage bill. At £90,000 a week, Cole is costing almost £5m a year to play the last two minutes of games, while Poulsen, Jovanovic and Aurelio won't be on peanuts. Most of the big earners at the club are not amongst this collection of 'deadwood', but the combined wages still amount to a princely sum (far more than the promising kids will be on – at least until they are fully established and earn pay rises, by which time you know that they are good enough to warrant the improved package).
Maybe
The two 'maybes' are Alberto Aquilani, who may stay in Italy even though the Juventus deadline has passed, and Emiliano Insua. Good squads need players with a lot to offer, even if they are not perfect. You just won't find any squad that has 24 players of a similar calibre, or 24 players all on form.
With this pair, it's down to Dalglish and Comolli to see if they're worth keeping, and considering as options for next season, or if there'd be more to gain by cashing in and reinvesting in new players. I certainly wouldn't class them as deadwood, or individuals I'd be happy to see the back of – I like both – but they may possess greater worth in terms of their transfer potential.
The rest of the squad is more likely to be ring-fenced. If someone offered well over the odds for a key man, then obviously he may be sold; it has to be done, as we saw with Torres. But with (at my estimate) at least nine players heading for the exit, I'd fear selling any of those who have proved their worth, and who have time on their side. Too many changes may prove chaotic. The squad needs overhauling, but not complete butchering.
My theory is that roughly only half of transfers work out. Of course, there are varying degrees of success and failure, but it's rare to buy five players and have five hits. So you have to be careful when selling your better players, based on the law of averages when it comes to their replacements.
Also, Liverpool have already been selling off their best players for two or three years now. In the case of Torres, it made sense, given injuries, form, a desire to leave, and the fee in question. And as both Alonso and Mascherano also wanted out, then that made sense, too, even if the pair had plenty to offer. But barring ludicrous bids, I wouldn't be in a rush to sell off anyone else.
Aging Rivals
One hope we can cling to is that key players at Manchester United and Chelsea are nearing the end of their shelf life. I've been saying this for what seems like two or three years, and some of the bastards just won't go gracefully. How dare they? (In fairness, while they keep playing so well, why should they retire?)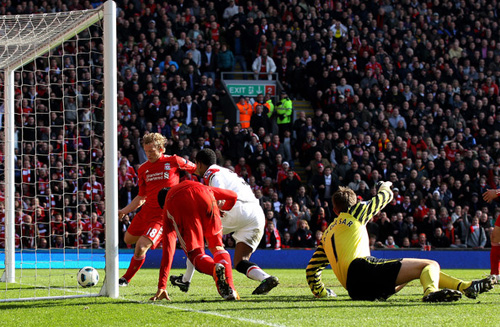 At least United keeper van der Sar is calling it a day. As we saw with Ferguson's nightmares in the goalkeeping market between Peter Schmeichel moving on in 1999 and the current no.1 arriving in 2005, a lot of a team's success can hinge on the man between the sticks; all manner of duds were bought to try and solve what is a unique position in football, and although titles were still won, they were more sporadic, and United were not the same kind of force at the time (look at their Champions League record, for starters). Any outfield player can at least do a job anywhere else on the pitch, but keepers are a breed unto themselves.
It doesn't matter how talented keepers are, if they lose their confidence and start making mistakes, it can all unravel. And the bigger the club (or international team), the more they get torn to shreds for their gaffes. A team's core stability comes from its keeper; if he's having a 'mare, then that seeps throughout the side.
Arsenal, to great cost, have spent a few seasons carrying various passengers between the sticks. Had they signed Pepe Reina last summer, they might have been champions this year. If that seems far-fetched given the way they imploded, it's worth noting how their confidence crisis began with goalkeeping errors, and mistakes by defenders in his vicinity. I may be surmising here, but I believe that defenders get edgy when around a nervous keeper, and then midfielders and forwards try to overcompensate, and teams lose games. (Thankfully, Pepe Reina is once again happy at Liverpool.)
It may cost United £15-20m for a new keeper. That will be £15-20m they have been forced to spend, following the retirement of a world-class custodian.
And it won't improve them; £15-20m, just to end up – at best – as good as they are now. But if the new keeper lacks van der Sar's coolness and reliability (borne of 800+ club games and 130 internationals), not to mention his valuable distribution, it could get shaky at the back. (It's not just dropping crosses or fumbling shots: keepers who frequently miskick are a liability.)
Age and Liverpool
If you look at key players who are currently 31 or over, Liverpool only have Jamie Carragher (33) to worry about with regard to the sands of time. Of course, players 'melt' at different rates, but it's a process that means most players are a mere puddle by their mid-30s.
Steven Gerrard turns 31 next month, meaning the famed local heartbeat of the team is in its final stages of football life. Dirk Kuyt – who, admittedly, seems to be getting better rather than worse – is another who is 30. And although not seen as a key player until the past month, Maxi is another at that same age. But that's about it.
Now look at Manchester United.
We all know about 37-year-old Ryan Giggs and 36-year-old Paul Scholes, as well as van der Sar retiring aged 40. But United have other age issues. Rio Ferdinand is 32 (33 later in the year), Wes Brown 31, Michael 'I won the title on my own' Owen 31, Dimitar Berbatov 30, Patrice Evra 30, Park Ji-Sung 30, John O'Shea 30, and expensive über-crock Owen Hargreaves is also 30. The hugely underrated Michael Carrick turns 30 in the summer, and Nemanja Vidic turns 30 early next season. Of those players, only Hargreaves and Owen have done little in a United shirt.
While some aren't exactly playing like creaking 30-somethings, a few of those are showing signs of aging; Ferdinand is a key player to whom that definitely applies. Injuries appear to be taking their toll. Perhaps he's like Gerrard: not playing as frequently as in the past, but he's almost two years older than the Liverpool captain.
United have already addressed some of these issues, with younger players slipping seamlessly into the team. Chris Smalling (21) and Javier Hernández (22) have come in and done very well, particularly the latter. Rafael (21) appears to have made the right-back spot his own. Elsewhere, Wayne Rooney is in the prime of his career, and Nani and Valencia are also in their mid-20s. No worries there.
But as an outsider (and one happy to admit that he doesn't study United too closely), I get the impression that there's a fair amount of rebuilding necessary in the coming years, with a lot of their better players past the point of selling to recoup large fees for reinvestment (in the way that selling Beckham and Ronaldo raised funds). Perhaps, in the way seen with Gillett and Hicks at Liverpool, this is where the incredible levels of debt starts to tell, with decreased investment in new players. And hell, Ferguson has to retire at some point, surely?
Maybe it's just wishful thinking on the part of a Liverpool fan, and it's never good to write off Ferguson and his players, but four or five of United's strongest XI are nearing the end of the road, and 13 of their current squad will be in their 30s by the end of the year. And when players like van der Sar, Giggs, Ferdinand and Scholes go, they take with them an incredible amount of experience and composure.
Right now, United clearly have a stronger squad than Liverpool. But it is possible to see how the gap can be closed. A first step was made by selling the fading Torres (even though he may burst back into life at some stage) and the aimless Babel for Suarez and Carroll, two players with a younger average age. Even if Carroll isn't a sensation, Suarez already is, and together they look a better bet for the future than the two they replaced for a neutral net spend.
Essential
While the majority of Liverpool older players are expendable, United and Chelsea have to face up to losing a greater percentage of essential personnel.
At Stamford Bridge, the 30-somethings are as follows: Cole 30, Lampard 32 (33 in June), Benayoun 31, Drogba 33, Malouda 30, Ferreira 32, Terry 30, and Anelka 32. Not quite as many older players as United, but perhaps a greater percentage of key ones. Again, they have their fair share of talent in their mid-20s, and some promising youngsters. But the gap in first-team quality between their squad and ours can be narrowed this summer.
At Liverpool, the players of sufficient first-team quality who are not past their peak are Reina 28, Lucas 24, Skrtel 26, Kelly 21, Meireles 28, Johnson 26, Agger 26, Suarez 24 and Carroll 22. Almost all of these nine would be in Liverpool's strongest side. At 26, Alberto Aquilani would definitely challenge for a spot in the XI, if he were to return. It doesn't mean that better alternatives can't be found to one or two of these players, but to me, these are not ones I worry about.
There are others. Spearing, at 22, is pushing towards that category with some much-improved displays (if nothing else, he's now a stronger-looking squad player – a classic 'John O'Shea' if you will), and Jonjo Shelvey, 19, has a lot of potential and character, and a fair amount of experience for his age. Another 19-year-old, Danny Wilson, has pedigree, but, as can happen to teenagers, has not looked totally assured in his few first-team appearances (often filling in at left-back). And of course, 18-year-old John Flanagan has been a revelation, even if he's got a long way to go to be considered a regular starter when everyone is fit.
And while it seems that many have given up on David Ngog, he's still a pretty good 22-year-old striker, if not one we'd like to see in the first team beyond emergencies. (Certainly no worse than Obertan in terms of being at the fringes of a squad.) If and when he returns from loan, Emiliano Insua can add depth to the squad, and Daniel Ayala has the look of a future star.
But we must remember that all the top clubs have some talented youngsters coming through, or out on loan. And all of these clubs have been sourcing top-class talent for their academies. While Liverpool may not have the edge here, it does at least now match them, ever since Rafa Benítez overhauled the Academy in 2009.
The End Is In Sight
A lot of this piece is pure conjecture. Some players go on longer than expected, and others instantly and unexpectedly melt as if left in the Sahara. Unlike my namesake (the expired octopus), I'm not psychic.
But if 32 can be considered the tipping point in a career – the point where you are officially 'old' – United, with four, and Chelsea, with three, have more to worry about when it comes to key players than Liverpool, with just one.
And by the end of the year, nine of United's best players (therefore excluding the likes of O'Shea and Brown) will be 30 or over, and seven at Chelsea, compared with just four from Liverpool.
If I were supporting either of those clubs I'd be hugely grateful for what they'd given me in the past, but nervous of how we'd cope without them.