Something of a defensive injury crisis had Kopites worrying about this fixture. Glen Johnson and Martin Kelly are both out for another month with hamstring issues, while Agger will not play again this term after injuring his knee against West Brom. Liverpool will also be without Steven Gerrard for the rest of the season due to his groin problem, limiting the options in central midfield. Jonjo Shelvey and Fabio Aurelio, however, were both fit enough to make the squad, with the latter making the starting eleven.
Manchester City welcomed back Pablo Zabaleta who had been in Argentina to care for his father who had been seriously injured in a car crash. Gareth Barry, James Milner and Edin Dzeko were all in contention for a place having been rested last week against Sunderland. Micah Richards (hamstring) and Jerome Boateng (knee) remained sidelined.
Liverpool had drawn three and lost one in their last four Premier League meetings with City (a 3-0 thumping earlier in the season). Only one of the 13 goals scored against City since August 2005 had come in the first half; even that was delayed until the 40th minute. At the other end, Carlos Tevez has a formidable record of four goals in six league matches against Liverpool.
City have won more penalties than any other team (nine); highest percentage of goals in the first 15 minutes of a match (20%); and the lowest percentage of goals in the final 10 minutes (10%). Just over two-fifths of the goals they have conceded came in the final quarter of an hour; which makes them the worst finishers of games in the whole league.
Liverpool had scored in every game for the past 13 in the league, and had lost just one of their last 11 at home. City were without a win in five away matches, taking just two points from a possible 15.
First Half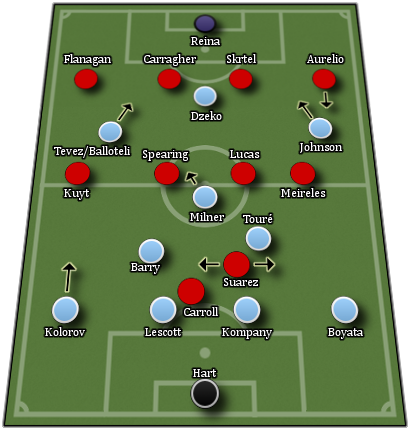 Liverpool's back four was the least recognisable, changed as it was by the injury situation at the club. Only Carragher and Skrtel survived from the last game against West Brom, playing here as the centre backs. Aurelio returned at left back, while debutant John Flanagan began his Liverpool career as a right back. The midfield and forward line, however, remained unchanged. Spearing was given the opportunity to continue his impressive form, with Meireles continuing at left midfield.
By contrast, City's back four continued from the game against Sunderland, but de Jong and Balotelli were benched in favour of Milner and Barry. Dzeko also started.
In terms of formations, both sides continued as they have for the previous few games. Liverpool went 4-4-2, with Manchester City preferring the 4-2-1-3.
In terms of strategy, this left Liverpool with the obvious conundrum of what to do with their numerical disadvantage in the midfield. Additionally, the mobility and pace of City's wide men (Tevez left and Johnson right) would pose significant problems for their full backs (one a debutant, the other coming off the back of an injury).
Dalglish and Clarke clearly demonstrated the plan early on. As in previous matches, the back four were instructed to keep it tight, refrain from going forward too often and to hold a reasonably deep defensive line. This left no space either behind them or in the channels between them. Only Aurelio made occasional forays into City territory.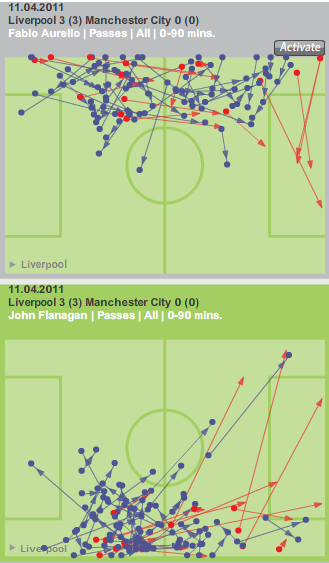 The six players ahead of them provided the attacking threat. Lucas and Spearing recycled the ball by sticking close together in the centre. Meireles and Kuyt provided width by getting into wider positions. Suarez was allowed to roam wherever he felt best, playing combinations off the main striker, Carroll.
It was an even contest early on. Both teams worked the flanks, although somewhat surprisingly the central midfielders were bypassed. The away team started to get a foothold as the half progressed. Their extra man and greater closing down allowed them to wrest control of possession.
Mancini's game-plan was evident – his team would generally come down their left flank where Kolorov could force Kuyt to come deep to deal with his running. Tevez and Milner would then try to overload Liverpool's right back, Flanagan. This failed to break Liverpool down. Kuyt was able to track Kolorov fairly comfortably, while neither Tevez nor Milner were able to create enough space for themselves nor were they adequately served by the central midfielders. Flanagan coped well in his own right, but he was also aided, when necessary, by the experienced Jamie Carragher alongside him. Skrtel was able to deal with Dzeko on his own, which allowed Carragher to play this covering role.
After the first few minutes, it was clear that Liverpool had City figured out, and could therefore start creating some attacking moves of their own. In the seventh minute they created the first good chance to score. Carroll flicked the ball into Suarez's path with his feet and as the Uruguayan cut into the empty space his hard, low shot was pushed onto the post by Hart.
Liverpool's "wingers" were not the ones providing the width here. Kuyt and Meireles tucked in to help Spearing and Lucas recycle possession. The wide options came from the two strikers who were able to pull to the flanks and create space. Dalglish appeared to tell his forward men to favour the left flank when doing this, since City's right back, Boyata, is far from a natural in that position. Usually a central defender, he obviously lacked the pace and mobility of a top-class full back. By pulling wide and then cutting in, the Liverpool strikers hoped to pull Boyata out of position, free up space down the wing for Meireles and, at the same time, break free of their marker. Villareal are famous for setting up their forwards and wingers in such a way.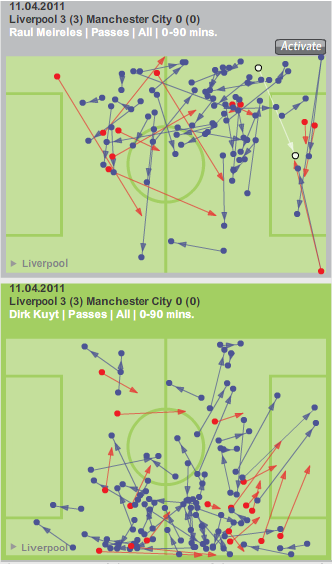 It was remarkable  how poor City's midfield three were in helping out their defence in these situations. They left a huge space in the hole between the defence and the midfield. This should never happen with the numerical advantage they enjoyed in this zone of the field. One of the centre backs was forced to pull wide to deal with the movement of Liverpool's strikers; this left gaps in the middle for the other striker to exploit, as well as giving the wide striker the option of using Meireles as a passing outlet.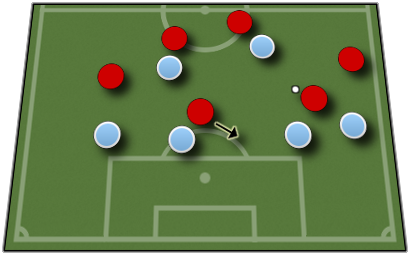 So, with the crowd rocking after Suarez's chance Liverpool gained momentum. With these huge gaps in the defence, Meireles fought well with Tevez to regain the ball. This was perhaps more memorable because it forced Tevez to come off with an injury. Seconds later, Carroll was able to hit a rebounded shot with a fierce left-foot volley and celebrated his first Liverpool goal.
City's overall game plan was being undone – 1-0 down and without the man who has scored 40% of their goals this season. Balotelli replaced Tevez on the left wing, but his work rate was obviously (and predictably) well below the Argentine. This gave Liverpool even more breathing room as it destroyed the visitors' plan of attacking and overloading the left wing.
After the goal, Liverpool were well on top. They won most of the tackles, interceptions and dictated the tempo of the match.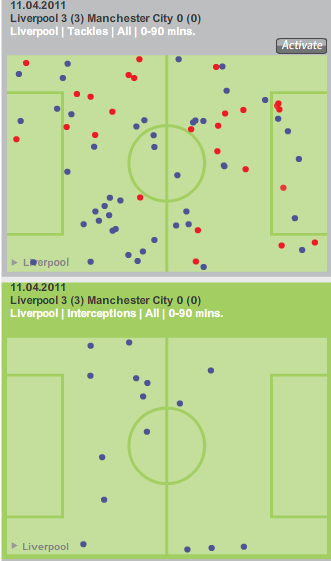 Interestingly, Liverpool did not have to rush around pressing their opponents – their positioning and decision making was good enough to keep their shape and reduce any space into which City could attack. In defence, they formed two solid banks of four, restricting all the space between the lines. This stopped Touré pushing forward and gave no room for Johnson. Dzeko never got into any one-on-one situations, and was completely starved of service. Skrtel and Carragher only had to attempt two tackles in their own penalty area during the whole 90 minutes. Furthermore, Dzeko was forced to play most of his passes from deeper positions, and only completed two passes within Liverpool's eighteen yard box. This pattern was replicated across the board, with City unable to get any penetration.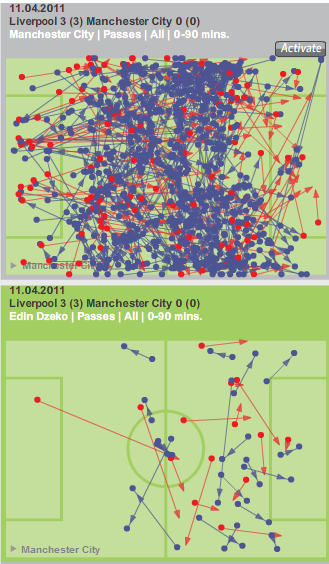 After the debacle of the home leg against Braga Liverpool have realised that they cannot be one-dimensional with Carroll up front and get away with it. Against Sunderland and in this game against City, the passing approach was mixed and balanced. Carroll received the ball at his feet as well as his head. He is becoming less the "in the air target man" and more like Didier Drogba at Chelsea. As a further development of his relationship with Suarez, he was also willing and able to drift wide and pull people out of position when required.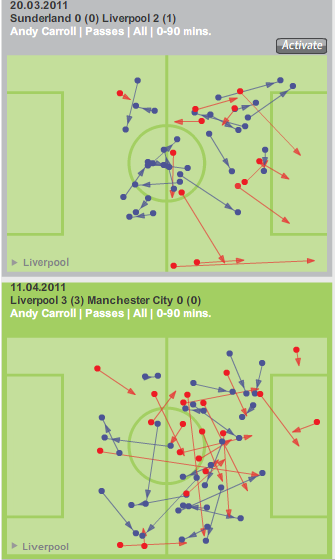 All of this was helped by the performance of Lucas and Spearing as a unit in the centre. They recycled the ball very well, with simple "keep hold of the ball" passing that allowed the team to hold onto possession. When the opportunity arose they could then play probing balls between the channels. This all-round display allowed them to defend both with and without the ball – as can be seen from their tackling and interception statistics.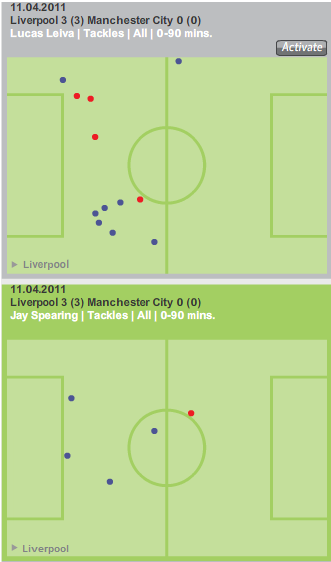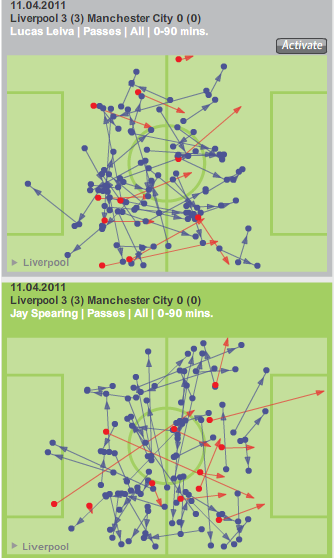 Around the twenty-minute mark, City tried to get themselves back into the game. Their attitude improved and they caused some problems for Liverpool. Mainly these came from corners or from misplaced Liverpool passes, tackles or general lapses in concentration. Johnson broke down the right flank, hoping that when he cut inside he would open up the Liverpool defence. City's best chance of the first half (possibly the whole match) came when Kolorov came forward unmarked and fizzed in a cross-cum-shot towards the far post. Balotelli had the chance to score but was unable to quite reach the ball.
Liverpool weathered this period with no great difficulty, and were able to counter attack with numbers when they regained possession. Such was the case in the 34th minute when Meireles received the ball in an unmarked position on the left-hand side of the area. He couldn't quite control it properly, but did enough to cause havoc in the City defence. It ended when Kuyt skillfully guided the ball into the far corner on the right-hand side. Carroll's determination to keep the ball in play rather than letting the ball escape for a goal kick played a key part in the goal.
A minute later and it was 3-0. City were reeling, and Liverpool once again broke through Meireles. A right foot cross from the left wing curled in towards the far post and Carroll's head was there to beat Kolorov and score his second. City's problems were blatant. Meireles had completely defeated Boyata and pulled the centre backs out of position. That left Kolorov in a mismatch with Carroll in the air. If there had been even rudimentary cover from the midfield, which nominally included two "holding" midfielders, surely this wouldn't have happened.
City were a mess, and looked beaten. There was little motivation or inspiration to at least grab one goal and try to get themselves back into the contest. Liverpool finished the first half in complete domination, despite Lescott's half-chance on 44 minutes after a decent delivery from a free kick.
Second Half
The rest of this post is for Subscribers only.
[ttt-subscribe-article]
.