Simon Fear – pro-qualified referee and Tomkins Times member – takes an uncompromising and unbiased look at the officiating in games involving Liverpool in December 2010. Was luck for or against the Reds?
Liverpool headed into the festive season with a run of games that on paper should have presented a reasonable expectation of gaining some much needed points and the opportunity to move up the table. Liverpool faced Aston Villa (H), Newcastle (A), both Fulham and Blackpool were postponed due to the weather and ended the month against Wolves (H).
Aston Villa (H) – Phil Dowd.
After last month's report, some subscribers were commenting on the fact that we had managed to avoid having either Phil Dowd or Lee Mason officiate any of our games this season (the two referees who gave us the worst decisions last season). Well we tempted fate and ended up with them in quick succession. Liverpool scored early  in the game when Raul Meireles delivered a deep corner that was headed goalwards by Skrtel. Ngog reacted quickly and threw himself full length to head home.
The second goal followed soon after when Lucas played a through ball for Babel, Babel had arched his run in an attempt to remain onside however at the point of Lucas playing the ball Babel had moved marginally offside. The assistant referee is not shown in the picture but upon viewing the video the assistant is some 3 – 5 yards ahead of play and therefore looking diagonally across the pitch which may have favoured Babel.
Babel is clearly in an offside position, but that alone is not punishable. Again 'It is not an offence in itself to be in an offside position.' A player is only penalised if, at the moment the ball is played by one of his team, he is, in the opinion of the referee, involved in active play by 'interfering with play' 'interfering with an opponent' or 'gaining an advantage by being in that position'.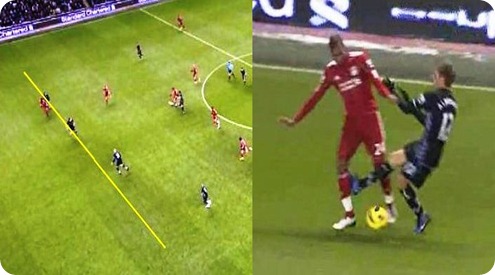 The rest of this post is for Subscribers only.
[ttt-subscribe-article]