At long last, Liverpool look like a proper team again. Not a great team, admittedly, but at least a team.
My criticisms from the summer relating to the appointment of Roy Hodgson remain, although my reactions a few weeks ago after a run of eight dire league games (and performances, which makes it even worse) obviously look increasingly premature.
All this is doing is proving that we're all wrong, and we're all right. And whatever happens from now on, the same will apply.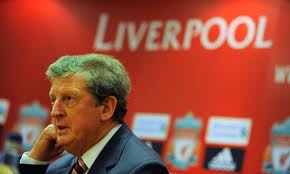 The Big Change
This is a team that crumbled under the weight of the previous owners' regime. When Hicks was ousted from the Texas Rangers, they instantly improved. That's the Hicks Effect for you.
We didn't get the usual 'bounce' from a new manager in the first quarter of the season. We got a rather scary thud.
But we are getting the bounce from the new owners – the change since they took charge is palpable – and the ridding of the club's cancerous core. Gillett and Hicks were affecting Rafa's ability to do his job last season, and their presence meant the same applied Roy this season. Had NESV arrived last year, we might still be in the Champions League, but at least the chances of getting back there before too long are improving.
Rafa was without Torres too much in the previous two seasons to first win the title and then keep himself in a job; right now, Roy is reaping the rewards of a player – presumably lifted by what he's heard from NESV, who have spoken to key players – feeling confident again.
Those who said the players were indeed good enough – at least for better than the bottom half of the table – are now being proved right. But Roy's system is looking a lot better too. So it's a bit of both.
Providing Roy can keep his public relations gaffes under control, he might even win over a few of the more serious doubters; at least to a degree. (There's a long way to go before I'll feel confident about him, but at least there's been a dramatic improvement on down-right awful.)
It has to be noted that, due to the lack of Champions League football, Roy has had the ability to rest almost entire team in Europa League.
This weekend, but for a late, late United winner, all four participants would have had poor results and all four player poorly. My arguments over the past few years was always that Liverpool didn't have the money for a 'mega squad' to cope; you can't field the 'B' team in the Champions League.
Transfers
One of my major gripes with Roy was his transfer record. His signings this summer were too old, and Meireles aside, with their best days behind them. The arrival of Damien Comolli (whose dealings at Spurs are examined here) removes that worry. Had Roy been in a real position of power, the appointment might have caused him to get uppity; as it was, he had to accept it and get on with organising the team.
Remember, this is a team that has started doing well with only a couple of Roy's players in the side. The hapless Poulsen is now part of the infamous 'B' team, where he belongs. Lucas is bringing his A-game to the 'A' team. (Edit: Alas, Aquilani is bringing his to Juventus; voted Man of the Match again today.)
You could argue that real 'Rafa' players have kept Roy in a job, just as easily as they were supposedly letting him down earlier in the season.
Maxi, Torres, Reina and Lucas – the Latin connection – have been at the heart of the recent revival. These are players who probably wouldn't come to play for someone like Hodgson, and whom he wouldn't have looked at, with his northern European bias. Kyrgiakos – a man-beast – is more of a Hodgson type, but of course, one of the so-called flops he inherited. He's been another star.
The tactics still don't necessarily excite me, but the defensive organisation is now a hell of a lot better than in the early days. Hodgson was helped by Chelsea missing three of their very best players at the start, but even so, it's hard to fault most of Liverpool's game today.
Not least because it worked. I noted early in the first half that the Reds were playing like the away side at home – classic Hodgson/Houllier. But despite this, the Reds deserved their half-time lead. In the second half, Chelsea had numerous openings but failed to put them away. So, as good as the Reds defended for the most part, Chelsea were still playing most of the football.
The Reds sat far too deep in the second half, and much of that comes from the natural flow of such games when the interval intervenes. And yes, but for Reina, the crossbar, Carragher and some bad misses, it might have all been different. (Then again, the Reds broke brilliantly in the final minute, and it could have ended 3-0.)
At Fulham, Roy was an absolute master at getting everyone behind the ball and frustrating teams; they did it at Anfield last year. But you need to be more expansive at Liverpool. Blackburn aside, the Reds just haven't done that enough, but the first half against Chelsea – particularly after a slightly cagey start – was more like the Liverpool we want to see.
Is Hodgson's approach flexible and adaptable enough? I still need convincing, especially as he's not too keen on defenders who play football (and the best teams need defenders who can play football). But it's better than it was.
Three wins in a row is great; but it's still only four out of 11.
A 36% win rate in the league is still short of Souness' 41%, let alone Houllier's 50% (a target Roy should be aiming at) and Rafa's 55%. But in the last three games, it's 100%. This is with confidence rocketing. If a dip is encountered, that will provide the next big test.
Thankfully there's more aggression in the pressing, and a less-passive Liverpool as a result.
There's not a lot of lock-picking magic in the final third, but with an eight-man defensive platform, Torres and Gerrard (as a striker in midweek) are making the difference again in front of goal. Yes, they've saved Roy's bacon, but that's what good players do: win games out of nothing. But in terms of creativity, Joe Cole has not compensated for the loss of Benayoun and Aquilani.
On the break, with space, the Reds are looking a threat. How they themselves break down packed defences remains the worry. That was always a problem for Houllier; much more so than Benítez, whose home record was far better. The similarity in approach of Houllier and Hodgson make that a relevant concern.
I thought in the summer that we could at least get back to the kind of football and the level of league achievement we were experiencing under Houllier, whose tactics were limited but effective up to a point.
Nothing has changed that; we're still not yet as good as Houllier's methodical Reds (who were often better at home in the bigger games than the smaller ones), but we're getting there.
Back in July I never expected Roy to be the total disaster he was appearing to be a few weeks ago, but maybe now he can at least steady what was becoming a violently rocking ship that, lest we forget, his own decisions and mistakes had contributed to.
Blending the best of what he inherited with the good things he can do, rather than imposing his entire Fulham approach, seems to be the way forward.
To me, Roy is a good organiser rather than a visionary.
But with the vision of NESV, Comolli and anyone else who they bring to the club, he might just see out the season. And we can reassess then.