This is a look at what awaits Roy Hodgson when he pitches up at Anfield, to take over from Rafa Benítez. It is also a call to arms to deluded fans to get real about what the club can realistically achieve with the current problems.
An excellent first XI with time on its side.
A couple of weak areas (mainly the left side), but still a lot of quality. As it stands, the following team, with a fairly young average age, could be fielded:
Reina, Johnson, Carragher, Agger, Insua, Maxi, Mascherano, Aquilani, Kuyt, Gerrard and Torres.
Of course, this could change by the time the season starts. And to be fair to Hodgson, his true inheritance will only be known once the summer transfer window closes, and he's dealt with those who have asked to leave, and also those who have been sold from under him.
With Benítez, when assessing the squad he started with (such as in "Dynasty", where I looked at all Liverpool managers since 1959), I discounted players already set on leaving due to disenchantment (Michael Owen), and included those set to sign (Cissé; although the transfer fee belongs on Houllier's record).
Therefore, losing the already-unhappy Benayoun would be down to Benítez,  not Hodgson, but so would signing Milan Jovanovic and Jonjo Shelvey.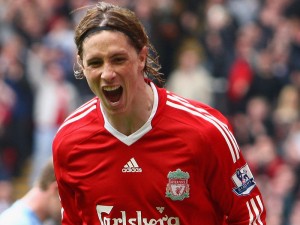 However, should Torres, Gerrard or Mascherano leave, Benítez cannot necessary take the blame: the financial situation at the club means that resisting sales might be harder than normal. Gerrard seemed disenchanted with Benítez, but Mascherano and Torres are more likely to be fed up at the way the club is being run.
And while some players may have been frustrated with Benítez, and the way last season went, the situation could have been avoided had transfer funds not been withdrawn from the manager last summer. Undermine a manager's squad, and you undermine him.
In all reality, Mascherano seems likeliest to leave. He was eyeing Barcelona last season, but the fact that he would like to work with Benítez again confirms that the manager was not to blame for any unrest on the player's part.
A mixed bag outside of that XI.
Skrtel, Kyrgiakos and Babel all went to the World Cup; none is perfect, but each has his useful strengths. Lucas featured in some of Brazil's more recent squads, prior to the tournament; should Mascherano leave, he would be a reasonably ideal replacement. Jonjo Shelvey, signed from Charlton, is likely to press for a place in the 18.
Sadly, Fabio Aurelio, having become a free agent, has left. Hopefully Albert Riera will follow him, albeit for a decent transfer fee. Philipp Degen can also expect to find himself surplus to requirements (although Hodgson does like Swiss players). Diego Cavalieri has done his two-year stint on the bench, and may be replaced by another adequate goalkeeper who won't get close to the near-perfect Pepe Reina's spot.
At 21, David Ngog remains a very bright prospect; a player I believe will be a real gem by the age of 24/25, when he's filled out a bit and gained more experience. However, I'm less convinced by Jay Spearing's long-term chances. Damien Plessis is another who hasn't really pushed on, and could find himself sold. Krisztian Nemeth did okay in Greece on loan, but injuries have dogged his progress and in terms of first-team readiness, the jury is out. (He's a great finisher, and clever player, but lacks pace, height and strength, plus fitness in the past two years.)
And then come the teenagers: Pacheco, Kelly and Ayala, all of whom appear to have what it takes to be further blooded in 2010/11. Ngoo, Palsson, Mavinga, Amoo and Dalla Valle have a chance to push for their debuts, too.
At 22, he's not really a kid anymore, but Francisco Duran is a real gem; if he can get over the three (yes, three) cruciate knee ligament injuries sustained since 2007 (and he appeared to be, towards the end of last season), then he is definitely first-team material.
Zsolt Poloskei, the 19-year-old Hungarian midfield playmaker, is another in the Xabi Alonso mould. He put in possibly the best reserve performance I've seen in years last season against Everton, but ended up being stretchered off with the same injury that has beset Duran.
A rapidly improving reserve and youth set-up.
As can be seen from the youngsters starting to seriously push for first team places, and the fact that the reserves came close to winning a second title in just three seasons, the second-string has some potential. However,  reserve coaches Antonio Gomez and Gonzalo Rodriguez are now gone, with Gomez taking over at Real Valladolid, and hoping to purchase Daniel Ayala.
From what I hear, Hodgson is not someone overly concerned with youth development; in contrast to what Benítez was trying to do at Liverpool, he is not a 'club builder', but instead someone who has not stayed in one place too long. At 62, it's unlikely he'll last the six years that Houllier and Benítez managed.
This is my main concern. Whatever people think about Benítez, and whether or not the time had come to replace him, he had fought hard (and finally won those battles) to make a lot of changes to get the 'next wave' ready to come through. It would be folly for Rodolfo Borrell and Pep Segura's excellent work at the Academy to be sacrificed at this stage. Hopefully Dalglish, as part of the Academy, appreciates this, and stresses that to his friend, the new manager.
Hodgson would have inherited a Spanish culture, at a time when La Liga is the strongest league in the world, and Spain, and its famous youth production line (in part down to Borrell and Segura at Barcelona), are arguably the best international side on the planet; but a lot of that culture is being stripped away, piece by piece. It's the 180º u-turn I feared, although that doesn't necessarily mean it's doomed (just the the precedents aren't that good. See Newcastle and England.)
By contrast, Hodgson's credentials relate mostly to England and Scandinavia, at a time when players of those nationalities are under scrutiny. (They heydays of Norway, Sweden and Denmark were in the '80s, at a time when Hodgson was part of the scene. But nowadays, English players are overpriced, and Scandinavians well below the standards of twenty-thirty years ago. Exceptions to the rule exist, but are thin on the ground.)
Equally, Benítez had worked hard to set up scouting networks in South America – the most successful continent in this year's World Cup – and has had success with Mascherano, Maxi, Insua, Lucas and Aurelio, all of whom hail from that part of the world. Liverpool are very much a Latin set-up, and Hodgson does not have much of a record with such players; his forte is more north European.
Ill-Will
Though it's surely unfair, there is already a lot of ill-will towards Hodgson. Fair-minded fans will give him the chance to impress, but there are a number of problems that were are not used to seeing.
These are as follows:
-Those running the club have never been more unpopular. Therefore, he will be seen as doing their bidding. While I don't for one moment think Hodgson is being brought in to sell the stars – that's ludicrous – he is seen as someone less likely to kick up a fuss than Benítez if forced to offload his best players. After all, he's taking the job with those realities in mind, whereas Benítez took the job based on promises of old.
-Benítez split fan opinion towards the end, but he had more support than Houllier or Souness in their final days; Evans was perhaps more liked, as 'one of our own', but most people felt he was not an outstanding manager. As such, this summer Liverpool got rid of a manager who was still respected and loved by a good proportion of supporters, and whose record up to last season was excellent, not least in Europe. Some of these fans already seem unwilling to even give his replacement a fair crack, and though that's unfair, I do understand their frustration.
-Even many of Rafa's harshest critics amongst the support are bemused by the appointment of Hodgson. Many of them were living in Cloud Cuckooland anyway, expecting Mourinho or Hiddink. When Stan Collymore campaigned on a weekly basis to rid the club of Rafa last season, Mourinho was his solution (oh, and £100m net to spend). Instead, it's Hodgson and a shoestring.
Good Will Hodgson
To counter this, Hodgson will inherit love from a boardroom clearly happy to be shot of Benítez, and be afforded a more dignified press by this country's hacks. He also inherits senior English players who, the latest rumblings suggest, wanted a home-grown boss.
While it is deeply concerning if the decision was made on that basis, if it helps keep Gerrard and, in turn, his presence helps keep Torres, that's part of the battle won.
He also inherits a beneficial scapegoat: Benítez. If he fails, it will be because 'the squad was rubbish'. If he succeeds, well, it proves that Benítez failed to get the best out of those players.
Reality
Overall, Hodgson inherits the same reality that finally stumped Benítez (a man who, in the history of the Premier League, ranks 4th* in terms of highest number of average points, behind Mourinho, Ferguson and Wenger, and well above those in 5th place and below. *Out of those managers with a minimum of three seasons).
That reality is of a club looking to improve commercially, but held back by awful owners, massive debt and a need to sell before buying. It is a club with too many owners (two) and too many chiefs (two). Most clubs make do with one of each.
Obstacles to a top-four finish: Man City's continued spending on top-class talent; the fact that United's last great team (assembled mostly between 2003 and 2007) is unlikely to be greatly strengthened but equally, is still mostly intact; Chelsea's combination of world-class players and a world-class manager; Arsenal's possession of a long-established world-class manager, their own money-printing stadium, and a long-established youth team ethic; and Spurs' ability to finally attract players for Champions League football.
Another problem is that the UEFA Cup starts early, but Liverpool still have six of their best players in South Africa (compared with Manchester United's zero). Yet again key men will not have the proper pre-season due to international football. If the Reds fall to a shock early exit, Hodgson may struggle to recover. However, these games will help sharpen the squad ahead of the opening Premier League fixture, a tricky home tie against Arsenal.
And unfortunately for him, Hodgson inherits the expectations of some deluded fans who think that Liverpool can challenge for the title in 2010/11. Yes, they exist, and I've heard from them.
So I end not with a desire to depress, but a desire to get real. Unless new owners suddenly appear and bestow great fortunes, if Hodgson takes Liverpool back into the top four he will have done a great job (especially if Torres and Gerrard have the same injury problems as last season).
If he takes Liverpool higher than 3rd, I will be absolutely amazed. If he wins the title or, within two years, the Champions League, he deserves to be knighted.