A guest article by TTT regular, Joe Pepper – one I'd be happy to claim I had written. As horrible as this season has been, there is plenty to salvage from the wreckage, so long as that wreckage isn't further obliterated by the owners and their minions.
It's the end of the season, and unsurprisingly there is an air of despondency engulfing everyone.
But for some strange reason, I feel fairly upbeat. So, what better way to celebrate than by listing my top twenty reasons to be cheerful, at least when it comes to LFC. Yes, I know twenty is a lot, but it is a long summer.
1) Hicks and Gillet are selling up.
I know there are caveats to this, such as – "Will the new owners be even worse?", and "will another buyout force yet more debt onto the club?"  The answers to both questions seem to be maybe and maybe. But from the situation we are in, what do we have to lose? The amount of cash that the club is haemorrhaging in order to service debt is such that there is no option but to hope for a change. If this is a silver lining to missing out on 4th place, then it's silver that is more silver than a Big Ron suit, and a lining thicker than Stan Collymore and Tony Cascarino sitting in the thick of a thick thicket.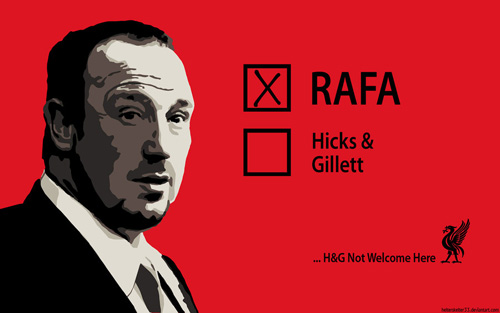 2) Benitez is staying (I reckon)
I've written elsewhere the reasons why I think Rafa will stay, both in terms of why he won't get sacked, and why he won't resign. Three words for why he won't get sacked – fifteen million quid. There are lots of other reasons too. The club won't sack a manager, with all the resulting instability, whilst they are trying to sell the club. Rafa won't leave because I don't think there are options that are attractive enough elsewhere, and because of the genuine love he has for Liverpool FC; it's no act.
Italian football looks unlikely to me, with its half empty bowl stadia, corruption, decay and hooliganism. And if the reason for Rafa leaving was because he is sick of the hassle, why would he go to Italy, or Real Madrid? England would seem like a picnic. I still think the Premier League is where it's at for Rafa, and he is in the middle of building something here. The club is buying a large number of outstanding youngsters and has just set up the new youth system with new personnel. When you add in the fact that Rafa and his family are settled in England, it just doesn't tally that he would leave.
Finally, he has the backing of most of the fans. What more do we need to say? Rafa's refusal to tell the press that he will definitely stay is a way of applying pressure to the board to provide funds for the team. In my opinion he is playing the game, not letting them rest on their laurels, and more power to him.
3) We still have the best goalkeeper, the best midfielder, and the best striker in the Premier League.
Oh Pepe Reina – my man love knows no bounds! Certainly Reina has been the spark of gold in this bag'o'shite season. With regards to strikers, as impressive as Drogba is, just look at the guy's attitude when Lampard took the penalty against Wigan. Even his own teammates must think he's a tit. For me, it's Torres every day. He just scores so many goals from nothing. He takes chances that aren't chances. He's frightening. And as for our skipper, a poor season by his standards has still shown more than just glimpses of quality. With so many off the field issues affecting him, the sooner they end the better, and we might see the Stevie of last season once again.
The rest of this post – numbers 4-20 – is for Subscribers only.
[ttt-subscribe-article]