Following on from other work with Graeme Riley's Transfer Price Index, which was developed especially for The Tomkins Times, this is the list of all of Liverpool's Premier League signings, and how much they cost in "today's money". Subscribers can also download a PDF of the entire TPI database, which contains the signings of every club between 1992 and 2010.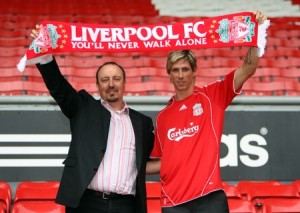 Explanation of Data
The Key below explains what the different columns refer to. CTPP (Current Transfer Purchase Price) is the crux of Graeme's system; it takes yearly transfer inflation, worked out in the same way as the Retail Price Index (i.e. based on the average of all purchases), and applies it to each transferred player to give a 2010 value.
It also shows the Relative Transfer System I developed for Dynasty: 50 Years of Shankly's Liverpool, which lists the original fee as a percentage of the English transfer record at the time.
Each player is listed multiple times, once for every season spent at a club. This then allows us to examine 'Utilisation', which takes that current value, and lists the proportion of that money in relation to games started. In other words, if you have a £30m player on your books, did you get the value of a £30m player in that campaign? (Obviously investment in players is not confined to one season.) With this data, we can see (at a later date) if the costliest squads were necessarily the most expensive in terms of Utilisation.
Using the example of Xabi Alonso, the Spaniard cost £10.5m in 2004. This was 35% of the then-transfer record. But by today's prices, that £10.5m equates to £20.5m. (To put this in perspective, some other signings around the same time now rank at £50m+.)
However, taking 2007/08 as an example – a disappointing season for him, which led to the rift with Benítez – the Spaniard only started 16 games, giving a Utilisation value of £8.6m. A year later, his Utilisation value was £14.6m.
(As the current season is incomplete, there is no Utilisation data for 2009/10.)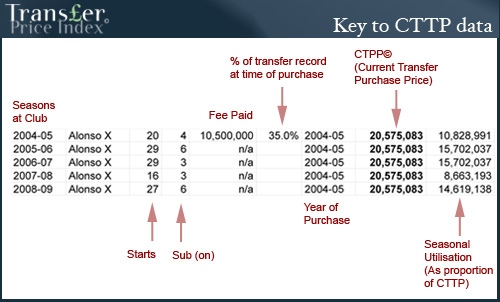 Notes: Players bought before 1992 have a D listed in front of their value. As the TPI does not cover pre-Premiership years, an 'average' inflation price is added to these players. These values are purely to help with Utilisation studies in the early years of the 'new' league.

[ttt-subscribe-article]