Late last year, Chris Rowland released From Where I Was Standing, his account of the Heysel disaster, for which I contributed the Foreword. A member of this site, I recently asked him a few questions on the experiences of 25 years ago.
What made you want to write From Where I Was Standing?
What drove me to write the book was my belief that the story had not been properly told. There was and remains a strong sense that Heysel is unfinished business. I hope it causes readers to question or re-examine what they know of Heysel.
It was the torrent of over-simplification, hypocrisy and humbug that followed, obviously from the media but also from Thatcher's government with their anti-Liverpool, anti-football agenda. Oh, and from just about everybody you spoke to about it, in the pub, at work, and of course from rival fans. I felt a burning sense of injustice about how it was being presented – the same instinct that is still prevalent regularly on this site really – and wanted to write it out of my system. There was an element of catharsis about it I suppose. I didn't like seeing our proud club being dragged through the mud. Still don't.
Heysel was the first time in over 20 consecutive years of European competition that Liverpool's supporters had been involved in any serious violence. Heysel was and still is totally alien to Liverpool football culture. If prior to Heysel Liverpool were tarred with the general English football hooligan brush, then they didn't deserve to be. They did not fit the abusive, drunken, violent, hate-filled, racist, xenophobic stereotype, did not seek to be an all-conquering army of occupation. That's what made Heysel especially hard to understand and to take.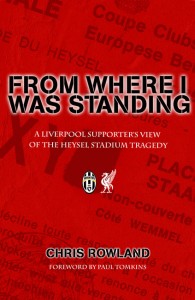 Was it an easy book to write? How long did it take?
The diary part of it was fairly easy, as the outline was written in the months that followed, so I had all that down whilst it was still fresh. The analysis was harder, and I found it very difficult trying to capture the complicated emotions that were swirling around. You have no compass for a situation like that, nothing to draw upon from experience, you have to make it all up yourself as go along.
It took years for reports to be produced, courts cases and extraditions to be pursued, other accounts to appear – remember there was no internet then, it was nowhere near as easy to gather information as it is now, you had to go into libraries and pour though newspapers. As each new snippet appeared, I tried to weave it into what started as just a diary.
I thought about trying to get it serialised in the Liverpool Echo, and sent off some samples. They liked it, and asked me to send the whole thing. It duly arrived on the sports editor's desk – on April 15th 1989, when I was on my way to Hillsborough. I got a letter back saying that in the circumstances they wouldn't be pursuing my book any further. I'm still amazed by that today.
The book that's out now is a very different, expanded version of what went to the Echo that day. I kept adding to it, rewriting, polishing, tightening up, adding bits and removing other bits to capture better what I was trying to say. I also had to re-enter it all on to a computer, as it was originally typewritten, which sort of dates it! Then I left it, before realising that it's no use whatsoever sitting on my computer, I should try to get it out there into the public domain. Only now there was a new outlet – fan websites. I was familiar with your writing and books, so contacted you to ask for help. The finished version was finally approved and signed off in late summer 2008, so I guess its gestation period was just the 23 years! Can't accuse me of rushing it.
Someone on The Tomkins Times described the book thus: "It almost 
felt like I was reading a comedy caper early on, and then slowly felt my heart unravel." At what point did you realise that something was different with this particular trip?
Well the account part of it was just like that, it was a reflection of what happened as we saw it, so yes it started out like any other European gig, just lots of fun, laughter and drinking, funny things that happened etc. But you know the ending, it's a bit like watching Titanic, all the fine dining and formal dress accompanied by a quartet playing Mozart and Bach takes on an altogether different hue when you know what lies ahead, how this story ends. Of course we had no idea what was going to transpire. I just tried to accurately capture the prevailing mood at each stage of the journey, so yes it changed dramatically.
The mood in the book, and in our experience, began to change in late afternoon, when there had been some trouble in the Grand Place, that fantastic square in the middle of Brussels. Not between fans, there were hardly any Juve fans in town, but there'd been some fighting between reds fans and police in and around the square. We didn't witness it, but we saw the aftermath, the mood had changed. But don't forget, there was an ugly mood surrounding most matches at that time, so this was no worse than what we were used to, certainly not enough to predict the cataclysmic outcome. Then again, at the time we weren't privy to the circumstances that were allowed to prevail in the Heysel, the ticket selling arrangements for Block Z, the inadequate segregation or policing, and the condition of the stadium – not just run down, but downright dangerous.
How do you feel it could have been avoided, and how easily could it
have been avoided?
The deaths at the Heysel were wholly and easily preventable. If only the normal match day precautions had been in place – nothing special, just what we had in England for every single match in the mid 1970s – then the deaths would not just have been preventable but impossible. It would have been so easy to deny ugly primitive tribal aggression its stage.
The first and most obvious factor was the ticket sales for Block Z, where the wall collapsed and the deaths occurred. 5000 supposedly neutral tickets for that section, which was part of the same end as Liverpool's main body of fans, had been put on open sale in Brussels, which has a large Italian ex-pat community. So Block Z was full of Juve fans. Unlike any match in England at the time, there was no segregation, no empty buffer zone between the two sets of fans, and no police cordon. Just a flimsy stretch of chicken wire and a few police at the back, who did nothing when trouble began. The police captain who had been in charge of security at the Heysel Stadium was later charged with involuntary manslaughter.
Then there was UEFA's insistence on using that building site as a venue, despite LFC raising concerns about both that and the ticket sales in advance. There were going to be 50,000 + fans in there, most of them on terraces where there are bound to be surges and swaying, that's what ultimately caused the deaths, you can't use a ground that cannot take a crowd surge for a European Cup Final. Any wall at that ground could have collapsed at any time under any kind of crowd pressure, not merely hooligan-induced crowd pressure.
At no point to I seek to exonerate reds fans for their part in what happened. It's just that if you create the circumstances that were prevalent in the Heysel, crowd trouble wasn't a possibility, it was a certainty, given prevailing terrace culture at the time. But what distinguished Heysel's fighting and charging from the behaviour we used to see every week without consequence was the condition of the ground. Put simply, that terrace confrontation would not have led to anything more than a bruise and a bloody nose in any ground that was fit for purpose. The game was due to be the last match ever played at the ground, as it had been condemned many years previously for failing to meet modern standards of safety and design. As a result, little money had been spent upon it, and large parts of the stadium were crumbling.
The reaction you received from the general public at the London 
train station upon returning to England shocked me. Were you expecting 
that?
No not at all, hadn't even thought about it, although it was a foretaste of what was to come. People yelling 'murderers' at us on the tube escalators, that sort of thing, the British TV and news cameras waiting for our train at Ostend station in the early hours of Thursday morning, local newspapers hassling our families back home, it as an extra dimension we had to take on board, as if we hadn't got enough to wrestle with as it was.
Obviously the death of 39 Juventus fans was a terrible thing, as
you respectfully acknowledge in the book, and something that I'm sure
every Liverpool fan wishes hadn't happened. Did anything good
come out of the tragedy? After all, it's after these kinds of occasions when people tend to come to their senses.
I find it hard to see any good that came out of it to be honest, just an endless procession of negatives, from the European football ban to the continuing mindless blame and abuse we get today (incidentally, since verton fans are so sure they would have been European champions the following season, they should remember that they weren't even English champions the following season, the reds did the double, so they weren't that bloody invincible).
I'm not sure if anyone learnt anything from Heysel. I tend to subscribe to the view that history is destined to repeat itself. Have wars stopped since the two world wars? Has UEFA learnt its lesson about being more careful about the venues it chooses to stage these high octane occasions? Istanbul, the ground 25 miles out of town on something resembling the moon and with no transport links? The chaos of Athens? Moscow? Ticket allocations, with so many shared amongst the 'UEFA football family' that clubs never have enough, so there's always pressure from that direction.
All I've tried to do is present Heysel in a wider context; there was no murder, nothing exceptional whatsoever until a wall collapsed and changed everything.
To order the book from Amazon.co.uk, priced £5.99 (£4 discount) click on the link below:
From Where I Was Standing: A Liverpool Supporter's View of the Heysel Stadium Tragedy