Note: This article was originally for subscribers only, but a mistake on my part meant that it was free to read for a day. I held a debate to see if members thought it should be made available for everyone, or if that would seem like we were whinging. Nearly everyone agreed with the content of the piece (give or take a few of the examples), but on the whole, people felt that it would seem like we were just crying foul. However, as it has been public, it might as well return to being public.
The piece was written after the Stoke game, but before the Spurs game. In the latter, the Reds certainly had some more favourable refereeing than we've seen all season. So maybe the protests worked. For the record, I thought Spurs should have had a penalty in the first half for the foul on Crouch, and that Bassong headed Degen rather than the ball towards the end of the game, which was also a penalty. The penalty the Reds won was blatant, but with regard to the Defoe goal, had he not closed down Kyrgiakos and forced the error, then it should have stood; however, as he was closing down the Greek defender before he'd even touched the ball, Defoe had to have been active. (Also for the record, I thought it was ludicrous when Djibril Cissé dummied a pass at Blackburn for Fowler to score; whether or not you touch the ball you can influence the play.)
Liverpool have benefited from some decisions this season, but, to my mind at least, have been on the wrong end of some unbelievable judgements. And it's important to know the rules; thankfully a qualified ref on The Tomkins Times has highlighted issues such as Carragher against Owen against Man United, which at the time I thought was a sending off; however, I've since come to learn that as Owen never had the ball under control, it was only a yellow card.
Anyway, onto the piece….
Liverpool's Reffing Hell – 17th January 2010
Moaning about referees (and their assistants) is a bit like moaning about injuries. Everyone suffers them, we are told. Get over it. And yet if his team suffers more than its fair share of bad injuries, and bad decisions, then a manager has his work cut out. He can only affect so much.
Liverpool have not played well for much of this season. I don't want to hide from that fact. Players who did well last season have not been at the races this time around.
By the autumn Liverpool had used 12 different defenders, including several teenagers, due to a terrible run of misfortune. That's even before looking at the absences of Torres, Aquilani and Gerrard.
But it is also a season that began with some awful refereeing decisions and a number of key players injured, not to mention Mascherano's head in the clouds over Barcelona and Argentina's World Cup problems, and Jamie Carragher, for the first time in donkey's years, looking out of sorts.
I don't see how all of this can be blamed on Benítez, even if, having done things differently (not signing Aquilani but thinking only of the short-term), then things might have been a little easier.
Liverpool did not play well at the start of last season, either. But as teams need to do, they scraped through; sometimes with luck, sometimes with fortitude. I was in (reluctant) awe of Man United a couple of seasons back, but this season they look a far inferior side, scraping by, and have had the 'luck' of six own goals going in their favour (a couple from quite woeful attempts at goal). That's football; United will get stronger again, and so can Liverpool.
Last season, Liverpool had some bad decisions given against them. But also plenty of favourable ones. It was fairly equal, as, to me at least, it appears to be most years.
But these things never even themselves out perfectly, and certainly never even themselves out in the same way every season, because there is no higher presence that says "you've been unfortunate/fortunate", so the ref in the next game must make decisions accordingly.
All teams experience fortunate and unfortunate decisions. However, as a Liverpool fan I cannot for the life of me remember a season anything like this when it comes to decisions costing the Reds. Chris Rowland, author of this book on Liverpool, a regular at Anfield since the 1960s, and a Tomkins Times member, says he can't recall a season like it either.
It's been so bad that two goals the Reds conceded contravened the rules, so we really are entering into the realms of the weird.
Before getting onto specific incidents, this does not even include a look at the treatment dished out to Fernando Torres, such as Mills' terrible late tackle from behind (no booking!) for Reading that has put the striker out for six weeks.
Perhaps Benítez should take a leaf out of Alex Ferguson's book (over Ronaldo last season) and moan after every game that his star player needs protection? Ferguson is a master at influencing the media and putting pressure on officials. (Not criticising him for it; as I've said in the past, he is going to try and gain every advantage he can. But it's up to the authorities to stand up to the man named in the Times as the most influential in the sport.)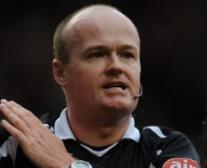 Then there's the standard of referees appointed to Liverpool. From what I can tell, Mark Clattenberg and Howard Webb are the country's top officials. Yet between them they've taken charge of just one game (now two); Lee Mason and Phil Dowd have racked up eight between them.
Why has Mark Clattenburg not refereed a game involving Liverpool this season, out of his 18 appointments, and yet Lee Mason has refereed Liverpool four times out of 13? (And why have three of the four players he's sent off been Reds, when the club only had one dismissal in the previous two seasons? One of Mason's red cards – to Degen – was farcical. That's not to mention two clear penalties at Stoke waved away, and a wrongly disallowed goal at home to Burnley.)
Goals change games. From that, good results help produce better results. And good results remove pressure, and pressure is what inhibits performance in any sport. (Under no pressure, a footballer could score 100 out of 100 penalties in training. But to score one to win a World Cup is a million times harder.)
Not all of the decisions have cost Liverpool points. Some were rendered irrelevant. Others robbed the Reds of momentum in a match. But several clearly influenced results to a large degree.
This season, Liverpool have been awarded two penalties. And yet despite the majority of games being played with Liverpool having territorial and possession advantage, the Reds have conceded three. For the record, I don't dispute any of these penalties.
When it comes to obvious, 'stonewall' penalties, what percentage can you rightfully expect to be awarded to your side? 100%? Of course not. 80%? Maybe. 50%? At worst.
The shocking, damning statistic is that this season Liverpool have been awarded only 15% of undeniably clear penalties, and 13% if you include a couple of very strong "seen them given" shouts.
That's right; 13 penalties should have been awarded, with a further two taken into consideration. Only two have been given. Even with all my obvious Liverpool bias, I find that quite incredible.
Of course, you might not score the penalties. But Liverpool's conversion rate is nigh-on perfect in recent seasons.
At the very least, the Reds should have expected five or six of those 11 stonewallers to have been given. And it's not as if the Reds have managed to get away with much at the other end; the one debatable decision was Carragher's haul back on Michael Owen against United, for which he could have walked.
But also included in my list are the two really bizarre pieces of refereeing where the official appeared to not know the rules, and a few other decisions that contributed towards costing the Reds points.
Please note that the following list does not include a single 'seen them given' handball appeal; I've discounted almost a dozen ball-to-hand incidents that you sometimes get, but more often do not.
What's also interesting is that none appear from European games, backing up my theory (but just a theory) that English referees discriminate against Liverpool because of a belief that the Kop won the team too many dodgy penalties in the past. That belief may be well-founded, but it has nothing to do with the current set-up.
Liverpool's Refereeing Woes – the List
16th Aug 2009: PENALTY – "STONEWALLER" Spurs vs LFC: 1-2, could have been 2-2. Liverpool didn't play well, but Vorinin was clearly, and unfairly, barged over by a defender cutting into his path. Right at the end of the game, so a scored penalty would have been worth a point and an unbeaten start to the season. [Scored penalty would have been worth +1 pt] To compound matters, referee did not play the allotted time, blowing up early. (Even more strange from this game is this) [Ref: Phil Dowd]
24th Aug 2009: PENALTY – "SEEN THEM GIVEN". LFC vs Villa: 1-3. Kuyt body-checked unfairly in box. Vital second Villa goal is scored from corner that, for no clear reason, is way beyond the additional time the referee added (he adds a minute, nothing extra happens, but goal goes in after two). [+1 pt or +3 pts] [Ref: Martin Atkinson]
12th Sep 2009. GOAL WRONGLY DISALLOWED. LFC vs Burnley: 4-0. Yossi Benayoun has perfectly legitimate goal chalked off for offside. In the end, meant little. [Referee: Lee Mason]
19th Sep 2009. REF GOT IT BADLY WRONG! – penalty is clearly scored with two touches on the ball. West Ham vs LFC: 2-3. Jamie Carragher concedes penalty by barging over Hines, and Diamanti slips as taking the kick. It hits his other foot, meaning two touches that deceives Reina. The only way ball can loop like that is from second touch. Should result in goal kick; goal stands. Doesn't cost points, but does make it a harder game. [Ref: Andre Mariner]
26th Sep 2009: PENALTY – "STONEWALLER". LFC vs Hull City: 6-1. No influence on the result in the end, but in the first half Vennegoor literally punched one corner clear. Surreal. [Ref: Peter Walton]
4th Oct 2009: PENALTY – "STONEWALLER". Chelsea vs LFC: 0-2; score at time of incident: 0-0. As ball comes in from corner, Didier Drogba hauls Martin Skrtel to the ground. Scoring would have given the Reds, who were playing well, a massive boost, and perhaps seen out another 1-0 win at Stamford Bridge. Highly probable Chelsea would have equalised at some point, but the first goal in big games is shown to be almost always the vital one [+1 pt or +3 pt] [Ref: Martin Atkinson]
17th Oct 2009: REF GOT IT BADLY WRONG! – illegal goal via beach ball. Sunderland vs LFC: 0-1; score at time of incident: 0-0. Hard to say what would have happened going to a Sunderland side who were then doing well, and who had been unlucky just to draw at Old Trafford in their previous game. Early goal killed Liverpool's hopes and made passionate home crowd go ballistic. A win unlikely, but of course, still possible. 0-0 [+1 pt] [Ref: Michael "Who?" Jones]
28th Oct 2009: PENALTY – "STONEWALLER". Arsenal vs LFC: 1-2; score at time of incident: 1-2. 87th minute, and Alberto Aquilani's spectacular overhead kick is saved by Arsenal defender Phillipe Senderos, who uses not one hand but two. Goal could have been big boost to Aquilani, on his debut, and Reds could have taken tie to extra-time. Although extra time could have been anybody's, defeat damages confidence after win against Man Utd, and that carries into Fulham game at the weekend. [Cost Reds extra-time] [Ref: Alan Wiley]
31st Oct 2009: REF GOT IT WRONG – sends off Degen for innocuous challenge; far less dangerous than De Jong's (see November 21st), which didn't even receive a yellow. Fulham vs LFC: 1-3; score at time of incident 1-2. With 10 against 11 there was at least a chance of a point; with nine against eleven, no chance. Carragher was also dismissed, perhaps harshly, but he had previously tugged back on Zamora, so I don't think that was unfair. [+1 pt] [Referee: Lee Mason]
9th Nov 2009: PENALTY – "STONEWALLER". LFC vs Birmingham: 2-2. Kuyt has his ankles clipped as he goes to shoot. Same game that Liverpool were awarded a penalty for the incident in which David N'Gog clearly dived, but which, according to the rules of the game, was still rightfully awarded, seeing as Lee Carsley slid right in front of N'Gog and missed the ball. Had N'Gog not dived, he'd have been fouled; in future, he needs to learn to run into the outstretched leg, in the way that a lot of the older players do. But even if people feel that the N'Gog one wasn't legitimate – even though no contact is necessary – the Kuyt one was; so we'll say 2-2, no change in points. [Ref: Peter Walton]
21st November: PENALTY – "STONEWALLER". 2-2. LFC vs Man City; score at time of incident: 2-2. 92nd minute, Craig Bellamy misses the ball and bundles over Dirk Kuyt in the box. If penalty scored it wins the game, and gives a massive confidence boost by beating a rival for the top four. [+2pts]
21st November: REF GOT IT WRONG – 2-2. LFC vs Man City; score at time of incident: 0-0. Words still fail me as to how Nigel De Jong wasn't even booked, let alone sent off, for the late, two-footed tackle on Ryan Babel, that put him out for a month just when he was finally finding some form. De Jong's a great defensive midfielder, and it wasn't deliberate on his Dutch colleague, but this was by everyone's definition of the law a red card – both feet off ground, straight into Babel's ankle after missing the ball. Just 20 minutes into the game, it was surely worth all three points to the Reds [+ already dealt with in previous entry re: Bellamy foul.] [Ref: Phil Dowd]
5th Dec 2009: PENALTY – "SEEN THEM GIVEN" Blackburn vs LFC: 0-0. Christopher Samba blatantly bundles over Lucas Leiva, but the only questionable aspect is whether Lucas was strong enough against a 15-stone giant. Then again, a foul's a foul. Could well have resulted in three points [+2 pt] [Ref: Martin Atkinson]
13th Dec 2009: PENALTY – "STONEWALLER". LFC vs Arsenal: 1-2; score at time 0-0. Arguably Liverpool's best 45 minutes of the season, and an early nailed-on, dead-cert of a stonewaller is waved away after William Gallas takes out Steven Gerrard. Liverpool ended up taking the lead, but it was right at the end of the half. An early advantage would likely have helped push home the advantage; Arsene Wenger felt his side were happy to not be 3-0 down at the break. Even Andy Gray says it's a definite penalty. [+1 pt or +3 pts] [Ref: Howard Webb]
29 Dec 2009: PENALTY – "STONEWALLER". Aston Villa vs LFC: 0-1. Richard Dunne missed the ball and kicked Dirk Kuyt up in the air. Nothing given. Liverpool won in the end – right at the end – but this decision could have proved costly. Thankfully it didn't. [Ref: Lee Probert]
12th Jan 2010: PENALTY – "STONEWALLER". LFC vs Reading: 1-2 (aet). Score a the time: 1-2. While Reading's penalty was rightly awarded, as Benayoun caught the back of the player's boot, it was in no way as much of an unfair hindrance as when Aquilani was wrestled to the ground in the box as a cross came in. Could have drawn Liverpool level. In the same game there was a "SEEN THEM GIVEN", when Degen was clipped in the box; a bit of a soft one, but then no different to Reading's. If given, and scored, it would almost certainly have obviated the absolutely disgusting media treatment of Rafa Benítez this week. [Cost Reds progress to next round and hammered confidence] [Ref: Phil Dowd]
16th Jan 2010: PENALTY – "STONEWALLER" LFC vs Stoke: 1-1; score at time 0-0. Lucas does a lovely little give-and-go and dinks the return past Danny Higginbotham. Even Andy Gray says it's a definite penalty. Hard to say if this one would have affected the result, as it was quite early and the Reds led 1-0 for a large part of the game anyway. Referee books Lucas Leiva for diving, to add insult to injury. Whether or not Lucas was already going down is irrelevant; it was a blatant penalty because Higginbotham got the man and not the ball. [Referee: Lee Mason]
16th Jan 2010: PENALTY – "STONEWALLER" LFC vs Stoke: 1-1; score at time 1-1. Fabio Aurelio delivers an unbelievably good cross in the 96th minute, and Dirk Kuyt throws himself at the ball but heads against the post. The most agonising moment of the season. But as no advantage came from it, the play should have been brought back for a clear push on Lucas. On the floor, Lucas is distraught at the decision but cannot protest as he's already been booked for, er, being fouled. [+2pts] [Referee: Lee Mason]
Total points Liverpool have lost by bad refereeing: between 12 and 18, if all decisions were awarded and all penalties converted.
If only some of the decisions had been correct – as would be more realistic – the Reds could be at least 5-10 points better off. The amount of points these could have cost is all supposition, but the gripes are valid enough.
Maybe Liverpool need someone with influence at the FA? Seems that other clubs posses this big advantage.
Or maybe Benítez should more publicly blame referees? – the one time he did, against Spurs, he was hauled up before the FA, but they pointed out that he had a very clean record with regards to this type of offence. (Graham Poll noted in FourFourTwo in the summer that Benítez doesn't put pressure on referees, unlike Alex Ferguson.)
I don't believe that the referees are in any way corrupt. But the balance of their decisions, and the odd weighting in appointing certain officials, makes me wonder why they are booked in to officiate the Reds.
Yes, that's arguably paranoia. What isn't, however, is the fact that Benítez's team has been very hard done by this season.
Dismiss my arguments if you will, and yes, I accept it probably sounds whiney, but go back and study the evidence for yourselves.