You've gotta love the media. And at the moment, the Daily Mirror seems to be running its own personal vendetta against Rafa Benítez.
Not content with the almost obsessional weekly pops at the Liverpool manager by rent-a-gob Stan Collymore (recently outed by the Liverpool Echo – which, without a hint of irony, he called a 'rag' – for hiding from Rafa Benítez in the corridors at Villa Park like a frightened little schoolgirl), now others at the Mirror are dogging him.
Now we have Martin Lipton, noted Spurs fan (hmm, who do we play at the weekend?), slating Rafa's "terrible transfer policy" and questioning whether Ryan Babel is part of that, or actually just someone who's just been made a scapegoat by the manager.
Look, and laugh: "…while the Spaniard rightly trumpets the success of Fernando Torres, the imminent departures of Andrea Dossena, Andriy Voronin and Philipp Degen are arguably more indicative of his dealing record. That trio are not the only examples…."
Lovely, isn't it, that the flops (two out of the three were nothing more than free transfers) are highlighted as the reality, making out that Torres is the exception. Classic misrepresentation.
Well, what about Reina, Agger, Alonso, Johnson, Mascherano, Kuyt, Insua, Crouch, Garcia, Arbeloa, Benayoun, et al?
Why do many in the media insist on focusing only on Benítez's mistakes? Is it because they are totally ignorant, or just plain vindictive? It must be one of the two. All managers get signings wrong, but in Rafa's case they are never viewed in context. Lipton does his best to remove all trace of balance.
Okay, a fairly expensive mistake and two free transfers (both of whom also look like being sold for a profit that will wipe out the deficit when Dossena is sold), but go on Martin, inform us of the others in this list of idiotic transfer activity:
"…Benitez has signed and sold Peter Crouch, Xabi Alonso – the latter at a huge profit – Craig Bellamy, Djibril Cisse [!], Mark Gonzalez, Luis Garcia, Alvaro Arbeloa and Sebastian Leto, to name just a few."
First of all, Gérard Houllier signed Cissé. It's a small thing called a 'fact'.
Of the other seven, only one wasn't sold for a profit!
And that was that awful waste of space Luis Garcia, who did little other than score a goal every four games from midfield (not including a single set-piece or penalty, in the way that other midfielders boost their tallies), and bagged several crucial match-winning strikes on the way to winning the Champions League. Oh, and the decisive goal in an FA Cup semi-final. I can't imagine what Rafa was thinking when he bought a player who helped Liverpool win the European Cup.
£27.5m spent and £62m recouped from that list of players, once you remove Cissé, who shouldn't be there.
Yes, it's a 'terrible' transfer policy – the kind, ironically, that Arsene Wenger would be feted for.
Without Benítez selling some of those players to raise cash (after all, Liverpool don't have owners pumping in cash – far from it!), the likes of Torres, Reina, Mascherano and others would not be at the club.
Little credit to Rafa for buying Crouch when people thought he was mad to do so, and for persevering with him during his initial 20-hour goal drought; and making £4m profit on a player who was only allowed to leave because his contract was entering its final year.
The same applies to Arbeloa: sold for profit after some good service, because his contract had run down. Not a failure; far from it.
And what manager, after five and a half years, hasn't sold plenty of his own signings? Any early signing over the age of 26 was likely to be past his best long before now.
Alonso did five years in England, which isn't bad for an import from a country with its own top league. Garcia was hitting 30, and replaced by the younger but equally prolific Benayoun (identical strike-rate, and again, no set-pieces or penalties). Leto was denied a work permit, so couldn't play for Liverpool, but was still sold for £3m, a £1.2m profit, with additional sell-on clauses in place.
For Lipton, it all seems to come back to Robbie Keane, a player who failed to show the requisite tactical understanding, and who, in his brief time at Liverpool, missed some unbelievable sitters (one against Atletico Madrid, inexcusably, with the stupidest attempt at goal I've ever seen; it was almost a sackable offence. Short of dropping his shorts and trying to score with his todger, I can't think of more idiotic attempt).
But it wasn't Keane's fault he failed. It was Rafa's, for not putting an arm around him and giving him a big old cuddle.
"Yet this was the same Keane who had scored 23 goals for Spurs in the previous season and has also notched 14 goals in 11 months since returning to White Hart Lane, evidence that he still has what it takes."
If such evidence exists, why is he rarely getting a game at Spurs this winter? 14 goals in a year, including several penalties, is hardly mouth-watering.
And as he scored 7 goals in just over five months of football at Liverpool, without taking penalties, doesn't 14 in 11 months (including four penalties) suggest that he's actually getting worse? At the very least, it's hardly firm footing for an argument.
Keane didn't get a chance at Liverpool, people tell me. Yet at Spurs he's been sat on the bench for weeks now. He was played out of position at Liverpool, I get told – yet he spent only 20 minutes on the left-wing, which was at Villa Park. At Spurs this season, he's played there three or four times.
In the league, Keane started 16 games and came on as sub for three games out of the 23 matches played by Liverpool up to 28/1/09. This gave him 1,261 minutes out of 2,070 possible = 60.9%.
For Spurs this season he has started 13, come on as sub in three out of 20 matches so far. This gives him 980 minutes out of a possible 1,800 = 54.4%.
Even if he played 90 minutes of the next three games to equal the number of games, he would still be 11 minutes short of last year's Liverpool total. (Stats courtesy of The Tomkins Times' resident statistician, Graeme Riley, author of several books on European football.)
Spurs have been doing well with Crouch and Defoe, and that's all Harry Redknapp should have to worry about.
But Liverpool did well with Keane in the side, and more importantly, even better last season once he was sold. Why was Rafa given such a hard time over his exclusion from the side, but Redknapp, whose Spurs team are not top of the league, given a free ride?
As good as Crouch and Defoe are, they're no Gerrard and Torres. But either way, if a manager has a pairing that's working, he should be allowed to stick with them. Benítez wanted to implement a new system, but once Gareth Barry couldn't be signed, he felt he had to revert to the old one (Lipton also mocks this, tactical overlord that he is). And in that, when they were fit, Gerrard and Torres were the right pairing.
Last season, in response to seeing the Irishman left on the Liverpool bench, Jamie Redknapp, a friend of Keane's, said in an emotional outburst on Sky, that "you don't treat a £20m player like that".
But it's apparently fine if your dad does.
(The same manager, let it not be forgotten, who told the world that his wife could finish better than Darren Bent – ah yes, that wonderful piece of tender man-management. It's not Harry that I have a problem with, just the constant hypocrisy.)
Lipton's latest attack on Benítez (it's not his first!) centres around the enigma that is Ryan Babel.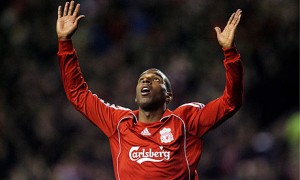 Like a lot of fans, I like Babel. But like a lot of other Liverpool fans, I think that he has to take responsibility for his own performances.
He may have been harshly treated at times in some people's eyes, but his levels of effort have been inconsistent, and his game intelligence too often lacking. He doesn't like playing on the wings, but it's where the Dutch managers have tended to deploy him.
He makes for a great impact sub, but just because he comes on and scores does not mean he should start the next game; it means he may be better utilised coming off the bench again. Too many times he's started games and just failed to deliver; such as on the opening day at Spurs. Perhaps he's best suited to when teams are tiring.
He is a talented lad, but Maxi Rodriguez, who's coming in on the cheap,  and who can also play on the left or right wing, has shown more desire and consistency over the course of his career. As with a lot of other Benítez signings, he has captained his club; not bad for a skilful wide man.
Personally, I'd prefer to see Babel stay and try and prove his worth. Until his injury against Manchester City, he was starting to show signs of improvement; but a horrible two-footed lunge by De Jong set him back.
And if the money isn't going back into the transfer kitty, then it certainly makes sense to keep him on hand, even if only as a super-sub.
But let's not pretend that he's some kind of crazy mistake that only Benítez would make. Babel cost less than Nani, less than Jose Antonio Reyes, and even considerably less than David Bentley. And what does he do these days?